CTET Environmental Sciences | Syllabus, Books, Notes & Papers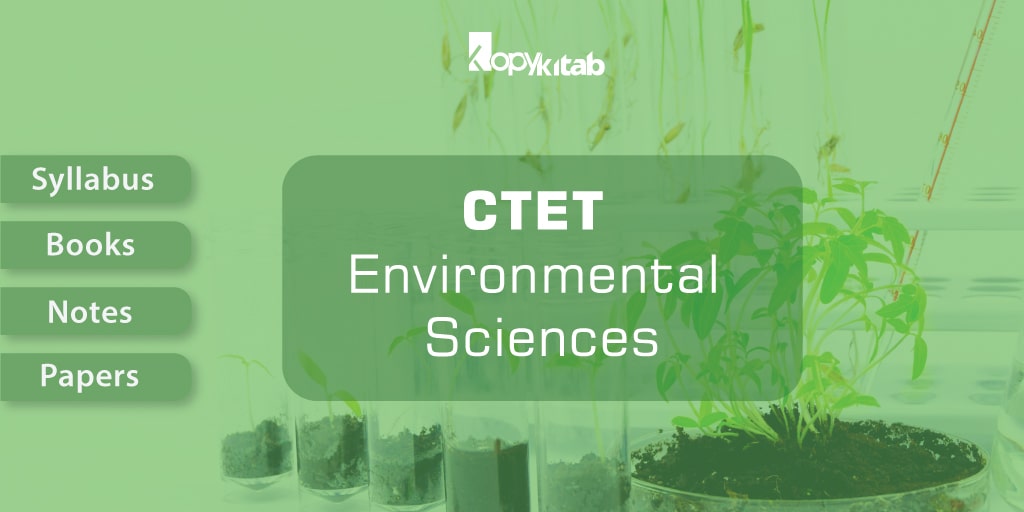 How many of you are planning to become a teacher in a CBSE School? Anyone planning to be a primary school teacher ? Many of you will already know what CTET Exam is. CTET – Central Teacher Eligibility Test that is being conducted to appoint teachers for CBSE Class 1 to 8 and Environmental Sciences is one of the majors in Paper 1 which is focused on teaching students from Class 1 to 5. So if you are planning to give CTET Environmental science this year , then this is for you .
This test is conducted twice a year in July and December. The upcoming test is going to be conducted in July 2020, mostly on the 5th of July. But the registration will be closed by March 9th, 2020. So, those aspiring to become a Central Board of Secondary Education Teacher for Class 1 to 8 should register before the deadline. 
CTET Environmental Sciences
CTET usually comes withs two papers – Paper 1 and Paper 2. The candidates who want to become the teachers for Class 1 to 5 should be attending the test of Paper 1 which includes Environmental Sciences Syllabus. Those who want to teach for Class 6 to 8 should be looking for CTET Paper 2. The CTETwill be Objective Multiple-Choice Questions and the duration of the test is 150min. The eligibility criteria required for the candidates are different for CTET Paper 1 and Paper 2. You can see the basic criteria below to check if you are qualified or not. 
CTET Eligibility Criteria for Environmental Sciences
Paper 1 – Primary Stage
Successful completion of Senior Secondary School with a minimum of 45% marks or a 2-year Diploma in Elementary Education.
Paper 2 – Elementary Stage
Graduates with a minimum of 45% and should also have 50% in higher secondary education.
Regarding the eligibility criteria, you can always check the CTET Eligibility Criteria on their website too.
CTET Environmental Science Syllabus
The following are the syllabus of Environmental Science CTET. Have a look at it to prepare well for the test. Also, check for CTET Syllabus for Paryayaran to know each module and content of the whole syllabus. 
Environmental Studies Syllabus will carry a total of 30 Questions for the CTET Environmental Science Paper.
a) Content: 15 Questions
i. Family and Friends:
ii. Food
iii. Shelter
iv. Water
v. Travel
vi. Things We Make and Do
b) Pedagogical Issues: 15 Questions
Significance of EVS, integrated EVS
Environmental Studies & Environmental Education
Scope & relation to Science & Social Science
Approaches to presenting concepts
Experimentation/Practical Work
CTET Environmental Sciences Books, Notes and Papers
To prepare well and score good marks in CTET, you should have a good set of study materials. It might not be possible to stick to just one study material. You will need books, notes and sample question papers to do your revision well. You can check for the best study materials of CTET Environmental Sciences. After reading this article, you will surely know what to check and what you need for your exam preparation. Usually, the CTET exams are conducted in two languages, both Hindi and English. So based on what language you are planning to appear, you can check for the books accordingly. If you are scheduling to appear for the test in English, then start your revision with CTET Environmental Studies PDF in English. If you are preparing for the test in Hindi, then you can check for CTET Environmental Studies PDF in Hindi. 
Pedagogy is one of the main CTET subjects in Environmental Science and if you want to study more about the modules of pedagogy, then you should never miss out on the CTET Environmental Studies Pedagogical Issues. Apart from all these, solving sample questions papers is very important. It can help you learn all the important questions and you can see if you can finish your exam on time. So, for that, you need CTET EVS Questions in Hindi. Likewise, you can also get CTET Environmental Question in Hindi for those seeking to teach in the Hindi language. 
If you think sample question papers are not enough and if you feel the need for questions papers with answers then go for Environmental Studies Question Paper with Answer 2019 PDF. Also, the need for study notes may arise while you start doing your revision. For that, we have CTET Environmental Studies Notes in Hindi PDF. 
Other CTET Subjects in Detail for the Exam 2020
Other Important Links for CTET Exam 2020
Now I am sure that you have got a clear idea as to what to look for. These study materials mentioned above are going to give you the perfect revision to score well for the exam.