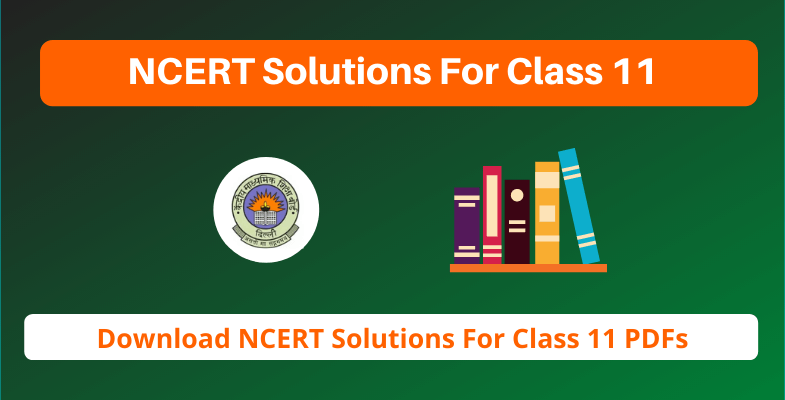 NCERT Solutions For Class 11 2022 For Term 1 & Term 2: The National Council of Educational Research and Training (NCERT) publishes books with practice questions and solutions as per the CBSE Class 11 syllabus every year. By solving the problems from the NCERT book, you can develop depth concepts in every chapter. 
CBSE NCERT Solutions has a complete step by step explanation for 11th NCERT book exercise questions. Practicing solutions will help you analyze your level of preparation and clear your doubts easily.
In this article, you will find the complete guide on NCERT Solutions For Class 11 for all subjects.
NCERT Solutions For Class 11 2022 For Term 1 & Term 2
Students appearing for the CBSE Class 11 exam must finish the textbooks thoroughly. They must have a clear understanding of all the concepts and solve all the questions from every chapter diligently. This where the NCERT solutions will help them.
If you want to pursue a degree in Engineering or Medical, you have to crack the exams like JEE Main, JEE Advanced, BITSAT, NEET, etc. Those exams are based on the CBSE Class 11 syllabus (along with the Class 11 syllabus).
These will help students clear their doubts about any questions from all subject's textbooks. So, download the solutions PDFs from this article and take your preparation to the next level.
Download CBSE Class 11 NCERT Solutions for All Subjects 2022 For Term 1 & Term 2
Benefits Of CBSE NCERT Solutions For Class 11 2022 For Term 1 & Term 2
Apart from traditional textbook questions, we have also provided additional high order level thinking problems which are likely to be expected in boards and competitive exams. It includes conceptual questions, MCQs, Long and short answer type questions, etc.
These Solutions are designed to benefit both students and teachers by providing chapter-wise additional problems focusing primarily on testing conceptual knowledge with applications. Here, we have provided some of the important ways in which the solutions of NCERT can benefit students of class 11 general.
These NCERT Solutions will help students in many ways:
The detailed and step-by-step solutions will help students get a better idea about how to go about solving the problems – the best way to approach the problems and solve them most efficiently.
NCERT solutions provided here will help students complete their assignments on time.
Students will be able to clear their doubts with the help of the solutions provided here.
NCERT solutions will help in quick revision of the respective subjects.
The solutions will also help you in your preparation for competitive exams like JEE, NEET etc.
Other Important Links Related to CBSE 11th 2022 For Term 1 & Term 2
Here you can check links to various study materials related to the 11th 2022 For Term 1 & Term 2
We have covered the detailed guide on CBSE NCERT Solutions For Class 11 2022 For Term 1 & Term 2. Feel free to ask any questions in the comment section below.