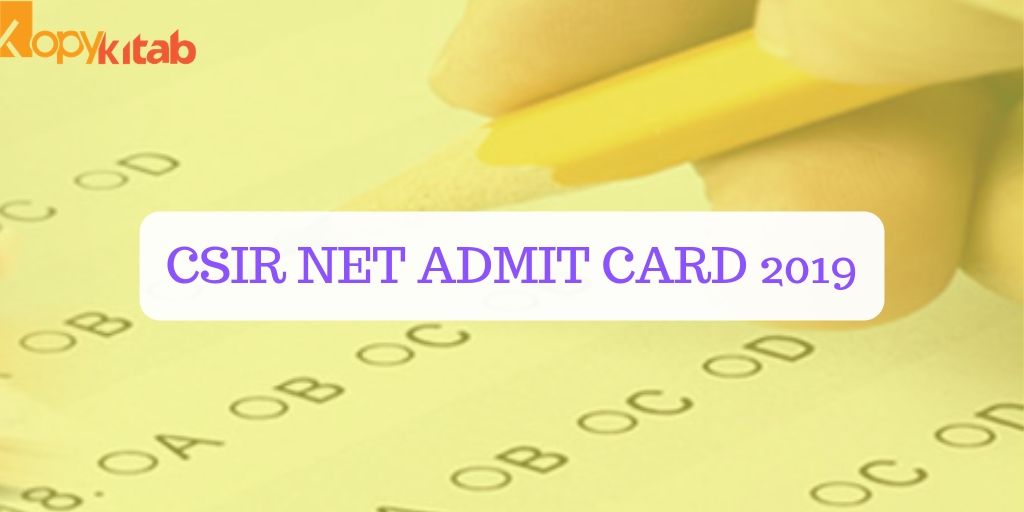 CSIR NET Admit Card 2020: The Council of Scientific & Industrial Research (CSIR) conducts the National Eligibility Test (NET) every year for research positions.
Currently, the CSIR NET exam is scheduled on June, 2020. As there are few days left for the exam, it is time for you to download their CSIR NET Admit Card 2020.
You can get complete information regarding the CSIR NET Call Letter here. Go through the blog to know how to download the CSIR NET Hall Ticket and other related information.
CSIR NET Admit Card 2020
You can download their CSIR NET Hall Ticket from the official website of CSIR. Here is the link provided for you to download their admit cards. You can click on the link given below to download the call letter.
Download CSIR NET 2020 Admit Card Here
How to download CSIR NET Admit Card 2020?
Here are the steps to be followed in order to download the hall ticket correctly.
Follow the steps as given below to download your Hall Ticket.
Step 1: You have to visit the official website of CSIR: csirhrdg.res.in or click on the above link
Step 2: Now you have to click on the link "Download Admit Card"
Step 3: Here you have to enter your login credentials
Step 4: You will see that CSIR NET Hall Ticket 2020 is displayed on screen.
Step 5: Now you should check the detailed mentioned in the hall ticket and download the hall ticket PDF.
Step 6: Finally you should take a printout of the hall ticket for future use.
Details Mentioned in CSIR NET Hall Ticket 2020
There are various details listed below that are mentioned in the admit card
Exam date
Roll number
Name of candidate
Exam center
Venue code / Center code
Exam timings
Candidate photograph
Candidate signature
Instructions for exam
Things to be Carried and Not Carried to the Exam Hall
You will be allowed to the examination hall after showing certain documents. There are also some things which are not allowed into the examination hall.
Check the list below to know which things can be carried and not carried.
Things to be Carried
NET Admit Card 2020 printout
Anyone Photo identity card such as voter ID, PAN Card, Driving License, Adhaar Card, Photo ID Card issued PSU / Central / State Govt., ID Card issued by University / College.
Things Not to be Carried
Mobile phone
Books
Copies
Any communication device
Calculator
Any electronic equipment
CSIR UGC NET 2020 Exam Day Instructions
You have to report 2 hours before the starting of the exam.
You should know that the Examination Hall will open 60 minutes before the beginning of the test.
You must take your respective seats as soon as possible. You should report in time to know some of the general instructions.
You have to show the Online Admit Card and the Unique Photo Id Proof in original that was mentioned in the Application. Without those, your candidature will be cancelled.
You should keep in mind that during the examination time, the invigilator will check your Online Admit Card and the Unique Photo Id Proof.
You should avoid carrying various devices as given below to the venue of the examination.

Any of the personal computational devices,
Bluetooth devices,
Cell phones,
Any electronic gadgets, etc.;

You must not carry

Any textual material,
Printed or written,
Bits of papers,
Any electronic gadgets.
You can bring

The Online Test Admission Ticket / Admit Card,
2 Recent passport size photograph,
Unique original photo ID, as mentioned in Application Form /Admit Card.
If you are unable to appear on the scheduled date of the examination, you should know that re-examination will not be conducted under any circumstances.
You will not be allowed to go out of the room temporarily for any reason during the test.
You cannot leave the CSIR NET examination hall before completion of the session on exam day.
Thus, candidates are advised to download the CSIR NET admit card well in advance. As there are very days left for the exam, candidates can solve NET Mock Tests to check their preparation levels.