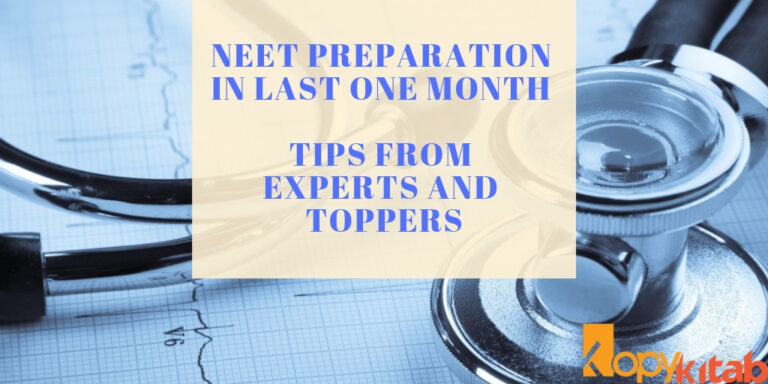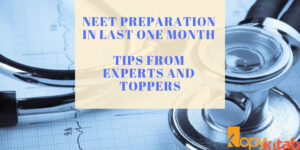 NEET Preparation 2020-21: Are you appearing for NEET Exam 2021? Confused about how to complete all portions in the last two months? Well, here is the solution to all your confusion. We have come up with NEET preparation tips and strategies by experts and NEET toppers.
NEET Preparation 2021: 3 Ultimate Tips
Below are the three components for NEET exam preparation. Go through them carefully to score 100% marks in the upcoming NEET exam.
1. Study Routine
One of the most important NEET exam preparation tips is to formulate a proper study routine in the last month, which will ensure that an appropriate amount of time is set aside for each subject.
Study Hours– Allocate around 14 hours each day to study with small breaks in the last one month left for NEET. Continuous studies will help aspirants regularize their study schedule, reduce stress caused by indiscipline and provide ample time to revise the vast NEET syllabus in just one month. Make sure you have all the necessary NEET Preparation Books that cover all topics.
Divide time– Divide the study hours between the revision of the NEET 2021 Syllabus, NEET mock test practice, and analysis of errors. If time permits, you can also work more on developing conceptual clarity of problems.
Study Materials– Do not try to solve any study materials other than the necessary. Make sure you have the right NEET Study Materials that cover all the topics and concepts according to the latest syllabus.
Stress Busters– Limit the presence of distractions like social media, games, etc. Use these only either as means for refreshment or as stress busters. Remember that these are to be used during study breaks only, and cracking the exam should remain the main goal.
2. Quick Revision
The trick of well planned NEET preparation in the last one-month lies in doing the right revision
Question-based Revision– To revise a particular chapter or topic from Physics, Chemistry or Biology choose 45-50 random MCQ questions (as per NEET 2021 exam pattern) from that chapter/topic/unit and solve them in 45 minutes. Repeat this strategy for revision of all chapters of Chemistry, Physics, and Biology.
Solving question papers– You can do quick revision by solving NEET Previous Year Question Papers which will make you get explored to the different type of questions.
Comprehensive Revision– After question-based revision, revise the subjects from respective NCERT books, modules, and notes prepared during the early stages of preparations. Compress important points into one-page diagrams or notes and go through these regularly in the last week, if necessary.
3. Regular Mock Tests
According to experts and toppers, mock tests are advised to be taken once NEET preparation is completed.
Stimulate exam Time– Once you are done with the preparation, practice the full-length mock test same as the NEET exam. By doing this, you can manage your time, and increase your speed while answering.
Performance Analysis– After taking up each NEET Mock Test, analyze your performance. Take notes of weak areas and work on them during revision time. Also, keep a note of recurring mistakes.
So, students who are appearing for the upcoming NEET 2021 exam, can implement these NEET Preparation strategies and excel in all the subjects.
To Download Our Free Kopykitab NEET App, Click Below:
Start your preparation now and score 100% marks in the NEET exam. Also, if you have any queries, feel free to ask in the comment section below.
FAQs: NEET Exam Preparation
Can the NEET Exam study material be valuable?
If you practice really harder with the support of our NEET Study materials, you can definitely excel with high grades in NEET Exam.
Can I clear the NEET 2021 Exam in preparation for two months?
Yes, you can clear the NEET 2021 Exam with a proper study strategy and refer to the perfect books.
Can I download the NEET Exam Study material PDF?
Yes! You can download the NEET textbook, notes, and previous year papers in PDF format and study whenever you wish to.
Where can I get NEET Study Package?
You can get NEET Study Package from the above blog.
How can I pay for the NEET Study Packages?
You can select any of the below transaction methods to pay for the NEET study materials:
Debit Card
Credit Card
Net Banking
Wallets
Paytm
UPI ID
Google Pay
Is it necessary to access NEET online test series?
Yes. Online Mock test series is the one of the most important NEET preparation tips, as it will give you an real image of NEET exam.