CBSE Class 10 Syllabus for All Subjects 2019-2020 | Free PDF Download
Hope all the students have started their new academic year of Class 10 after clearing class 9. CBSE Class 10 is the most challenging stage in a student's lifetime. It is very important to score more in this stage in order to have a bright future. There are many boards like CBSE, ICSE, and State Board conducting the Class 10 examinations. As the new academic year has begun, it is time for Class 10 students to begin their preparation. To start off with the preparation, firstly it is important to know the Class 10 CBSE Syllabus for All Subjects. In this blog, we have provided the detailed CBSE Class 10 Syllabus in PDF format.
Go through the blog to get a complete insight into the syllabus CBSE Class 10 for the Academic Year 2019-2020. Check out the Best Reference Class 10 Books CBSE Board.
CBSE Class 10 Syllabus for 2019-2020 – All Subjects
CBSE has released the revised syllabus for all subjects of class 10. Here we have listed out the latest class 10 syllabus for CBSE for all subjects(English, Hindi, Maths, Science, Social). Take a thorough view of the syllabus to understand the course structure and various learning objectives prescribed by the board for the new academic session 2019-2020.
CBSE Class 10 syllabus is structured in a way to help students get a clear understanding of the course structure and its objectives. With CBSE syllabus, students get to know the chapters and concepts to be covered in all subjects. Board also provides the provision of knowing the question paper design for the annual examination so that students are able to practice in the right direction to perform well in the exams. Thus, CBSE syllabus for class 10 students is a perfect tool to plan their study schedules methodically. Below is the Table comprising of the CBSE Class 10 Syllabus are provided for subjects like English, Hindi, Science, Social, Maths in PDF Format. You can download if for Free and refer during your preparation.
Ways to Utilize CBSE Class 10 Syllabus and Have an Effective Preparation
There are various ways of how students can utilize the syllabus and make their learning or preparation effective. You can definitely score more with the proper use of CBSE Syllabus.
At the beginning of the new academic session, students must carefully read the entire syllabus to get an idea of the Class 10 course.
Before starting with a new chapter or unit, list down all the topics prescribed in the syllabus for that unit so that you don't waste your time in learning the irrelevant or unnecessary topics.
Having a clear understanding of the syllabus and weightage allotted to different units in it will be quite helpful for students to decide how much time needs to be devoted to different topics.
Sometimes, students may find the details and instructions mentioned in the syllabus a bit complex to understand. In such a case, they should ask their teacher for help.
Use your syllabus to take an idea about the importance of a topic and determine how much time you should devote to particular topics
Testimonial
Navin Thakur, a student from Punjab has scored A1 in all subjects of CBSE Class 10 2019 Board Exams using Kopykitab Books. Studying well from our study materials, Navin has scored good marks in his CBSE Class 10. We congratulate Navin for his hard work and proud to see students scoring A1 by using all kinds of study materials available at our site.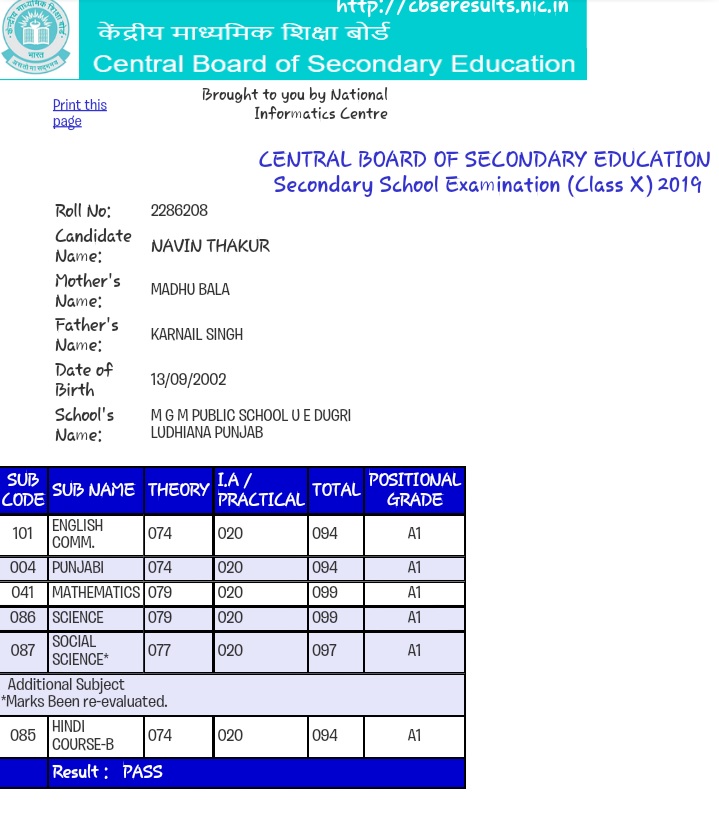 Thus, Class 10 Students of CBSE Board are suggested to go through these Syllabus and exam pattern and plan well for preparation. Students can go through the Study Plan for CBSE Class 10 Preparation to begin the preparation and score more in the upcoming CBSE Class 10 Board Exams.
71% Off

Ebook

10% Off

Ebook

70% Off

Ebook

40% Off

Ebook

25% Off

Ebook

25% Off

Ebook

25% Off

Ebook

25% Off

Ebook