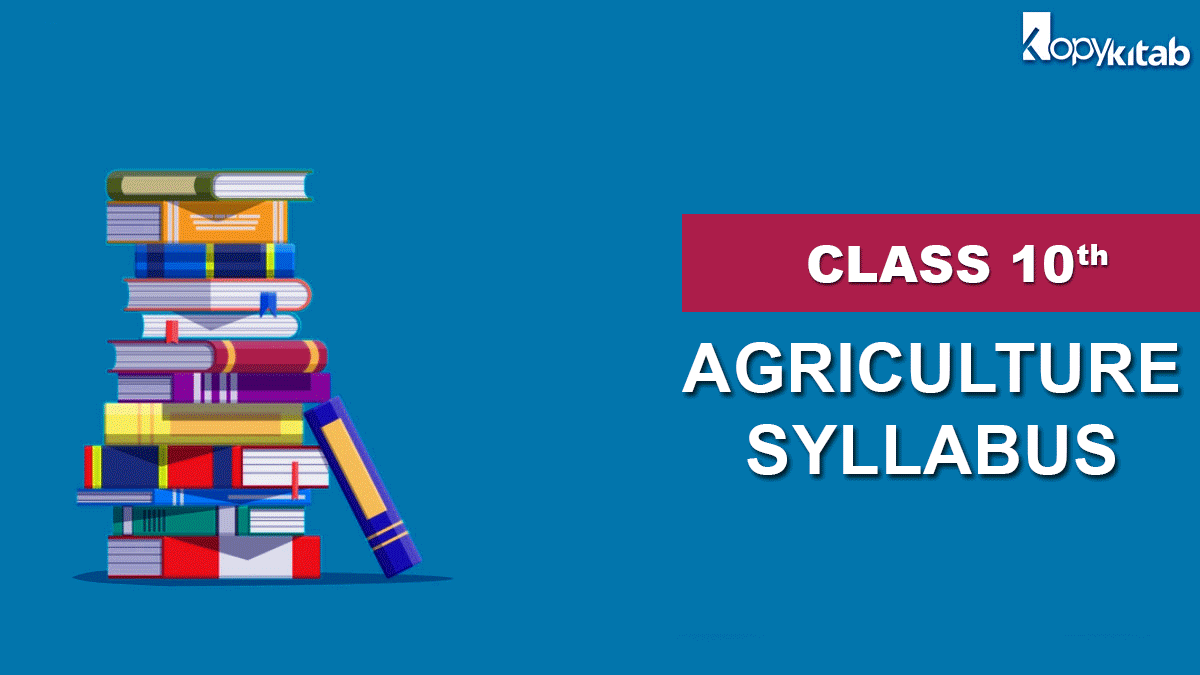 CBSE Agriculture Class 10 Syllabus PDF: We have shared the Class 10 Agriculture syllabus for the academic year 2021-22 in this article. This syllabus can be used to learn about the structure of the course. Students must familiarise themselves with the updated syllabus and follow to it in order to prepare for the CBSE Class 10 Board Exam 2021-2022.
Agriculture Class 10 Syllabus 2021
Agriculture is the backbone of our Indian economy, as we are growing hundreds of cereals, pulses, oilseeds, fruits, and vegetables. Agriculture Field includes horticulture, farm management, businesses & industries which buy & process farm products, manufacture agricultural machinery, banking activities, research for improving the quality & quantity of farm products, etc.
Total Marks: 100 (Theory – 50 + Practical – 50)
| | | |
| --- | --- | --- |
| Unit Number | Unit Name | Marks |
| 1 | Agricultural production and management | 8 |
| 2 | Production and management of horticultural crops | 10 |
| 3 | Animal husbandry and dairying | 7 |
| 4 | Post-production handling, packaging, and processing of animal products | 8 |
| 5 | Seed production and nursery management | 9 |
| 6 | Entrepreneurial skill development | 8 |
| | Total | 50 |
Latest Chapter-Wise CBSE Agriculture Class 10 Syllabus

2021

Here you can check the chapter-wise overview of the CBSE Agriculture Class 10 Syllabus.
Agriculture Chapter-1: Agricultural Production and Management
Agricultural production and management emphasize the application of the principles of science and management to agricultural production operations.
Agricultural production and management involve the combination of land, water, labor, and other inputs such as seeds, nutrients, pesticides, and machinery in the production of food and fiber crops.
Agricultural production and management deals with how the
farmers combine land, water, farm inputs, labor, and their management skills into practices to produce agricultural crops.
During the post green revolution era, India has become self-sufficient in food-grain production when considerable advances in crop improvement and crop production were made by agricultural scientists.
In the nutshell, agricultural production and management have a vital role in food production, farm income enhancement, food security, nutritional security poverty alleviation, rural employment, and sustainable agriculture in the developing world.
Agriculture Chapter-2: Production and Management of Horticultural Crops
Whenever you go to a market, you might have seen several types of fruits, vegetables, flowers, condiments, and spices.
Have you ever thought about their areas of production, and specific climate or soils in which they grow? I don't think you have ever thought about it. You may have several such queries in your mind.
In this chapter, you will come to know about major fruits, vegetables, flower crops, and some plantation crops, condiments, and spices and their cultural hints.
Agriculture Chapter-3: Animal Husbandry and Dairying
Whenever we go to a dairy or village, we find that few animals are quite healthy and few are very weak. Similarly, few dairies are neat and clean and producers give utmost care for the rearing of animals, yet others are careless.
This all depends on the management of nutrition and diseases. Livestock needs to be fed with a balanced diet like a human being.
Farm animals also suffer from several diseases like us, and hence, the management of their diseases is the most important aspect of their rearing.
For the management of several fatal diseases, Govt. of India has initiated several vaccination programs.
Agriculture Chapter-4: Post Production Handling, Packaging and Processing of Animal Products
Foods from animals such as milk and milk products, meat, eggs, fish, and other seafood's play an important role in the diet of human beings.
Although foods of plant origin such as grains, fruits, and vegetables continue to constitute the bulk of the diets of most persons, animal foods are also gaining importance.
Animal foods are energy dense and excellent sources of protein, fat, minerals, vitamins, and essential fatty acids. Animal proteins are considered high-quality proteins, superior to plant proteins as they contain a balanced proportion of all the essential amino acids.
Agriculture Chapter-5: Seed Production and Nursery Management
We often talk about the quality production of crops. For which, the seed is the basic unit. If the seed is of good quality, it likely to produce a good crop.
Hence, we should have fairly good knowledge about seed, and how a good quality seed is produced.
In this chapter, you will come to know about, seed, characteristics of quality seed, types of seed, and the different methods adopted for the production of quality seed.
Similarly, emphasis will be laid on the basic principles involved in seed production.
Agriculture Chapter-6: Entrepreneurial Skill Development
Agriculture offers several programs, which can help the learners in the development of several skills to establish themselves as successful entrepreneurs in life.
Of the several such skills, apiculture, sericulture, lac culture, pisciculture, mushroom farming, processing of horticulture crops, etc., are now emerging fields.
Similarly in the cities, ornamental fish culture and terrarium development are achieving new heights among the people.
We have covered the complete guide on CBSE Agriculture Class 10 syllabus 2021. Feel free to ask any questions related to CBSE Agriculture Class 10 in the comment section below.
Agriculture Class 10 Syllabus 2021- FAQs
Where can I get Agriculture Class 10 Syllabus free PDF?
You can get Agriculture Class 10 Syllabus free PDF from the above article.
How many marks do the Production and management of horticultural crops carry?
Production and management of horticultural crops carry 10 marks in total.
Is Entrepreneurial skill development there in CBSE Class 10 Agriculture Syllabus?
Yes. Entrepreneurial skill development is there in CBSE Class 10 Agriculture Syllabus.