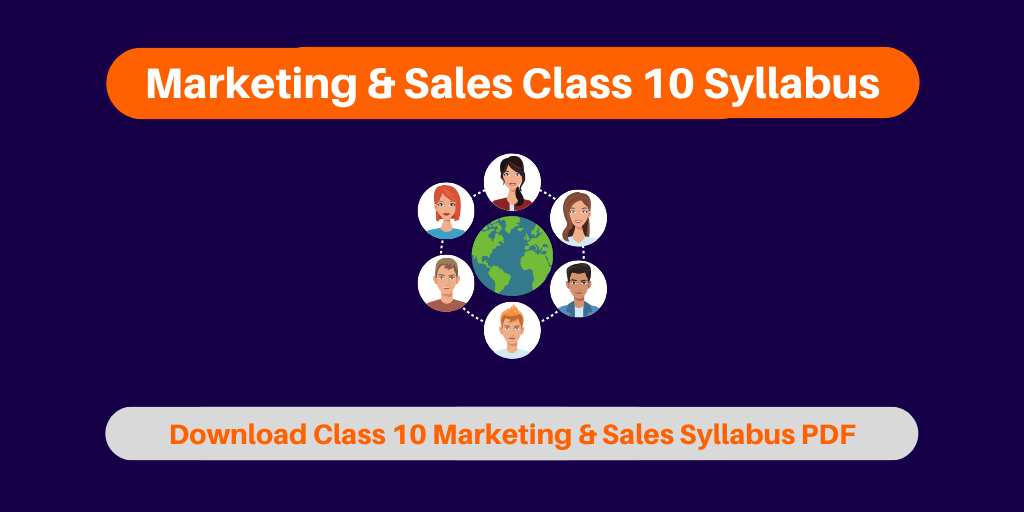 Marketing and Sales Class 10 Syllabus 2020 PDF: Marketing has a predominant role at the beginning of a potential sale. For example, a marketing team may develop a new radio campaign to help spread awareness about a product launch.
A sales team works to finalize a deal by communicating directly with leads and addressing their concerns. Sales and marketing are two business functions within an organization they both impact lead generation and revenue. 
The term, sales, refers to all activities that lead to the selling of goods and services. And marketing is the process of getting people interested in the goods and services being sold.
In practice, the marketing department tends to bear responsibility for raising awareness about a product and generating high-quality leads for a sales team
In this article, we are providing the complete guide on CBSE Marketing and Sales Class 10 Syllabus.
Marketing and Sales Class 10 Syllabus
Sales include "operations and activities involved in promoting and selling goods or services."
Marketing includes "the process or technique of promoting, selling, and distributing a product or service."
These statements highlight two aspects of the sales and marketing relationship:
The responsibilities of each group are closely linked.
Marketing has a vital role in supporting sales.
In Class 10 Marketing and Sales, you will learn about various approaches related to sales and marketing.
Every industry has a different targetted customer. So as per their products and the customer, they have to consider certain factors while doing promotions.
Total Marks: 100 (Theory – 50 + Practical – 50)
| | | |
| --- | --- | --- |
| Unit Number | Unit Name | Marks |
| 1 | Sales with other functions – Introduction to Marketing Mix | 5 |
| 2 | Market (Segmentation, Targeting, and Positioning) | 10 |
| 3 | The Basic Concept of Sales and Selling | 20 |
| 4 | Careers in Selling | 10 |
| 5 | Skills in Selling | 5 |
|   | Total | 50 |
IMPORTANT: Download the latest syllabus and PDF book according to Marketing and Sales Class 10 Syllabus.
Chapter-Wise Marketing and Sales Class 10 Syllabus Overview
Here you can check the chapter-wise overview of Marketing and Sales latest syllabus.
Marketing And Sales Unit I: Sales with other functions- Introduction to Marketing Mix
Every business organization has to determine its Marketing Mix for the satisfaction of the needs of the customers. Marketing mix represents a combination of the marketing methods, devices, and tools – product, price, promotion, and place. These elements are inter-related because decisions in one will usually affect actions in the others.
The marketing mix is mainly of two types.
Product marketing mix: Comprised of Product, Price, Place, and Promotions. This marketing mix is mainly used in the case of Tangible goods.
Service marketing mix: The service marketing mix comprises of Product, Price, Place, and Promotions and has three further variables included which are People, Physical evidence, and Process.
Marketing And Sales Unit II: Market (Segmentation, Targeting, and Positioning)
Whenever a producer decides to produce a product that product may not be suitable for the consumption of everyone.
So for that matter, he asks his marketing manager to identify the target audience for his product to design the plan by keeping in view the needs of those specific people.
That is why, when one goes to a market to buy a product, one might find different types of products for different types of people.
For example, we have normal Coca-Cola for the general public and Diet Coca-Cola for health-conscious and diabetic people.
Marketing And Sales Unit III: Sales Process (I)
Every product produced has to be sold. There is a wide range of products being sold in the market. Right from a biscuit to a ship or an airplane, everything has to be sold by whichever way.
Of all the tools available to a seller, Personal selling is an important tool to sell the products to the consumers.
That means for selling the product, the company has to hire salespeople who do the job of selling the product. As the value of the product increases, so does the rank of the salesperson.
Marketing And Sales Unit IV: Careers in selling
The vastness and complexity of industry and commerce have made buying and selling a complicated matter today.
The services of a salesman are indispensable in marketing, as he facilitates the sale of a product or service to a household customer, a manufacturing firm, an intermediary like a distributor or retailer, or to some organization. In fact, selling proposes more career opportunities and a vast range of career positions than any other area of marketing
Marketing And Sales Unit V: Skills in selling
In today's competitive environment the success or failure of most of the business depends on the efficiency with which marketing operations are handled.
In this unit, we shall discuss two skills every company or firm looks for while recruiting or hiring sales personnel. These are known as Hard Skills and Soft Skills.
Hard Skills: Specific teachable abilities that can be defined and measured or abilities acquired through learning and practice and are task-specific.
Soft skills: These refer to personal qualities, attitudes, attributes, and EQ (Emotional Intelligence Quotients).
In those organizations where a salesperson has to deal with customers face to face, the personal traits such as language, presentation skill, communication skill, negotiation skills, inter personnel skills, and handling objections of prospective customers are essential as these can help in promoting the business.
We have covered the complete guide on CBSE Marketing and Sales Class 10 Syllabus 2020. Feel free to ask any question related to CBSE Marketing and Sales Class 10 Syllabus in the comment section below.