Introduction To Tourism Class 10 Syllabus PDF | Download Tourism Book PDF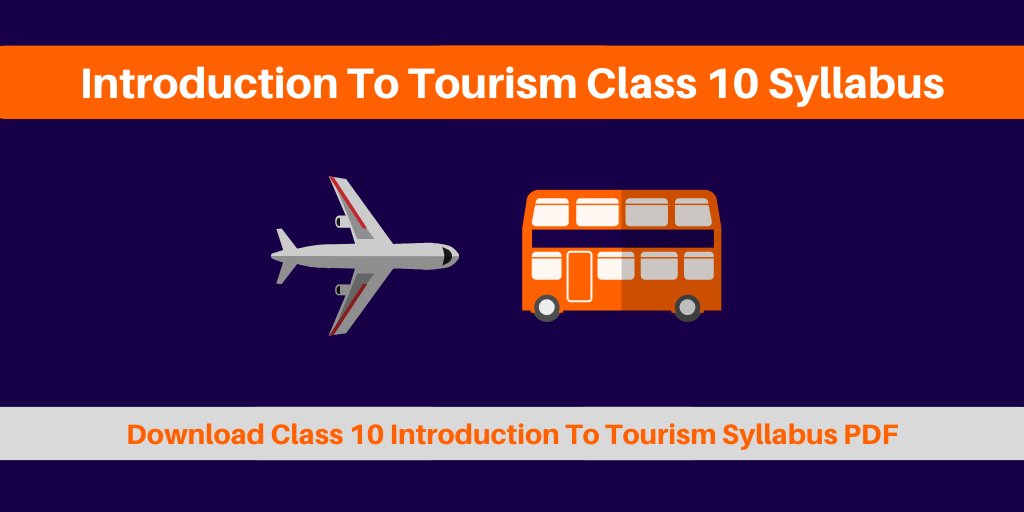 Introduction to Tourism Class 10 Syllabus 2019 PDF: Are you looking for CBSE Class 10 Tourism Syllabus? 
Don't worry! We are providing the complete guide on CBSE Class 10 Introduction to Tourism Syllabus PDF. 
You can check and download the latest syllabus and PDF book for Introduction To Tourism Class 10.
Introduction to Tourism Class 10 Syllabus
In Class 10 Tourism, you can learn various soft skills and Tourism Business. You can improve your body language and develop positive attitude. It will help you to face various circumstance in different phase of life.
Introduction to Tourism Unit 1: Soft Skills – II
Personality Development
Positive Attitude
Think Big
Creating First & Last Impression:

Grooming
Etiquette and Manners
Required Body Language for social interaction

Telephonic Conversation
Public Speaking
Introduction to Tourism Unit 2: Introduction to Tourism – II
Why do we need tourism?
Tourism Sources and Information
Sources of Tourism Information
Tourism Organisation – MOT, STDC, UNWTO
Introduction to Tourism Unit 3: Tourism Business – II
Destination / Site- define
Travel Terminology/ Travel Lingo
Hospitality Terminology
Activities / Function Areas in a Travel Agency
Domestic & International
Documentations
Medical Requirements
Introduction to Tourism Unit 4: Tourism Product – II
Natural tourism products of India – Mountains, hills, lakes, waterfalls, rivers, deserts, islands, beaches.
Man-made tourism products of India – Archaeological sites, historical sites, customs and traditions, fairs and festivals, art and art forms, entertainment
Symbiotic tourism products – Wildlife sanctuaries and national parks of India.
Event based tourism products – Music and Dance festivals, SurajKund Craft Mela, Pushkar Fair, Nehru Trophy Boat Race, Elephant festival, Kite flying festival, sporting events.
List of UNESCO World Heritage Sites in India
Introduction to Tourism Chapter-Wise Overview
Soft Skills
The Introductory unit on Soft Skills for Tourism and Travel industry has highlighted the importance of soft skills. The unit has explained in detail one of the most important soft skills i.e. Communication.
Here you will study other important soft skills that will help you to earn an edge in your personal, social as well as professional life. In fact these soft skills are directly related to your personality and will help you to develop a personality suitable for travel and tourism industry.
Introduction To Tourism – II
Today, tourism is one of the largest and dynamically developing sectors of external economic activities. Its high growth and development rates, considerable volumes of foreign currency inflows, infrastructure development, and introduction of new management and educational experience actively affect various sectors of economy, which positively contribute to the social and economic development of the country as a whole.
Tourism Business – II
The Business of Tourism is a constantly evolving one. You have been introduced to this industry and its fluid nature in the previous chapters and, by now, you are aware that the Tourism Industry has an identity of its own with distinct requirements.
As a student of tourism, knowing about the components, elements, types, and nature of Tourism is just not enough to be a part of tourism business. The Tourism industry and the way of doing business i.e. the activities of a travel agent, tour operators and other stake holders are ever changing and diversifying.
Tourism Products – II
The tourism product focuses on facilities and services designed to meet the needs of the tourist. It can be seen as a composite product, as the sum total of a country's tourist attractions, transport, accommodation and entertainment which result in tourist satisfaction.
Fam Tour
This unit will introduce students to the concept of Tourism guides and tourism products through meeting with guides and visit to a tourist destination/site.
Student will get acquainted with some of the terminologies frequently associated with tourism and tourism industry and will get a first-hand experience through meeting and visit.
We have covered the complete guide on CBSE Introduction to Tourism Class 10 syllabus 2019. Feel free to ask any question related to CBSE Introduction to Tourism Class 10 syllabus in the comment section below.