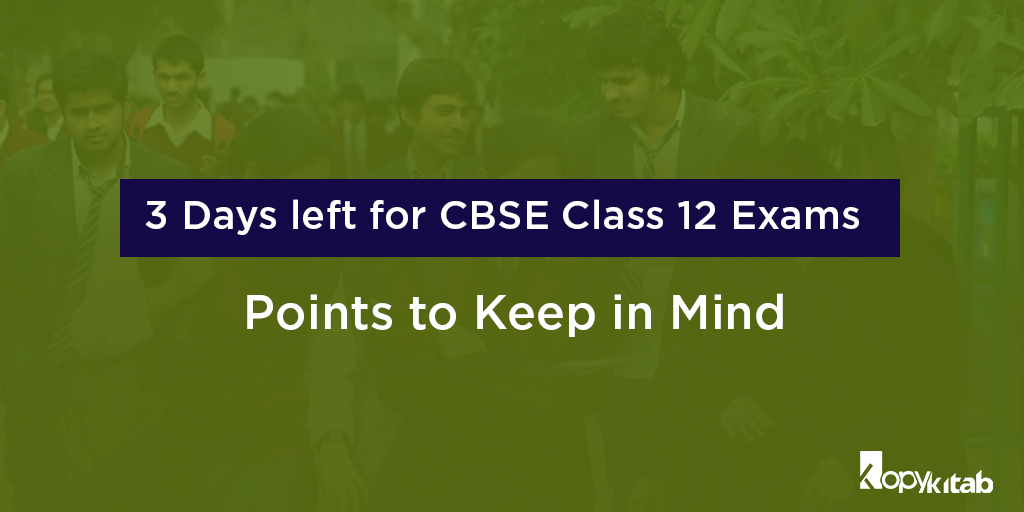 It is a very crucial time for CBSE Class 12 students, as they will be writing their board exams in another 3 days. Well, there are only 3 days left for CBSE Class 12 Exams and students have only 3 days to perform well. It is time for them to give their best and score well. Based on their one year of hard work, preparation, studying, practicing, solving students will be judged. Hence, in the last 3 days before the examination, we have come up with interesting and motivating news. Go through the blog to know about important points to keep in mind during the examination.
Tips Before CBSE Class 12 Exams:
Firstly, we advise students not to read any new topic now.
just revise the important notes that you have prepared during preparation.
Practice CBSE Class 12 Sample Papers to know your preparation levels. You can come across a new type of questions.
Do not get tensed. Just calm and relax.
Do not keep reading more during the last few days. Just revise and take breaks between your revision.
Glance formulas, equations, important keywords from subjects like Mathematics, Science and other subjects.
Make sure you have kept all necessary things that need to be taken for the examination like Pen, Pencil, scale, eraser, geometry box- compass, divider, protractor, set squares.
Make sure you have all the things and check before a day in advance.
Do not discuss with others regarding the subjects as you may get tensed when you are not aware about any topic.
After you enter the examination hall, just keep calm and relax.
Give a quick glance as soon as you receive the question paper.
Start with the questions which know well.
Do not leave any blanks in the starting page itself as it may create a negative impression.
In case if you do not know any question, try for one or two times. If still you cannot remember or solve then move on.
Keep the unanswered questions towards last,
Try answering them in the last.
Make sure your handwriting is neat and legible.
Do not make your answer paper look shabby. Keep it neat.
Try to manage your time as there is only 3 hours.
Do not hurry up and answer wrongly. Take your time and answer the questions patiently.
Well, these are few important things you need to keep in mind before and during the examination. Hope you are clear about the important points. Be confident and score well.
We wish All the Best to all Students for their CBSE Class 12 Exams.
[related_books catid="235″ product_type="ebook" algo="Latest"]