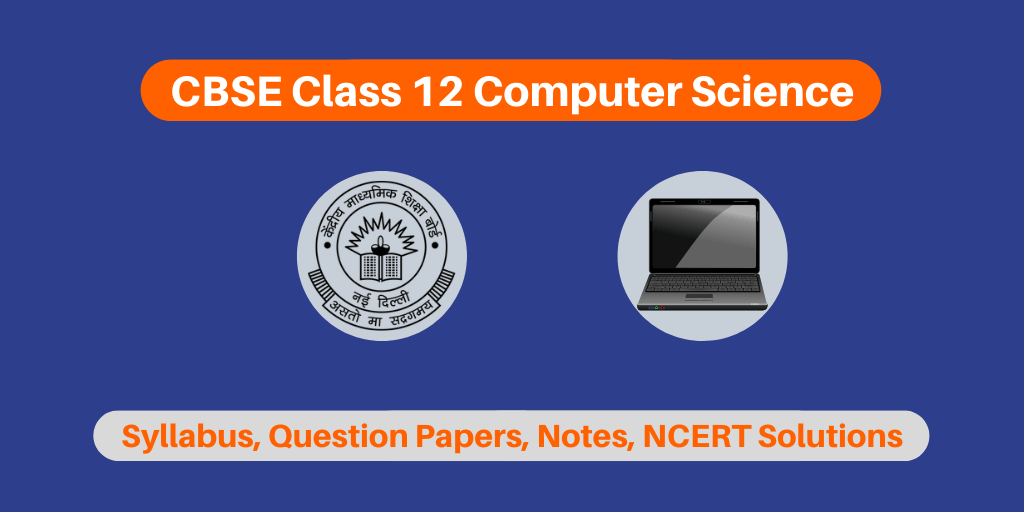 Are you good at operating computers but weak in programming? Do you find it difficult to understand the CBSE Class 12 Computer Science Syllabus? Then you are in the right place.
Here, this article on CBSE Class 12 Computer Science, will provide you a detailed explanation about the CBSE Class 12 Board Exam for Computer Science and a reason for learning computer science. We will explain to you the importance of programming in the present technology.
Computer science has gained its popularity in recent times due to the improvement in technology with respect to digitization. As various fields are exploring its limitation, computer science is also expanding technology usage by implementing new methods and introducing newer technologies to make human effort simple. 
The main advantage is the network field that has made communication easier for different commercial and domestic applications.
CBSE Class 12 Computer Science 2020-21
There are basically 5 chapters that contain sub-topics that will provide you the required information about the subject needed to clear the Computer Science Board examination. 
These topics are essential to understand the programming language like C, C++, Python which will be beneficial for the student in the future as the world is moving towards the technology where everyone should know how to code and in this scenario, it will be a better option to learn programming language.
Following are the chapters that are mentioned in the 12th Computer Science syllabus:
Chapter 1 C++ Revision Tour
Chapter 2 Object-Oriented Programming in C++
Chapter 3 Implementation of OOP Concepts in C++
Chapter 4 Constructor and Destructor
Chapter 5 Inheritance
Chapter 6 Data File Handling
Chapter 7 Pointers
Chapter 8 Arrays
Chapter 9 Stack
Chapter 10 Queue
Chapter 11 Database Concepts
Chapter 12 Structured Query Language
Chapter 13 Boolean Algebra
Chapter 14 Networking and Open Source Concepts
CBSE Class 12 Computer Science Syllabus 2020-21
Here is the CBSE 12th Computer Science Syllabus that has been prepared by NCERT for better understandability of the subject. The marking scheme is prepared based on the importance of the topics.
Each topic has its own importance in computer science subjects. The syllabus is prepared properly in a topic wise format so that students are able to grasp the mentioned content.
Chapter Number

Unit Name

Marks

1

Programming and Computational Thinking

30

2

Computer Networks

15

3

Data Management

15

4

Society, Law, and Ethics

10

5

Practical

30

Total Marks

100
CBSE Class 12 Computer Science Books
The selection of books for computer science is based on the topics that one needs to understand. There are ample amounts of books available for students but they need to select the one, that will clear their doubts.
NCERT do provide books for all the subjects in Class 12, but they don't have books for Class 12 Computer Science, so students have the liberty to refer any books that suit them the best.
Here are the lists of some CBSE Class 12 Computer Science Books that are suggested by us, so that it becomes easier for student to focus their attention on preparing for the examination instead of searching.
Move fast with Computer Science with C++ by Sumita Arora and the book is published by Dhanpat Rai Publication
Oswaal is also considered by many students for reference purpose as they provide quality content
NCERT Class 12 Computer Science Solutions 2020-21
A good solution book will provide better result and this is true for most of the students. So to fulfil the needs of student there are few publication that are providing better content of solution books for CBSE Class 12 Computer science.
 The most preferred solution books are the once that provide solutions chapter wise, so this way students are able to focus on practice while preparing for the particular topic. This is the best way to retain the theory and implicating the same will provide better confidence to students too.
CBSE Class 12 Computer Science Question Paper
While preparing for the examination, one should understand the benefits of exam paper pattern that are required to score better marks in the examination. So to understand the marking system you can refer previous year question papers.
Apart from this, you can get your hand on quality sample papers that are published by good publisher who are renowned in the field of education. This way you can practice more and improve your skills that will boost up your confidence.
You should have the following materials to find the complete question papers related to Class 12th Exam,
CBSE Class 12 Computer Science Worksheets 2020-21
Worksheet is an important section while preparing for the board examination, as this will provide students ample amount of time to practice them the questionnaires related to Class 12 Computer science.
Best book publishers who are looking forward to provide students quality content so that they won't lag in preparing for the board examination provide these worksheets.
Advancement in technology and improvement in digitization has improved the education field. There are various eBooks available at online portals that can be downloaded for practice purposes as they provide different sets of question paper.
By solving these questions paper student will be able to gain more confidence for board examination. There are other options too where students needs to become premium member to get add on services related to all the latest worksheets for available in the website.
CBSE Class 12 Computer Science Revision Notes 2020-21
Computer science revision notes are basically prepared while going through the subject in the preparation phase. At this time, students can note down some point that will benefit the student for verifying it at later stages.
We have covered a detailed guide on CBSE Class 12th Computer Science. Feel Free to ask any questions in the comment section below.