CBSE Class 12 Computer Science – Syllabus, Chapter wise Notes, NCERT Solutions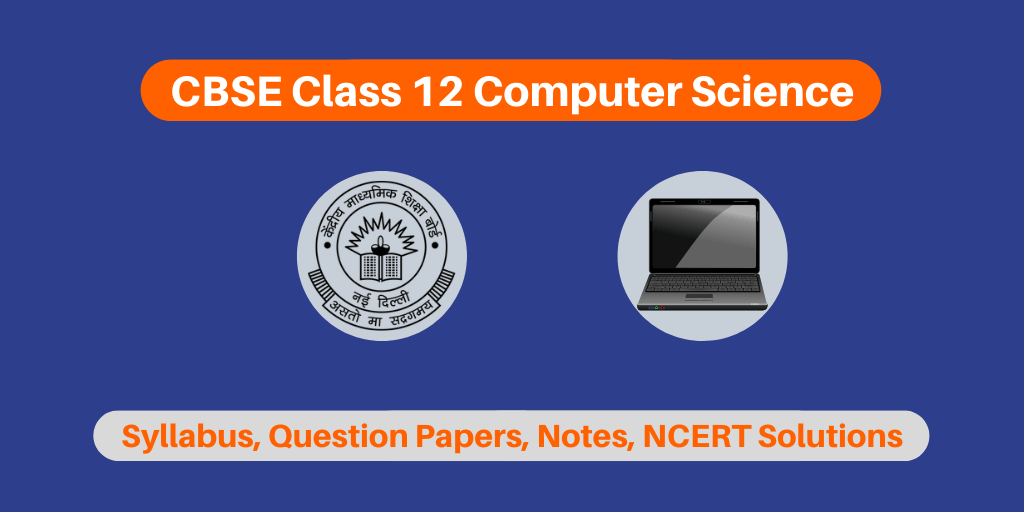 Are you good at operating computers but weak in programming? Do you find it difficult to understand CBSE class 12 Computer Science syllabus? Then you are in the right place. Hear this article will provide you the Detailed Explanation about CBSE Class 12 Board Exam for Computer Science and reason for learning computer science and explain to you the importance of programming in the present technology.
The syllabus contains a detailed explanation about how to program using c language and implement it in real-life scenarios.
Basic Introduction
Detailed Syllabus and marking scheme
Reference Books
Question Papers for practice purpose
Solutions Books
Worksheet
Revision Notes for last moment preparation
Basic Introduction
Computer science has gained its popularity in recent times due to the improvement in technology with respect to digitalization. As various fields are exploring its limitation, computer science is also expanding technology usage by implementing new methods and introducing newer technologies to make human effort simple.
The main advantage it the network field that has made communication easier for different commercial and domestic applications.
CBSE Class12 Computer Science
 There are basically 5 chapters that contain sub-topics that will provide you the required information about the subject needed to clear the computer science board examination. These topics are essential to understand the programming language like C, C++, python which will be beneficial for the student in the future as the world is moving toward the technology where everyone should know how to code and in this scenario, it will be better option to learn programming language.
Following are the chapters that are mentioned in the syllabus:
Chapter 1 – Programming and Computational Thinking
Chapter 2 – Computer Networks
Chapter 3 – Data Management
Chapter 4 – Society, Law, and Ethics
Chapter 5 – Practical
Chapter 1: Programming and Computational Thinking
C++ has been emerging its importance amongst students as the requirement for coding increasing. As C++ is object-oriented programming, most of the contents of the chapter will be focused on the concept of OOP that includes other topics that are important to understand C++ language.  The topics that define OOP are Data encapsulation, polymorphism, class and object, abstract class and concrete class, inheritance, and other important topics.
As this C++ is Object-oriented programming, there are various other details that need to be known before beginning your preparation like the definition of class, private and public function, the scope of different argument that is implemented while programming and it has improved our skillset to solve the questionnaires on time. This chapter even explains more about constructor, destructor, and inheritance data file handling, text file, binary file, pointers coma information about opening a text file and how to operate different functions or operators while coding.
As C++ is object-oriented it will include classes and objects, apart from this they will even have a member of the class and member function for easy of programming. These classes and objects are beneficial while defining variables.
Data Structure is all about handling data based on various parameters like linear, nonlinear structure, static and dynamic data, file handling. The data structure can be arranged in particular manners like arrays stack or queue.
Different operations related to data structure important to extract and store data based on different operations like LIFO (last in first out operation), PUSH, POP, FIFO (first in first out operation).
This chapter does even focus its attention on Boolean variables, Boolean constant, Boolean operation, truth table, GATE operators like AND, OR, NOT.
It explains various laws that can be used to solve critical problems related to mathematics and these laws are commutative law, absorption law, involution law, distributive law, associative law, identity law, De-Morgan's law, etc.  Application of Boolean logic is related to binary operations, it can be used in digital electronics circuit designing using basic logic gates.
Apart from C++, the scope of this chapter even cover programming language like python, which can be considered are the simpler form of C++ and is widely used by many programmers worldwide.
Chapter 2: Computer Networks
Advancement in technology there are various methods to connect to the Internet and this has become possible due to the evolution of networking and communication. This chapter provides the basic history of data communication and various terminologies that have been used so far. Transmission media network devices, remote login, network topology and various types of network protocols explained well in this chapter.
Detailed information about each topic including a network protocol, network devices is elaborated so that network security concepts and other web services that are used at present can be covered.
Here students are introduced with different types of network protocols, network stack and basic network tools used in real applications. There are other details that are related to the application layer which include HTTP, FTP, SCP, SSH, SMTP, VOIP, etc.
Chapter 3: Data management
Data management has become a key role in various technologies from machine learning to artificial intelligence. This increases the scope of programming language that can handle data based on SQL queries. This chapter explains the basic concept about SQL and its uses based on SQL commands like create table drop table alter table update table etc. It also explains SQL functions, dimensional Array, relational algebra, and relational data model and database concepts.
Chapter 4: Society, Law, and Ethics
Chapter 4 provides a basic understanding of the present Intellectual property rights, plagiarism, digital rights management, and licensing (Creative Commons, GPL, and Apache), open-source, open data, privacy. This even includes the latest Privacy laws, fraud, cyber–crime, phishing, illegal downloads, child pornography, scams; cyber forensics, IT Act, 2000.
Society should be made aware of the proper utilization of the technologies so that it can't be used for any other harmful purpose.
With the advancement of newer technology, new devices are introduced in the market and this has affected the existing model which get a dump. This dumping process is producing large amount of E-waste that nature can't sustain. Some limitations to this can be achieved if people are given the awareness to dump e-waste properly.
The networking field is growing larger and larger, which is giving people the benefit of connecting to people around the globe. But this is also welcoming newer challenges like Identity theft, unique ids, and biometrics to stolen. This has become a major concern to the IT world and engineers from different backgrounds are working to resolve them.
Practical Exam
In the practical examination, students are required to develop a code based on C++ and based on different categories they are provided the marks. The following are details of allotting the marks to the students based on their performance.
Logics: 6 marks
Documentation/Indentation: 2 marks
Output Presentation: 2 marks
The problems can be related to any topics like an array, stack, classes and objects, binary file operation, text file operation, queue using arrays.
There is even a test to verify the understandability of student-related to SQL commands and its operations.
Finally, there is project work that should include the work of data file and can be prepared in a group of 2 – 4 students. Students will have to clear the tests like viva, presentation, and proper project report.
The students are required to generate an output of the required questionnaires by programming it using python or C++. Here are some of the topics that can be considered:
Find the factorial of a natural number.
Read/Write data from a file and print in on console screen
Write program function sin(x, n) to calculate the value of sin(x) using its Taylor series expansion up to n terms. Compare the values of sin(x) for different values of n with the correct value.
Create a random number generator or find a recursive code to find the sum of all elements of the list.
Design graphical application and accept data from the user to process a particular task.            
Other Important Study Materials for CBSE Class 12
CBSE Class 12 Computer Science Syllabus
Here are the CBSE Class 12 Computer Science syllabus details that are prepared by NCERT for better understandably of the subject. The marking scheme is prepared based on the importance of the topics. Each topic has its own importance in computer science subjects. The syllabus is prepared properly in a topic wise format so that students are able to grasp the mentioned content.
Chapter Number

Unit Name

Marks

1

Programming and Computational Thinking

30

2

Computer Networks

15

3

Data Management

15

4

Society, Law, and Ethics

10

5

Practical

30

Total Marks

100
CBSE Class 12 Computer Science Books
The selection of books for computer science is based on the topics that one needs to understand. There are amply amount of books available for students but they need to select the one that will clear their doubts. NCERT do provide books for all the subjects in class 12 but they don't have books for Class 12 computer science, so students have the liberty to refer any books that suit them the best.
Here are the lists of some CBSE Class 12 Computer Science books that are suggested by us so that it becomes easier for student to focus their attention on preparing for the examination instead of searching.
Move fast with Computer Science with C++ by Sumita Arora and the book is published by Dhanpat Rai Publication
Oswaal is also considered by many students for reference purpose as they provide quality content
CBSE Class 12 Computer Science Solutions
A good solution book will provide better result and this is true for most of the students. So to fulfil the needs of student there are few publication that are providing better content of solution books for CBSE Class 12 Computer science. The most preferred solution books are the once that provide solutions chapter wise, so this way students are able to focus on practice while preparing for the particular topic. This is the best way to memorise the theory and implicating the same will provide better confidence to students too.
Class 12 Computer science solution by Oswaal Publication
CBSE Class 12 Computer Science Question Paper
While preparing for the examination, one should understand the benefits of exam paper pattern that are required to score better marks in the examination. So to understand the marking system you can refer previous year question papers.
Apart from this, you can get your hand on quality sample papers that are published by good publisher who are renowned in the field of education. This way you can practice more and improve your skills that will boost up your confidence.
You should have the following materials to find the complete question papers related to Class 12th Exam,
CBSE Class 12th Computer Science Sample Question Papers
CBSE Class 12th Computer Science Previous year Papers
CBSE Class 12th Computer Science Question Bank
CBSE Class 12 Computer Science Worksheets
Worksheet is an important section while preparing for the board examination, as this will provide students ample amount of time to practice them the questionnaires related to Class 12 Computer science. Best book publishers who are looking forward to provide students quality content so that they won't lag in preparing for the board examination provide these worksheets.

Advancement in technology and improvement in digitalization has improved the education field. There are various eBooks available at online portals that can be downloaded for practice purposes as they provide different sets of question paper. By solving these questions paper student will be able to gain more confidence for board examination. There are other options too where students needs to become premium member to get add on services related to all the latest worksheets for available in the website.
CBSE Class 12 Computer Science Revision Notes
Computer science revision notes are basically prepared while going through the subject in the preparation phase. At this time, students can note down some point that will benefit the student for verifying it at later stages.
We have covered a detailed guide on CBSE Class 12th Computer Science. Feel Free to ask any questions in the comment section below.