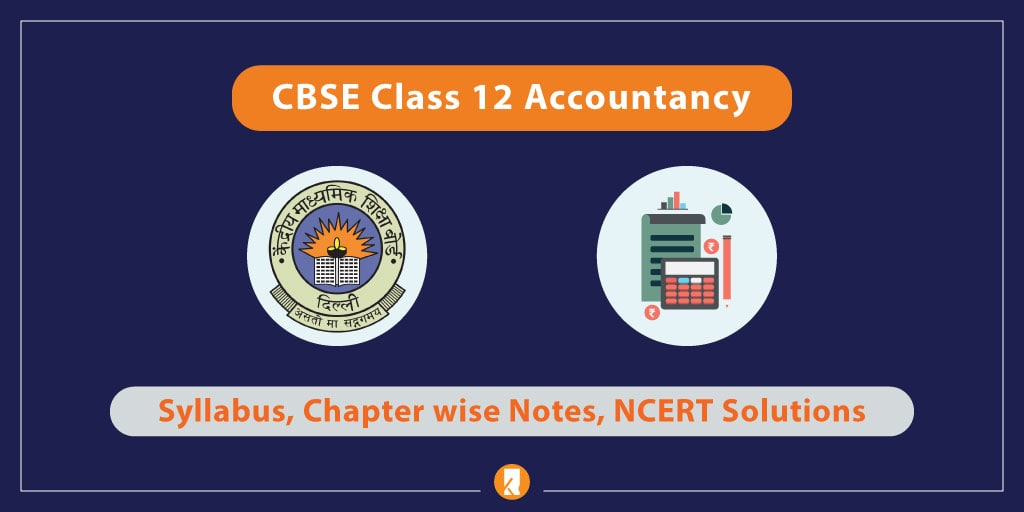 The boards are round the corner, and every student will be in the mode and mood of preparation. Some would be studying just a day before examinations and they proudly call it a "One Day Match" on a lighter note. I am sure, this CBSE Class 12 Accountancy article would help most of the students in their CBSE Class 12 Board Exam Preparation.
With emerging technology, we can see the advancement in the field of trade and commerce. The role of an accountant is much more than it used to be, the role has advanced from a regular advocate of transactions to the main member to provide valuable information to the decision-making team. Nowadays accounting is beyond just an act of book-keeping.
An accountant is well capable of working in the fields like e-commerce, financial planning, environmental accounting, forensic accounting (the cases in crime where there are a computer hacking and a robbery of a large sum on the cyberspace), etc.
CBSE Class 12 Accountancy
The students who wish to pursue CA, CFA, etc. can choose this stream in the Class 12th. There are vast options in this stream too. You will find the following chapters in Class 12th Accountancy.
Part 1 Class 12 Accountancy
Chapter 1: Accounting for Not-for-Profit Organization
Chapter 2: Accounting for Partnership Firms – Basic Concepts
Chapter 3: Reconstitution of A Partnership Firm – Admission Of A Partner
Chapter 4: Reconstitution of A Partnership Firm – Retirement/Death Of A Partner
Chapter 5: Dissolution of Partnership Firm
Part 2 Class 12 Accountancy
Chapter 1: Accounting for Share Capital
Chapter 2: Issue and Redemption of Debentures
Chapter 3: Financial Statements of a Company
Chapter 4: Analysis of Financial Statements
Chapter 5: Accounting Ratios
Chapter 6: Cash Flow Statement
CBSE Class 12 Accountancy Syllabus
After a thorough research by the experts, by researching previous papers, chapter-wise weightage has been allocated.
The entire CBSE Class 12 Accountancy Syllabus is basically divided into three parts. Part A which carries 60 marks covers most of the syllabus. Part B carries 20 marks, it is working on financial statement analysis. Part C is your exposure in project work which carries 20 marks. Each part is equally important.
Units

Unit Names

Marking Weightage

Part – A

Accounting for Not-for-Profit Organizations, Partnership Firms, and Companies

60 Marks

Unit- 1

Financial Statements of Not-for-Profit Organizations

10

Unit- 2

Accounting for Partnership Firms

30 Marks

Unit- 3

Accounting for Companies

20 Marks

Part- B

Financial Statement Analysis

20 Marks

Unit- 4

Analysis of Financial Statements

12 Marks

Unit- 5

Cash Flow Statements

8 Marks

Part- C

Project Work

20 Marks

Project File

4 Marks

Practical Exam (Written)

12 Marks (1 Hour)

Viva Voice

4 Marks
OR
Part- B

Computerized Accounting

20 Marks

Part- C

Practical Work

20 Marks

Practical File

4 Marks

Practical Examination

12 Marks (1 Hour)

Viva Voice

4 Marks
CBSE Class 12 NCERT Solutions Part A, Unit 1 talks about the Financial Statements of Not-for-Profit organizations. While the Unit 2 covers Account for Partnership Firms and Companies. The Partnership Deed, Partnership Acts, accounting for partnership is all covered.
CBSE Class 12 Accountancy Solutions
CBSE 12th Accountancy solutions are prepared by the subject experts. These solutions are pertinent to the questions provided in the textbook, therefore there is a higher chance of these questions appearing in the textbook.
These solutions also strengthen the foundation in the subject and the ability to answer any question with ease.
Class 12 NCERT solutions are specifically illustrated for the 12th syllabus. The NCERT books contain chapter-wise questions and answers. NCERT solutions book is recommended as the questions and solutions are in-line with the syllabus and up to date.
CBSE Class 12 Accountancy Question Paper
It is very important to finish the core syllabus of and then move on to referring to question papers. At the end of each chapter, the questions will be there for you to solve.
It will be a good practice to solve the questions as it gives enormous practice and you can ask well check your understanding about a particular topic in that chapter.
You should have the following materials to find the complete question papers related to Class 12 Accountancy Exam:
CBSE Class 12 Accountancy Sample Question Papers
The sample papers always provide a better insight into the exam. You will be well prepared for the exam after solving the Class 12 Sample question papers. It not only helps in adapting the format and pattern of the paper but also helps in building up your confidence, necessary practice right before the exam.
This will be of great help. Every year CBSE releases sample question papers online, it will be better to solve these question papers during your preparation.
By solving these question papers, the students get better in terms of time management, problem-solving methods. It will also remove exam fear, improves accuracy too. Therefore, it is important to solve a few sample question papers before the examination.
CBSE Class 12 Accountancy Previous year Papers
Solving Class 12 previous year question papers is of great help. There is a possibility of repetition. You will get a fair idea of what is important and the pattern of the paper will be clear.
Solving such papers makes you comfortable and you can easily solve the real-time exam without panicking.
CBSE Class 12 Accountancy Question Bank
The question bank ensures to cover all the questions from every chapter. These question banks are designed by the subject experts, hence they are reliable sources of study material. The question banks help the students in getting accustomed to the question format and the entire pattern of the question paper.
CBSE Class 12 Accountancy Worksheets
Solving Class 12 worksheets is also a great source to understand a particular question. This will help in the revision of the important topics that you may have missed just in case. So, it is a good practice to download a few worksheets and solve them.
CBSE Class 12 Accountancy Revision Notes
The Class 12 Accountancy Revision notes that are available online for CBSE Accountancy Class 12 are well researched and provided by the experts. The notes are given in such a way that understanding is easier for the students.
This is made by keeping in mind the latest CBSE syllabus of the subject. It is important to quickly run through whatever you have prepared, like for example, formulae or a solved problem. So, it needs practice by which you can excel, this is where the revision notes come in handy.
Highly Important Links Related To CBSE Class 12
We have covered the detailed guide on CBSE Class 12 Accountancy 2020-21. Feel free to ask any questions related to CBSE Class 12 Accountancy in the comment section below.