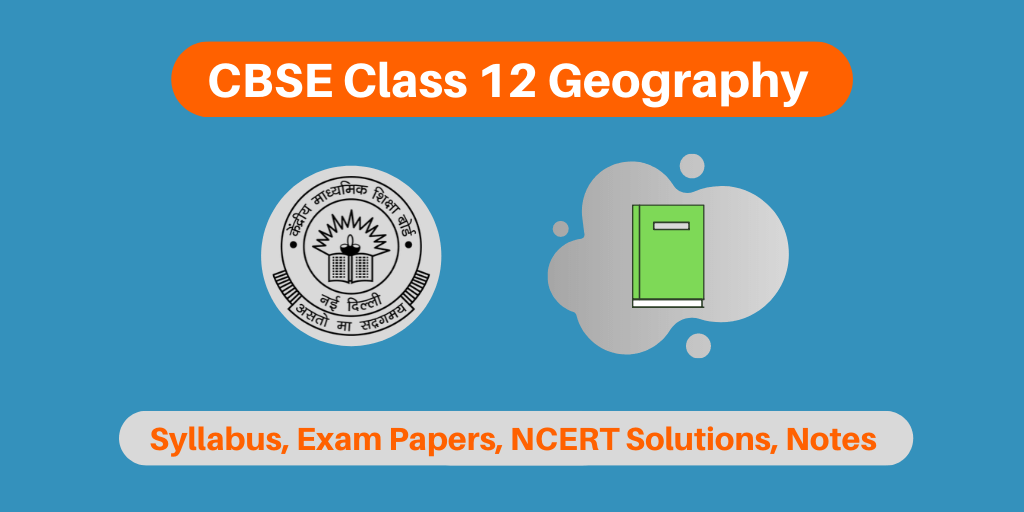 CBSE Class 12 Geography 2020: Class 12th Geography is an elective subject for those students who wish to pursue further studies in the field of their academic interest in the field of cartography, regional and urban planning, GIS and remote sensing, metrology, rural development, and environmental issues.
Therefore, the syllabus for CBSE Class 12 Geography is designed by keeping the following points in view:
A student can grab the subject in-depth. This also helps the students to explore, understand the subject better as well as in a position to evaluate the environmental and social dimensions.
A simple language, yet, proper terminology relating to Geography has been used.
In this article, we have provided the complete details CBSE Class 12 Geography Exam.
CBSE Class 12 Geography
The students who are keen to study further studies in humanities, arts choose this as an elective. Today, there are so many options for the students who study Arts and Humanities too. Nowadays information is available on the internet unlike earlier where people knew only about the prospects in Engineering and Medicine.
The Class 12th Students will have to appear for both theory and practical. The theory carries 70 Marks and Practical's carry 30 Marks. These books are prescribed by NCERT. You will find the following chapters in 12th Geography.
CBSE Class 12 Geography Books
NCERT books are considered to be the best choice for preparation but it is advisable to refer to other books for a better understanding of the subject. Here the list of some Class 12 Geography Books that are considered by the students while preparing for the Geography examination.
Here you can download NCERT Textbook for Class 12 Geography for Hindi and English Medium.
| | |
| --- | --- |
| CBSE Class 12 Geography Textbooks in English | CBSE Class 12 Geography Textbooks in Hindi |
| | |
| | |
| | |
You will find the following chapters in 12th Geography CBSE
Fundamentals of Human Geography
Chapter 1 Human Geography (Nature and Scope)
Chapter 2 The World Population (Distribution, Density, and Growth)
Chapter 3 Population Composition
Chapter 4 Human Development
Chapter 5 Primary Activities
Chapter 6 Secondary Activities
Chapter 7 Tertiary and Quaternary Activities
Chapter 8 Transport and Communication
Chapter 9 International Trade
Chapter 10 Human Settlements
India – People and Economy
Chapter 11 Population: Distribution, Density, Growth, and Composition
Chapter 12 Migration: Types, Causes, and Consequences
Chapter 13 Human Development
Chapter 14 Human Settlements
Chapter 15 Land Resources and Agriculture
Chapter 16 Water Resources
Chapter 17 Mineral and Energy Resources
Chapter 18 Manufacturing Industries
Chapter 19 Planning and Sustainable Development in the Indian Context
Chapter 20 Transport And Communication
Chapter 21 International Trade
Chapter 22 Geographical Perspective on Selected Issues and Problems
CBSE Class 12 Geography Syllabus
CBSE Syllabus for Class 12 Geography contains the course structure along with the chapter wise marks distribution.
Knowing the syllabus will help you to get an idea about the topics they are going to study for the academic year 2020-2021. After you study all the topics mentioned in the CBSE Class 12 syllabus then you can score a good percentile in their Class 12 CBSE board Geography Exam.
CBSE Class 12 Geography syllabus and Exam Pattern
Part / Unit
Chapter
Marks
A 
Fundamentals of Human Geography 
35 
Unit 1 
Human Geography 
Unit 2
People 
Unit 3
Human Activities 
Unit 4
Transport, Communication, and Trade
Unit 5
Human settlements
Map Work
5
B
India: People and Economy
35
Unit 6
People
Unit 7
Human Settlements
Unit 8
Resources and Development
Unit 9
Transport, Communication and International Trade
Unit 10
Geographical Perspective on selected issues and problems
Map Work
5
C
Practical Work
30
Unit 1
Processing of Data and Thematic Mapping
15
Unit 2
Field study or Spatial Information Technology
10
Unit 3
Practical Record Book and Viva Voce
5
CBSE Class 12 Geography NCERT Solutions
CBSE 12th Geography solutions can be found in the various textbook guides. There will be an explanation for each question chapter-wise. You will also be provided with sample questions that you may have to answer.
CBSE 12th NCERT solutions are the best books to follow as they are specifically designed for CBSE classes. These NCERT Class 12 Geography books contain chapter-wise questions and answers.
CBSE recommends NCERT books and most of the questions do come from NCERT textbooks. NCERT solutions are up to date based on the textbooks, with the latest modifications as per the CBSE 12th Geography syllabus.
 Download Highly Effective Oswaal Solutions for more practice.
CBSE Class 12 Geography Sample Question Papers
After finishing the entire CBSE Class 12 syllabus, it is a good thing to solve the question papers in a timely manner. This will help the students to improve their speed of answering too.
CBSE releases sample question papers every year for the students so that their preparation could become much better as well to get used to the format of the question paper.
You should have the following materials to find the complete question papers related to CBSE 12th Exam
Download In-Demand Oswaal sample papers for more practice.
CBSE Class 12 Geography Previous year Papers
Solving the question papers that are released by the CBSE during the same year as well as solving the previous year question papers helps to a great extent. It will help to develop the speed and understand the question and respond quickly. This will help where you stand, your strengths and where you need to focus for further preparation.
CBSE 12th Geography Question Bank
The question bank for CBSE 12th will have all the questions and answers and also multiple-choice questions. Every chapter gets covered in the question bank. The question bank questions help students in getting accustomed to the type of questions asked from each chapter.
CBSE 12th Geography Worksheets
Worksheets are the best way of teaching strategies used in most classrooms. The solving of worksheets helps in developing the lingual and analytical skills of a student. There are so many solved worksheets on the internet for CBSE 12th Geography. They are designed to help the students to understand various topics, practice skills as well as improve their subject knowledge.
CBSE 12th Geography Revision Notes
The CBSE 12th Geography revision notes are prepared by all the expert teachers from the latest NCERT books. These pdf documents contain all the notes in Part A, B and C. This will help the student prepare better during the time of examination. They don't need to flip through pages of a physical book if they go online and search in pdf documents. It eases the process.
We have covered a detailed guide on CBSE 12th Geography. Feel Free to ask any questions in the comment section below.