CBSE Class 12 Preparation Tips 2020 | Ultimate Subject-Wise Study Plan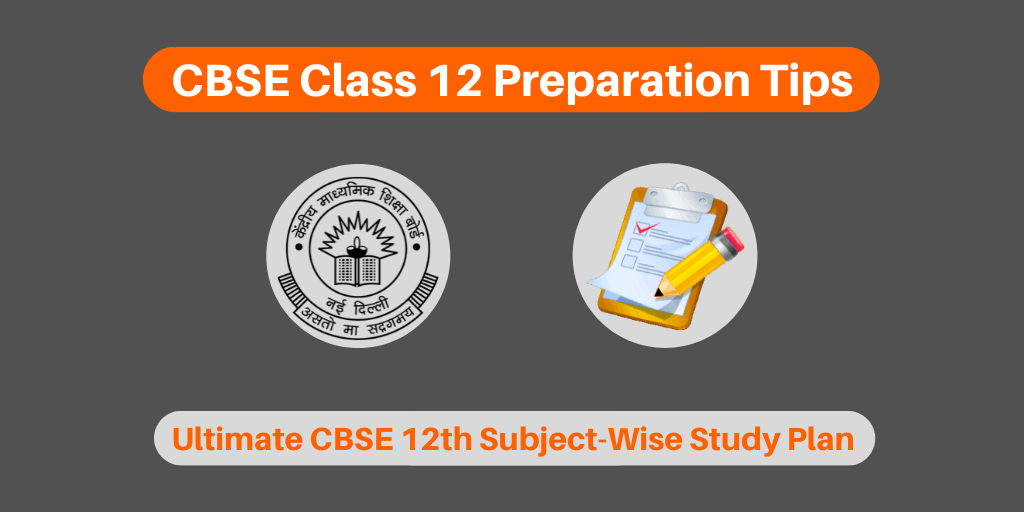 CBSE Class 12 Preparation Tips 2020 Subject-Wise Study Plan: Are you studying in CBSE Class 12? Do you want to score a better grade? Do you have a dream to pursue graduation from your dream college? Do you want to pursue Engineering from IIT or Medical Degree from AIIMS?
If your answer is yes, then this article is especially for you. Here you will find a step by step guide on Ultimate CBSE Class 12 Board exam Preparation Tips 2020 and Subject-Wise Study Plan. So you can easily create your preparation plan and score a better grade in CBSE 12th Board Exam 2020.
Before starting the details of CBSE 12th Exam Preparatione, you should check the highlights of CBSE Class 12 Board Exam:
| | |
| --- | --- |
| Exam Name | CBSE Class 12 Board Exam 2020 |
| Conducting Body | Central Board Of Secondary Education |
| CBSE Class 12 Exam Start Date |  15th February 2020 |
| CBSE Class 12 Exam End Date |  20th April 2020 |
| Official Website | |
CBSE Class 12 Preparation Tips 2020
You already know that to prepare a career millstone like class 12 exam is not an easy task but not a tougher one too. With proper study plan and essential materials, any student can score more in the Class 12 CBSE Board Exams.
You should start your preparation as soon as possible to complete the vast Class 12 Board Exam syllabus 2020.
You can speed up your preparation for the Class 12 Board Exams 2020 with a wide range of Class 12 Books PDF.
We are providing the complete guide below to enhance you class 12th Exam preparation. 
Start Preparation Early
You should start your exam preparation as soon as possible after starting the New Academic year. So that you can build a depth base and revise the complete central board of secondary education, CBSE 12th syllabus properly before the main exam.
Many students tend to neglect their studies in the early stages, and they will lose the chance to build the depth concept in the subjects and score good marks.
Students think they have a lot of time and start studying when the exams are nearby. Well, this is now the right way to prepare.
The score of 12th plays a great role in shaping your future career. So you should avoid the mistake we have talked about above.
As a student of Class 12, you must plan your preparation carefully and follow the same strictly. Everyone must make it a daily routine to implement the preparation and study accordingly.
Know the Complete Syllabus and Exam Pattern
You should know the latest CBSE 12 Syllabus and Exam Pattern to prepare properly for the CBSE board exam.
You can easily analyze various chapters with better latest marking Scheme and weightage. We would like to suggest that you accomplish high scoring chapters first.
You should make a list of topics that you are aware of, feel easy, and tough topics separately. In your study plan, make sure you give more time to tough topics and less time to topics you feel easier.
Keep Handy Class 12 Study Materials
You should have enough study materials to prepare the CBSE Class 12 Exam correctly. Make sure you the right Class 12 NCERT Books for preparation. You should have study materials as given below,
Make a CBSE Class 12 Study Plan
After purchasing and collecting the complete study materials, you should create a solid study plan. Here you should priorities the chapters with more weightage and easier first, and others are in the later.
You should set the specific time based on the subject and try to complete it. Make your study plan such a way that you must not feel it is hectic. You should provide proper after continuous study of 1 or 2 hours based on your own capacity. So you can avoid fatigue while studying.
As you need to attend school, do not make your time table with too many schedules. Allow equal time for all subjects. Give more time for subjects to complete during weekends.
Be Specific
In your study plan, make sure you are specific. If in case you have begun your preparation for trigonometry, you should focus on the particular topic in trigonometry only at that time.
Do not make you study plan for Class 12 complex. Make it easier and make sure you can complete it as per the set target.
Break into Achievable Target
You already know the CBSE Class 12 syllabus is vast, you cannot complete it at one go. Allow equal time and complete the portions.
Set a target for yourself either daily or weekly and achieve it. Apart from your school portions, you can study a little extra if you have more time.
Make Class 12 Revision Notes 
You should make separate notebooks for theorems, formulae, and methodologies. You should summarize various chapters and write a note after completion of every topic. It will help you to know the concept of the chapter in the time of revision. This will also help you to read and brush up concepts fast.
Practice Chapter-wise Class 12 Problems
You should try to solve problems by yourself in the first attempt after completion of a chapter. Try to solve more exercise questions by yourself. If you are facing any kind of difficulties while solving the question, then you should refer the solution or discuss it with your teacher.
Give time for Breaks
You should take proper breaks between study periods. Without the proper break, your mind will feel fatigued, and your efficiency of the study will go down.
After taking 10-15 minutes to break every hour or 2 hours after completion of studying will help you make yourself refresh and relax.
Change it if you don't feel Good
You should remember that the study plan may not be fixed as same for the whole year for CBSE Class 12 preparation. You can change the plan after your improvement in speed and managing time.
So, it is advised to use a pencil while preparing a study plan for Class 12 Board exams. Change it when you think this is not enough.
As you need to classes in school, you hardly get 5-6 hours after school. So plan it wisely. Do not make it messy. Make a clean and achievable target study plan for Class 12.
Stay Calm And Relaxed
You should stay calm and relax every day. For that, you should do basic exercises and meditation daily. Overthinking, stress, worry, are the culprit to prevent you from preparing better for CBSE Class 12 Board Exam.
Stay Focussed and Say No to distractions
While you are studying, you should cut yourself from the source of distractions like smartphones, Social Media, and all.
If it is adding value to your study like any curriculum-related video from YouTube, then you should watch. But make sure that you have set a particular time for that.
If you stay away from distractions, it will easy for you to concentrate properly on the study. You should stay focus as much as possible. So you can easily get rid of the source of distractions.
Eat Hygenic and Stay Healthy
You should eat hygenic food and avoid outsider food. Because a healthy body and a healthy mind is the key to success in any field, whether it is as exam preparation or any competition perpetration. You should take proper food and enough sleep. Otherwise, you may get sick before the main exam or duration of the main exam.
Solve more CBSE Class 12 Sample Papers
After completion of the study is a good way to prepare and be exam ready mentally. The more you practice and solve question papers, the more confident you become. You will also get an idea about the question type and your current preparation status.
Practice CBSE Class 12 previous year question papers
Previous year question papers will help you to know the important and repetitive topics from any subject. By analyzing previous year papers, you will have a rough idea about the changes in question type in various subjects throughout the specific period of time.
Solve More Questions from question Bank or Test Series
You should solve the varieties of questions as much as possible. So you will not get panic while solving the question paper in the Class 12th Board Exam. So you can boost your confidence level.
Analyze your mistakes and clear quickly
You should analyze your strengths and weakness in various subjects. After identifying your mistakes, you should try to clear them as soon as possible.
Learn Time Management and Boost Your Speed
By studying correct study materials and solving many questions from sample papers and previous year papers, you will learn time management. It will be very helpful while solving the questions in the real exam.
By solving a variety of questions, you will become more familiar with any type of question. So you can boost your problem-solving speed easily.
Ultimate Subject-Wise Subject-wise CBSE Class 12 Study Plan For Science stream
CBSE Class 12 Preparation Tips 2020 For Maths
By studying Class 12 Maths, you can develop your rational and logical thinking. Maths is neither an easy subject nor a tough one. You should dedicate proper with the Maths preparation and practice various daily problems.
It is also one of the scoring subjects in CBSE Class 12 Science Stream. So systematic learning is essential. Following CBSE Class 12 Maths Preparation Tips will help you to improve score:
You should have the latest CBSE 12th Maths Syllabus and Exam Pattern.
Make sure you have enough various Class 12 Maths exam preparation materials like Maths sample papers, Maths previous exam papers, Maths solutions, etc. The long answer type questions (i.e., of 6 marks) in CBSE Class 12 Maths are gems for your Class 12 Exam. You should start by solving easy questions first in the exam and invest the time wisely. This will boost your confidence, which will be carried through to the rest of the exam.
You should identify the most important topic where you can score better easily. That is Calculus (it carries 44% weightage). You should also give special attention to the unit of sum, maxima and minima application problems, application of integrals (do practice on plotting graphs & labeling them)
You should know that the topic Differential Equations is known to have application-based difficult questions.
The next important topic is Vectors and 3D Geometry, with 17% weightage.
Probability, Relations & Functions and Algebra have weightage 10%, 10% & 13% respectively.
Linear programming has 6% weightage. A little practice can fetch you six marks.
Other topics like Matrics and Determinants, Matrix Method, the inverse of a square matrix, and properties of determinants are very important.
In Class 12 Maths, concepts of line and plane in 3D requires few imagination skills and Bayes Theorem in probability.
You should solve CBSE Class 12 Maths Previous Exams paper to boost your speed of solving a problem.
CBSE Class 12 Preparation Tips 2020 For Chemistry
Here you can check the CBSE Class 12 Chemistry Preparation tips. Before starting a complete guide, make sure that you have the latest CBSE 12th Chemistry Syllabus and Exam Pattern.
Don't forget to have enough Class 12 Chemistry Study Materials.
You should complete all chapters from Class 12 Chemistry
If you have accomplished the study from the NCERT book before, then you just need to do a quick revision of the topics and then solve the NCERT problems from exercise.
If you have not accomplished the study of Class 12 Chemistry NCERT book before, then you must revise important topics as listed in Learning Objective' at the beginning of each chapter and then solve NCERT problems.
You should write the important formulae on a sheet and revise them daily basis.
You should know that Organic chemistry is a scoring section but requires systematic revision. Typically, the types of questions asked are:
Conceptual questions (reasoning based)
Conversions/Word Problem
Name Reactions
Distinction Test
Mechanism of reaction (as per NCERT)
You should practice as many questions as possible on a daily basis to build a thorough concept.
You should write the solution yourself several times to develop that flow and gain speed and accuracy while reading a chapter. Remember, balancing of reaction is not needed.
You should not make ignorance like most of the students by not revising certain chapters like Polymers, Bio-molecular, and Chemistry in everyday life. But these chapters collectively carry a weightage of 10 marks and hence. So you should invest the proper time to revise them.
In this section, the questions asked are:
Reasoning-based
Structure-based
Complete the reaction
p-block elements: You should note all-important reactions in a sheet and revise them on a regular basis. Practice the questions to develop that flow of writing.
d- and f- block elements: Revise and practice reasoning based questions; revise preparation structure and properties of compounds like KMnO4and K2Cr2O7
Coordination Compound: You should know that it's a very important chapter as a type of questions asked are different. So devote a good amount of time for this.
Metallurgy: You should revise thoroughly because a wide variety of questions are asked from this chapter.
You should Attempt old board questions papers and attempt mock test papers: You need to practice by solving old board exam question papers within a fixed time limit. This will help to know exam circumstances, flow, and speed, and most importantly, everything will get refreshed in mind.
CBSE Class 12 Preparation Tips 2020 For Physics
Class 12 Physics is one of the important subjects. A better base on the subject will not only help you to score a better mark but also score better in various entrance exams.
Before Class 12 Physics exam preparation, make sure that you have below study materials based on the latest CBSE 12th Physics Syllabus and Exam Pattern.
NCERT Class 12 Physics Textbook and Solutions.
Class 12 Physics sample Question Paper
Class 12 Physics Previous Year Question Papers
Class 12 Physics Important Notes and Test Series
To prepare the class 12 Physics Exam, you should follow the guide as given below.
Electrostatics and Optics are quite long chapters. Here you have to give sufficient time to revise these chapters thoroughly.
You will find a few subjective questions in the Class 12 Physics Exam based on Cyclotron, Van-de graff, and other similar apparatus. Hence practice such questions.
You should not neglect small chapters like Alternating Current and complete it and practice all questions from exercise.
You should clear the concept in the following chapters as soon as possible:
Magnetic properties of materials
Semi-conductor
Diffraction
Polarization
Optical Instrument
Electromagnetic Wave and Communication System
You should learn to solve long answer type questions with enough explanation on all the things as mentioned.
While solving numerical-type problems, make sure that you have put the correct values and that the calculations are correct and well described.
Ultimate Subject-Wise CBSE Class 12 Study Plan 2020 For Other Subjects
Class 10 Board Exam English Preparation Tips
You should follow the tips as given below. Make sure that you have latest CBSE Class 12 English syllabus  and Study Materials.
Unseen passage/note-making: This section is quite scoring and needs the least amount of effort compared to other sections.
Writing skills: Stick to formats religiously. Most of the questions in this section are for ten marks, divided into three marks for the format. Go through sample letters and also articles from Class 10 English books so that you can improve thinking skills and understand presentation skills. Board examiners often give preference to an exhaustive article that has lots of ideas and inputs by the student instead of simple repetitive arguments in fancy language.
Grammar: The only trick here is to practice more. Learn the basic rules and attempt as many questions as possible and correct yourself after making mistakes.
Literature: When it comes to poems, have a notebook handy and jot down everything your teacher explains. Please know that just understanding the chapter is not enough as students would need to write 7-10 mark answers in the exam. Keep this in mind, and make an effort to practice and solve previous year questions. Every long answer has an introduction, body, and conclusion. Your aim needs to be about writing 150-200 words spread across 3-4 paragraphs.
CBSE Class 12 Study Plan For Hindi
This subject is fairly scoring, and one can get 90+ easily. But to do that, you have to study the Class 10 NCERT textbooks really well as they are very useful.
You need to get your hands on Hindi Question Bank and practice questions.
Solve Class 10 Oswal Previous Year Question papers and cross-check with the solutions provided. In fact, most of the time, questions are just repeated in exams.
Thus, students can begin their Class 10 Preparation with a wide range of Class 10 Study Materials available online.
Students are also advised to implement these tips and strategies in their preparation and follow the study plan for class 10 accordingly.
CBSE Class 12 Study Plan To Score Above 90% in The Board Exam 2020
You should study daily and complete your syllabus. You should complete your projects, assignments, and practicals on the day they are assigned and get them out of your way.
Always start with easier chapters and gradually proceed to difficult topics. With basics concepts, you will find that even the most difficult topics will meltdown to simpler, easier concepts.
For subjects like Maths, Physics, and Chemistry, you should solve at least 5 to 10 questions daily without failure.
You should start focusing on the revision of chapters you already know at least three months before the exam. By solving past year question papers, you can clear your doubts more.
Many CBSE board exam questions are directly picked up from NCERT books. So, read them carefully.
If you are a Biology student, then you must practice the diagrams. Flowcharts and cycles can be a good way to learn lengthy processes that might otherwise seem too difficult to learn.
On the day of the exam, you should be relaxed and not worry about the chapters you have not covered well. You know that most chapters do not carry more than 4 to 5 marks in the CBSE question paper. So, you can still score a better grade without worrying much.
Last Month CBSE Class 12 Exam Preparation for Science Stream| Exam Preparation Time Table
Here we are providing you a sample Class 12 time table for last month's exam preparation. You should focus on a subject at a time.
You should note that you can modify any time based on your preferences.
Days

Subjects

 Important Tips

1-4

Physics – You should have the complete list of formulae, experiments, and derivations

1. You should revise weekly and take a written test of what you studied during the weekdays.

2. You should highlight the points and make notes of things that are difficult to remember.

3. You should give enough time to a Difficult Subject.

4. You should identify the two most difficult subjects and devote daily one hour to those subjects.

5. Say no to distractions like listening to music, watching television, text messaging, or surfing the Internet while studying.

6. Avoid late-night study and try to sleep between 11 – 11:30 P.M. Late night study will affect your sleep cycle, and it will also affect your focus.

7. Practice more Class 12 sample papers/previous year papers to understand the question pattern. You can also identify your weak areas

8. Keep yourself calm, positive, and confident.

5-9

Chemistry – You should practice more the questions related to organic and inorganic chemistry are fact-based questions. So you can solve them quickly.

10-15

Maths – You should clear the basics and concepts of the subject. You should practice a lot of lengthy calculations types of questions.

16-18

English – Read as much as you can. You should improve your vocabulary by studying your textbooks, the newspaper, or anything else you can lay your hands on. Practice grammars daily and know the basic rules.

19-22

Computer Science – The key to a successful Computer Science exam is understanding. You should know that the majority of the question paper is based on programming. So you should have a clear understanding of programming to score better.

22-26

Revision days as per subjects

26-30

Sample or Previous Years Papers
We have covered the detailed guide on CBSE Class 12 Preparation tips 2020 and Ultimate Subject-Wise Study Plans. Feel free to ask us any questions in the comment section below.