CBSE Class 12 Physics – Syllabus, Chapterwise Notes, NCERT Solutions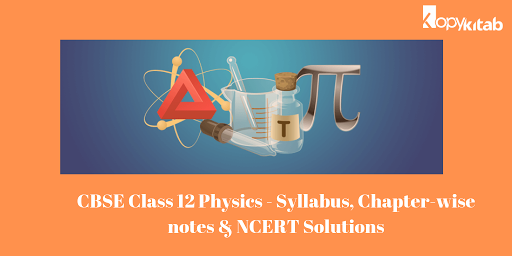 Physics has been at the heart of human modernisation and transformation of the world around us. That's why this is one of the core subjects for students who aim to pursue a career in the fields of engineering or medicine Specially CBSE Class 12 Physics. Since It is all about theorising concepts and testing their implementation in a real world setting, this subject is a combination of theory and problem-solving.make your prepation easier by studying NCERT Books for Class 12 and Other related Study materials.
CBSE Class 12 Physics
It is this intricate process of establishing the veracity of different theories through numerical calculations that makes Physics one of most unnerving subject for students. With the right tools at your disposal you can improve your CBSE Class 12 Physics performance by leaps and bounds, and in turn, better your odds of performing well in competitive exams like IIT-JEE and NEET. Here's a quick look at everything you need to make that happen:
CBSE Class 12 Physics Syllabus
As a rule of thumb, the first step toward doing well in any subject or exam is to understand it inside out. The CBSE Class 12 syllabus for Physics comprises a total of 15 chapters can look daunting at first. The key is to not let the burden of those fat books weigh on your mind is to look at one chapter at a time. Here is what the CBSE Class 12 Physics syllabus 2019-20 entails:
Electric Charges and Fields
Electrostatics Potential and Capacitance
Current Electricity
Moving Charges and Magnetism
Magnetism and Matter
Electromagnetic Induction
Alternating Current
Electromagnetic Waves
Ray Optics and Optical Instruments
Wave Optics
Dual Nature of Radiation and Matter
Atoms
Nuclei
Semiconductor Electronics: Materials, Devices and Simple Circuits
Communication Systems
Class 12 Physics Chapter wise Notes
Class 12 Physics chapter wise notes can be the most valuable tool for covering this vast and complex syllabus effectively. Use these specialised notes compiled by highly experienced teachers in conjunction with your textbooks for developing an in-depth understanding of different concepts, learning tricks and shortcuts to speed up the calculation process and ease of revision from time to time.
These notes often also highlight what parts of a particular chapter are most important from the examination point of view, allowing students to narrow down their focus on the right areas. Besides, the easy breakdown of Class 12 CBSE Physics chapters in these notes facilitates easy retention of what you have studied.
These notes can be easily downloaded from the KopyKitab website or app to be used as supplementary stud material, throughout the academic year and even during competitive exam preparations.
CBSE Class 12 Physics NCERT Solutions
As mentioned before, Physics is all about that synergy between learning and application of concepts. That's why numerical problems are an integral part of the curriculum. Often, these numericals are complex in nature and tricky to solve in the first few attempts. The NCERT solutions for Class 12 Physics syllabus are, thus, an indispensible tool for mastering the different concepts included in the curriculum.
With these solutions at their disposal, students can not only check whether they've got a particular question or problem right but also learn the correct approach for solving these problems. It also helps students understand type and format of questions asked in the actual exam.
At KopyKitab, we make these NCERT solutions for Class 12 Physics for each one of 15 chapters available online, facilitating an alternative, convenient and effective way of learning.
Take charge of your future by investing in the right tools for your Class 12 Physics preparation at the right time.
Keep following our blog for more updates and News on Class 12.Feel free to add your valuable feedback in the Comment Section.