UGC NET History Exam 2020 | Syllabus, Study Materials, papers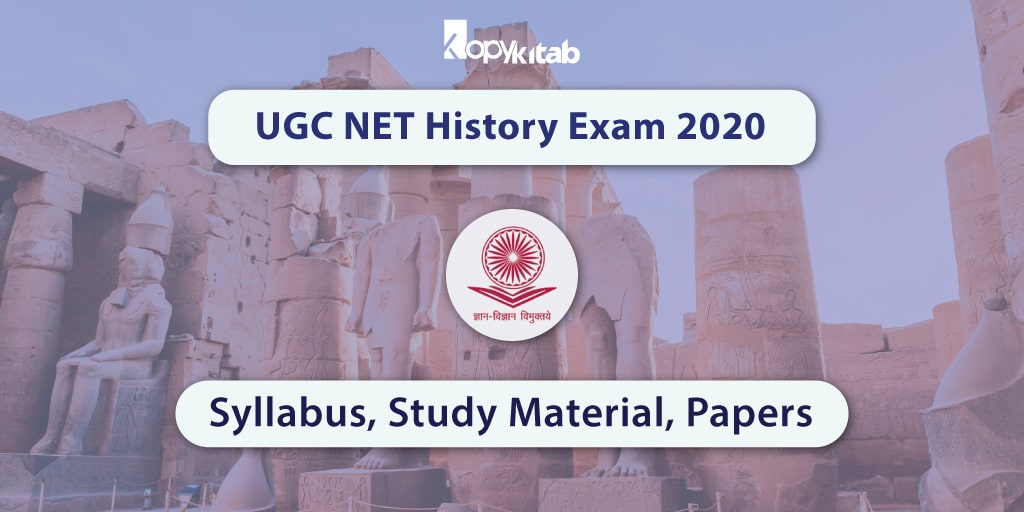 The UGC NET History Exam is around the corner and there is no time to waste. Are you thinking about building your career in history? Do you see yourself as a lecturer or a researcher?
Then you have come to the right spot because in this blog you will be placed in a world where all your questions related to the UGC NET History Exam Paper 2, syllabus, study materials, useful books, mock tests, course, coaching, cut off and exam pattern will have answers. In this blog, we will take you through the important aspects of the NET 2020 History exam.
Please read all the parts carefully. Don't miss out on anything because we have tried to clear all your confusions in relation to the upcoming exam here.
Basic Introduction
We have consulted some experts and we hope you will be in a better place after going through the various sections of this blog. Before you read we just want to give you an idea of this exam that you will be appearing for.
UGC History exam is conducted by National Testing Agency (NTA) and this exam is usually organized to recruit lecturers, professors, research associates as well as a junior research fellow in various Indian Colleges or Universities. Now go through the remaining portions slowly.
UGC NET History Syllabus 2020
The UGC NET examHistory Syllabus 2020 is just like the earlier version and for this reason, there is no need to panic. You can download, view or refer to the previous year's History NET syllabus without a second thought.
When you have the syllabus you are on the track and without the syllabus, you will not be able to make any decision based on your upcoming exam. Where can you find the syllabus for your NET Exam?
You don't need to bother about that because the UGC NET Syllabus is here for you. We have presented the syllabus in English as well as Hindi. 
UGC NET History Study Materials 2020 June
You have already gathered some information regarding your NET history exam and now it is almost time for you to prepare the appropriate study materials.
Here You can able to view different kinds of study materials and you will also get an option to download the pdfs but the question lies with the relevance of study materials for your upcoming history exam.
While structuring your study materials you also need to check how many modifications you have to make as you already have an idea of the syllabus. It will become easier for you if you can refer to the UGC NET History Question Paper 2018.
NET UGC History Question Paper PDF 
You must have realized the importance of arranging question papers for your upcoming history exam. You can refer to a 2018 question paper or NET History Question Paper 2019.
It is not only about the question paper that you are choosing for your history NET exam it is about understanding the importance of collecting question papers. We have attached a question paper here-
Analyze Solved NET History Question Paper | UGC History Question Paper Along With Answers PDF
Subscribing to various online coaching services is not enough for your UGC NET preparation. You will be exposed to NET History question papers but the way to overcome various barriers of History 2020 NET is by analyzing a solved question paper. When you examine a solved history paper thoroughly you will be able to appear for your upcoming exam with confidence. Here is a solved paper for you for your convenience-
History Question Paper With Answers-converted.pdf
Understand the importance of UGC NET History Online Coaching  
The students preparing for their upcoming exam often forget about their requirements or needs and it results in elimination. One of the essential requirements is enrolling for online coaching. If you go online you will come across experts who are experienced enough to provide the necessary guidelines regarding NET UGC coaching and they provide service in exchange of a certain amount of money. You can subscribe to any service according to your requirements.
Build a solid base for UGC NET by going through the History Course 
A solid base shapes you in such a way that you succeed in the NET exam 2020 History and it is built totally on the History Course. You must always go to the basics of History course if you want to secure a place in your upcoming exam. The basics will prepare you to overcome the NET challenge with ease.
Valuable tips regarding UGC NET History books
You will come across different types of books for your History UGC Exam while visiting a bookstore but you must know which book will be good for your needs. There are experts who can help you to choose the right history book. You can also seek help from your friends who are purchasing the relevant books and this can help to make the right choice when it comes to buying a relevant history book.
Make a note of your performance in 2020 UGC NET History Mock test
UGC History exam is knocking at your door and it is almost time for you to showcase your talent. 
We know that you are appearing for an endless number of mock tests but are you tracking your performances in mock tests? No.
You need to do it as soon as possible.  If you maintain a report while appearing for UGC NET Mock test then you will be able to access the effort that you are putting in.
Exam Pattern for UGC NET 2020 History |Last Year Cut off
Here are some important facts about your upcoming history exam. All questions that will be asked in the examination hall will be in the form of MCQ.
You will be asked a total of 150 questions NET (Paper 1: 50 Question and Paper 2: 100 Questions). All questions are compulsory to attempt.
Paper I will consist of General Aptitude Questions and Paper-II will have questions related to the subject selected by candidates. M
Hindi and English are the only options to attempt UGC NET. The choice for the paper medium can be exercised at the time of filling the form.
There will be no negative marking in this exam and the total duration of the exam is 3 hours.
Previous Year UGC NET History Cut off
The cut off marks vary every year and it is fixed on the basis of the performances of all the candidates. A student who wants to qualify in the NET exam has to secure the minimum cut off marks.  Here we have attached the previous year's NTA UGC NET history cut-off.
| | | |
| --- | --- | --- |
| Subject | JRF & Lectureship Cutoff  |  Lectureship Only Cutoff |
| History | 56.67 | 50.00 |
Other Important Subjects for UGC NET Exam
You should have enough study materials to boost your exam preparation for the NTA UGC NET exam.
Click on the link to access other Subjects related to the UGC NET exam.