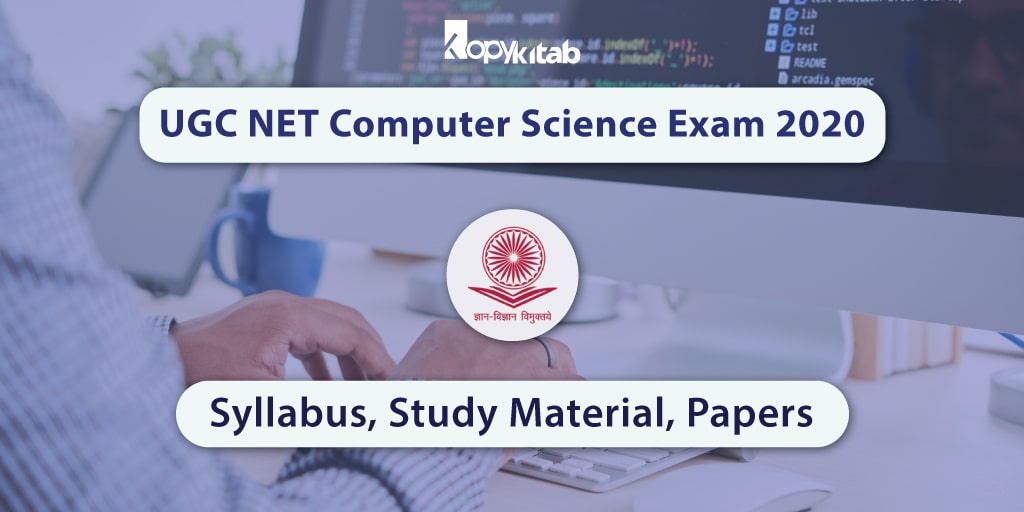 Computer Science is an important subject which deals with various applications of computer programming, operating system, computer network and etc. 
Are you planning to appear in the UGC NET 2020? Do you have the updated syllabus?
You don't have to worry because you have come to the right place. In this blog, we are going to cover all the important parts of UGC Net Computer Science and Application.
Basic Introduction
Starting from Syllabus and ending with Eligibility Criteria, you will come across all the relevant information which will clear all your doubts related to UGC Net Computer Science and Application.
UGC NET exam is conducted by National Testing Agency (NTA) for recruiting lecturers, professors, research associates as well as a junior research fellow in various Indian Colleges or Universities.
This page includes different parts related to UGC NET computer science syllabus, eligibility, preparation, question papers, books, pdfs, coaching, mock test, and course. Please read all the parts carefully.
UGC NET Computer Science Syllabus (latest) 2020
Cracking UGC NET Computer Science and Application is not a cup of tea. It takes a lot of effort to explore the topics which fall under the UGC NET Syllabus .
We have prepared a list of topics that are covered under UGC NET 2020 along with the topics covered under UGC NET Exam Computer Science Syllabus 2020 for your convenience.
Please go through all the relevant topics for your upcoming exam and get yourself ready.
Topics Covered in Paper-I
| | | |
| --- | --- | --- |
| S.No. | Topic  | Weightage |
| 1. | Environmental Science | 6 |
| 2. | Education | 5 |
| 3. | Computer | 4 |
| 4. | Polity | 1 |
| 5. | Important Days | 1 |
| 6. | Science | 1 |
Topics Covered in Paper-II 
| | | |
| --- | --- | --- |
| S.No. | Topic  | Weightage |
| 1. | Computer Architecture | 2 |
| 2. | Database Management System (DBMS) | 5 |
| 3. | Data Structure & DAA | 6 |
| 4. | Theory of Computation | 2 |
| 5. | Computer Networks | 6 |
| 6. | Programming (C/C++) | 4 |
| 7. | Software Engineering | 7 |
| 8. | Operating System | 6 |
| 9. | Discrete Structure | 6 |
| 10 | Digital Logic | 5 |
| 11. | Mobile Computing | 1 |
| 12. | Computer Architecture | 6 |
| 13. | Database Management System | 5 |
| 14. | Data Structures & DAA | 8 |
| 15. | Computer Graphics | 6 |
| 16. | Theory of Computation | 8 |
| 17. | Computer Networks | 7 |
| 18. | Programming (JAVA/HTML/XML) | 6 |
| 19. | Software Engineering | 6 |
| 20. | Operating System | 7 |
| 21. | Artificial Intelligence | 10 |
| 22. | Fuzzy Sets/ Rules | 2 |
| 23. | Image Processing | 1 |
| 24. | Unix | 2 |
| 25. | Network Security | 1 |
UGC NET Paper is mainly divided into two parts; Paper I & Paper II.
Candidates preparing for UGC NET Computer Science 2020 will have to go through various hurdles. Paper-I & Paper-II is mandatory for all the candidates who are planning to appear in UGC NET. Paper-I consists maximum questions from UGC NET Research & Teaching Aptitude.
Paper II consists of the questions from Computer Science & Applications.
UGC NET Marking Scheme Computer Science
Paper

Marks

Number of Questions

Duration

I

100

50 Questions all are Compulsory

 3 Hours

II

200

100 Question all are Compulsory
All questions of Paper-II are compulsory, covering the entire syllabus.
UGC NET Computer Science Exam preparation
Get to Know more about UGC NET Exam Preparation as listed below
UGC NET Computer Science Study Material 2019-2020
Preparing a UGC Computer Science Study Material is really important for your selection process. Study material helps you to save your valuable time and energy. You can channelize your thoughts effectively if you are ready with study material.
Your UGC NET preparation will have a new meaning when you plan ahead. It will only be possible when you come with study material for your UGC Computer Science Exam 2019-2020. The study material must cover all the important parts of the syllabus. So, think several times while you focus on your study material.
You can download the various UGC NET study materials from below.
UGC NET Computer Science Previous year Question Papers PDF
One of the best ways to score good marks in your Computer Science exam is by solving the previous year's UGC NET question paper.
Remember those days when you used to solve test papers before your exams? You have to do the same thing here. Try it once and see the difference.
Solved UGC NET Computer Science Question Paper 2019
A solved paper can clear all the doubts related to UGC NET Computer Science exam. Attempt all the questions first and then solve those questions without seeing the answers.
After completing your work go through all the answers. See where you stand. A solved Question Paper 2019 can make all the difference.
Choose the right UGC NET Computer Science Books For Your Reference
There are different computer science books but you have to choose the right one. While selecting the right book for your upcoming exam you must check if it's covering the entire UGC NET syllabus.
You must also check the content. Is it easy to understand? Ask yourself this question before you purchase a book of your choice. You can refer to those books which have already been purchased by other students for UGC NET 2019.
Talk to experts before you think about UGC NET Computer Science Coaching
Coaching classes shape your style of preparation effortlessly. Talk to all the experts before you join a tuition class. The experts are experienced enough to help you in choosing the right institute for your net exam.
A coaching center forms a solid base and prepares you for all the upcoming challenges associated with the NET exam and hence proper coaching is necessary for all the students appearing for their upcoming exam
Appear for Mock test
Appear for mock tests as many times as possible. The more you appear the better it will be for you. UGC NET Mock tests help you to access the progress of your studies. A student can improve in all the areas which need attention by appearing for mock tests.
Apply the methods which have been taught in UGC NET Computer Science Course:
A student must follow all the necessary course guidelines to improve his way of preparation. The students must apply all the tricks that they have learned from the computer science course.
The application-based course will determine the fate of all the students in the upcoming exams.
UGC NET Science Eligibility Criteria 2019-2020
The UGC NET Computer Science eligibility is based on two factors, Education Qualification and Age Limit. The candidates who will be able to fulfill the criteria can appear in this exam.
The UGC NET Eligibility Criteria for the year 2020 is almost the same as the eligibility criteria for UGC NET Computer Science in December 2019. We have provided some details for you and it will be clear if you read it with a focused mind.
Educational Qualification for Computer Science UGC NET
Candidates must score 55 % percentage in their Master's level or Equivalent Examination –
 For General Category – 55% Marks
 For ST/SC/OBC/PWD/Transgenders – 50% Marks
The Ph.D. holders who have completed their Master's level examinations before 19th September 1991 will be eligible to sit for the exam in relation to the relaxation of 5% in aggregate marks.
The candidates who are waiting for their final results are eligible for the NTA UGC NET Exam but there is one condition which the students have to fulfill. A student must be able to produce his or her result within 2 years of the NET Result Declaration Date.
The candidates who have completed their post-graduation in a field that is connected to Computer Science Stream are eligible to apply for UGC Exam.
 Age Limit for Computer Science UGC NET
For JRF: The candidates who are applying for the Junior Research Fellowship Exam must not age more than 30 years.
There is no upper age limit for Assistant Professor.
Other Important Subjects for UGC NET Exam
You should have enough study materials to boost your exam preparation for the NTA UGC NET exam.
Click on the link to access other Subjects related to the UGC NET exam.