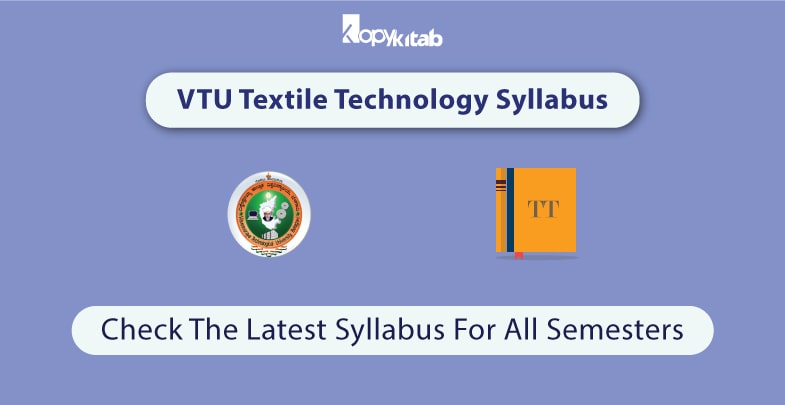 VTU Textile Technology Syllabus: The latest VTU Syllabus for Textile Technology helps you to secure a better grade in the exam. It will give you a clear idea to find the important chapters and concepts to be covered in all subjects. After clearing the concepts from those topics, you can easily score good marks.
With the clear concepts in every topic of Textile Technology, you can crack the various competitive exams like Gate. 
Here we are providing you the complete guide on VTU Textile Technology Syllabus 2020 and Marking Scheme.
VTU Textile Technology Syllabus 2020
All semesters are important stages for every student's life. Based on the score in a Textile Technology degree, you can shape your career in the proper way. With the latest Textile Technology Syllabus, you can create a solid study plan and score a better mark in all subjects in the semester exam. 
Before starting the complete guide on VTU Textile Technology Syllabus 2020, let's check the highlights of VTU from the table below.
VTU Belgaum Highlights
Established year
1998
Approvals
AICTE, UGC, COA( Council of Architecture)
Courses
UG(35), PG(94), Ph.D & Research(592 departments) Quality Improvement Program(13)
Official website
www.vtu.ac.in
Number of Students
+325000
Collaborations

Bosch Rexroth AG-Germany

Virginia Commonwealth University

University of California

Deshpande Foundation-Startup Center

India Electronics and Semiconductor Association

IBM India Ltd. Bengaluru

Intel Asia. Bengaluru
You should have the following syllabus to boost your exam preparation for the VTU Textile Technology.
Click on the link to access all semester syllabus related to Textile Technology.
VTU Textile Technology Syllabus:
VTU Textile Technology Syllabus:
Textile Technology Job Roles, Growth Prospects and Salary
Textile engineers not only apply innovative techniques for producing quality fabrics but also work towards improving the existing texture of fibers. The departments involved in the textile engineering process are – R&D, Technical sales, quality control, production control, and corporate management.
In India, there are two major textile sectors – Handloom and Mechanized sectors. Due to the rapid growth potential and increased demand, there is a number of job opportunities in the market.
Look at the job profiles available for the textile engineers:
| Job Profile | Job Description | Average Annual Salary* |
| --- | --- | --- |
| Medical Textile Engineer | The primary responsibility is includes developing fabrics for clothing, household items, medical supplies, furnishings. It also involves liaising with and providing technical advice to marketing, purchasing, and design and production staff. | Rs 3.10 LPA |
| Production Engineer | They are responsible for overseeing the production of a product, typically in an indoor factory setting and also ensure that production demands are met cost-effectively and efficiently. | Rs 4-4.5 LPA |
| Operation/Management Trainee | The operation trainee work under the supervision of the seniors for merchandising, QA, Production Planning, Production support, Industrial engineering, and others. | Rs 1.98-2 LPA |
| Quality Control Supervisor | The primary responsibility is to supervise in the handling of sample evaluation and production approval by reviewing the measurement, fitting, workmanship, quality, accessories, and other factors. | Rs 1.7-2 LPA |
| Process Improvement Engineer | The main job responsibility of the process improvement engineer includes performing root-cause analysis, create detailed reports about the improvement issues and execute process improvement processes. | Rs 4.38 LPA |
Top Companies Hiring Textile Engineers
The top companies hiring textile engineers are as below
Indian Textile Company Pvt Ltd
Soma Textiles & Industries Limited
Century Textile and Industries Ltd
Bombay Dyeing
Bombay Rayon Fashions Ltd
Arvind Ltd
Fabindia Overseas Pvt Ltd
Grasim Industries Ltd
We have covered the complete guide on VTU Textile Technology Syllabus 2020. feel free to ask us any questions in the comment section below