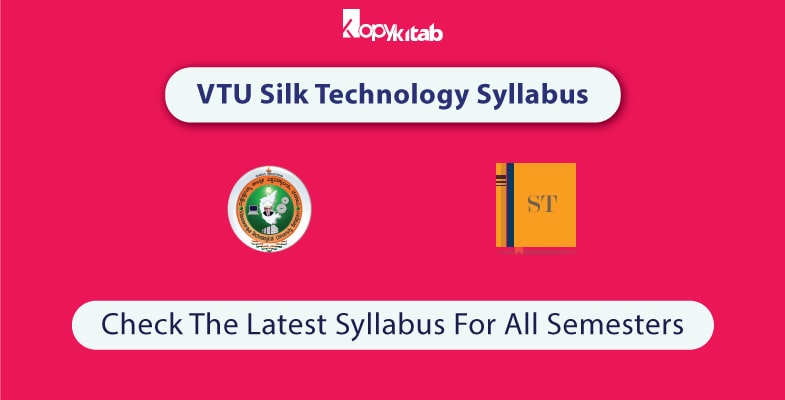 VTU Silk Technology Syllabus: You need to know the latest VTU Syllabus for Silk Technology to secure a better grade in the exam. It will give you a clear idea to find the important chapters and concepts to be covered in all subjects.
With the clear concepts in every topic of Silk Technology, you can crack the various competitive exams like Gate. 
Here we are providing you the complete guide on VTU Silk Technology Syllabus 2020 and Marking Scheme.
VTU Silk Technology Syllabus 2020
All semesters are important stages for every student's life. Based on the score in a Silk Technology degree, you can shape your career in the proper way. With the latest Silk Technology Syllabus, you can create a solid study plan and score a better mark in all subjects in the semester exam. 
Before starting the complete guide on VTU Silk Technology Syllabus 2020, let's check the highlights of VTU from the table below.
VTU Belgaum Highlights
Established year
1998
Approvals
AICTE, UGC, COA( Council of Architecture)
Courses
UG(35), PG(94), Ph.D & Research(592 departments) Quality Improvement Program(13)
Official website
www.vtu.ac.in
Number of Students
+325000
Collaborations

Bosch Rexroth AG-Germany

Virginia Commonwealth University

University of California

Deshpande Foundation-Startup Center

India Electronics and Semiconductor Association

IBM India Ltd. Bengaluru

Intel Asia. Bengaluru
You should have the following syllabus to boost your exam preparation for the VTU Silk Technology.
Click on the link to access all semester syllabus related to Silk Technology.
VTU Silk Technology Syllabus:
VTU Silk Technology Syllabus:
List of Job Options After B.Tech in Silk Technology
Silk Engineering graduates can find immense job opportunities in diverse industrial sectors. The career paths include process engineering, production control, technical sales, research and development, quality control and corporate management and many other fields.
Silk and Textile Engineers can also find attractive opportunities in textile and silk mills, export houses, knitwear manufacturing units, dyeing and printing industries.
With a B.Tech degree in Silk Technology, one can work as an Operations Engineer/Trainee, Assistant Manager in a design studio, Quality Control Supervisor, Sales In-charge, Fabric Development Executive, etc.
| | | |
| --- | --- | --- |
| Job Title | Job Profile | Salary (per annum) |
| Silk Engineer /Textile Process Engineer | Utilizes knowledge of silk and textile products, materials, production equipment capabilities, assembly methods, and quality control standards to drive change., Enhances current manufacturing methods using existing or new equipment to ensure repeatability and conformance to customer specifications. |  INR 4,20,000 |
| Clothing and Textile Technologist | Textile technologists work with a variety of materials including man-made and natural textiles, leather, fur, plastics and metals., Responsible for developing fabrics for furnishings, clothing, household items, medical supplies, or textiles for use within the automotive industry. |  INR 2 Lakh – 4 Lakh per annum (Fresher) |
| Textile Designer | Coming up with innovative ideas and developing commercially-appealing designs and prints for a variety of fabrics, using both natural and manmade fibers. |  INR 3,68,671 per year – INR 7,24,829 |
| Silk/Textile Manufacturer | Silk/Textile manufacturers oversee the production of raw materials into salable textile products., Effective management and people skills are necessary for managing the many departments in a textile or silk mill., Technical expertise in the production is also required for plant managers. |  INR 6,00,000 |
| Silk/ Textile Quality Control | Job responsibilities include setting quality standards for the factory following buyer's requirements and guidance for each departments and processes., Monitor the quality of the product through the various stages of production., Involvement in product development and sampling stage and take care of quality aspects of samples. |  INR 5,93,324 |
We have covered the complete guide on VTU Silk Technology Syllabus 2020. Feel free to ask us any questions in the comment section below.