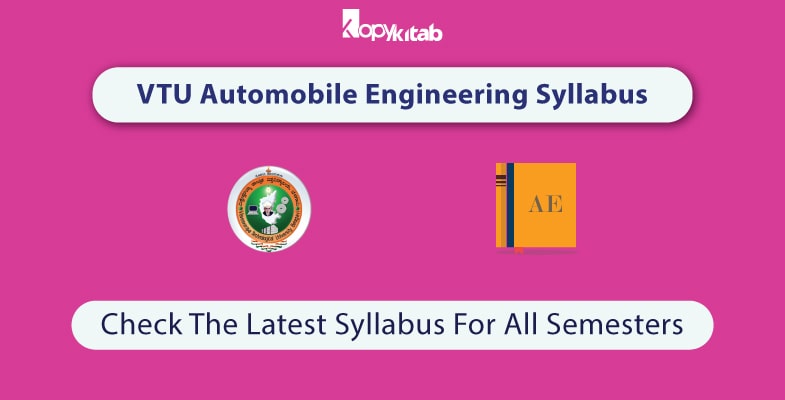 VTU Automobile Engineering Syllabus: Automobile Engineering is one of the most advanced courses in engineering that involves making of an automobile, including manufacturing, operation, design, and investigation of it during repairs, reconstruction, and modification.
You should know the latest syllabus and marking scheme to prepare for the VTU Automobile Engineering exam. The depth knowledge in every topic of Automobile Engineering will also help to crack the various competitive exams like Gate.
In the latest VTU Syllabus for Automobile Engineering, you will find the important chapters and concepts to be covered in all subjects.
Here we are providing you the complete guide on VTU Automobile Engineering Syllabus 2020 and Marking Scheme.
VTU Automobile Engineering Syllabus 2020
The syllabus of Automobile engineering is a blend of both practicals and theories. Just like all branches of engineering, the first 2 semesters will follow the same syllabus as others. Changes in the syllabus will be visible from the second year of the curriculum.
You can start your exam preparation by creating a solid study plan and score a better mark in all subjects in the semester exam with the latest Automobile Engineering Syllabus. Based on the score in an Automobile Engineering degree, you can shape your career in the proper way.
Before starting the complete guide on VTU Automobile Engineering Syllabus 2020, let's check the highlights of VTU from the table below.
VTU Belgaum Highlights
Established year
1998
Approvals
AICTE, UGC, COA( Council of Architecture)
Courses
UG(35), PG(94), Ph.D & Research(592 departments) Quality Improvement Program(13)
Official website
www.vtu.ac.in
Number of Students
+325000
Collaborations

Bosch Rexroth AG-Germany

Virginia Commonwealth University

University of California

Deshpande Foundation-Startup Center

India Electronics and Semiconductor Association

IBM India Ltd. Bengaluru

Intel Asia. Bengaluru
Click on the link to access all semester syllabus related to Automobile Engineering.
VTU Automobile Engineering Syllabus:
VTU Automobile Engineering Syllabus:
Scope & Career Opportunities In Automobile Engineering
India is a potential emerging automobile market and jobs in the automobile industry are also increasing significantly. 
There are a host of job opportunities for an automobile engineer in production plants, service stations of automobile companies, automobile manufacturing industries, motor vehicle departments of control, transport companies, insurance company experts, and state transport corporations, etc. the students are taught to be experts in CAD (Computer-Aided Design), CAM, ERP and therefore one can easily join designing companies as designers of an automobile.
Automobile Engineering Job Profiles
The job roles of an automobile engineer are mainly classified into three streams, Production or Designing, Development, and Manufacturing. Depending on these areas following are job profiles for an automobile engineer-
Product Engineers- Those who deal with the designing and testing of the components and systems of automobiles
Manufacturing Engineers- Those who design and layout the equipment, machine rates and line rates, specification of automation equipment, and manufacturing safety procedures.
Development Engineers- They have the responsibility for directing the delivery of the engineering elements of a complete automobile as ordered by the automobile manufacturer, governmental regulations, and the customer who buys the product.
Top recruiters for Automobile Engineering
Let's take a look at some of the leading companies where the aspirants of Automobile engineering can find good job opportunities.
TATA Motors
Honda
Ford
Mahindra
Ashok Leyland
Renault Nissan
General Motors
Hyundai
Bajaj
Maruti Suzuki
Automobile Engineer Salary
An Automobile engineer's salary depends upon his/her educational and professional qualifications as well as a skillset. The salary scale may increase or decrease as per the exposure and experience a candidate has. Mentioned-below is salary figures for different types of Automobile engineers:
Given below is a list of companies that hire automotive engineers in India along with the average salary package offered:
| | |
| --- | --- |
| Recruiters | Average Package (in INR) |
| TATA Motors | 6,39,000 |
| Ashok Leyland | 6,17,000 |
| Haldex India | 5,00,000 |
| Maruti Suzuki | 5,60,000 |
| Renault | 3,12,000 |
We have covered the complete guide on VTU Automobile Mechanical Engineering 2020. Feel free to ask us any questions in the comment section below.