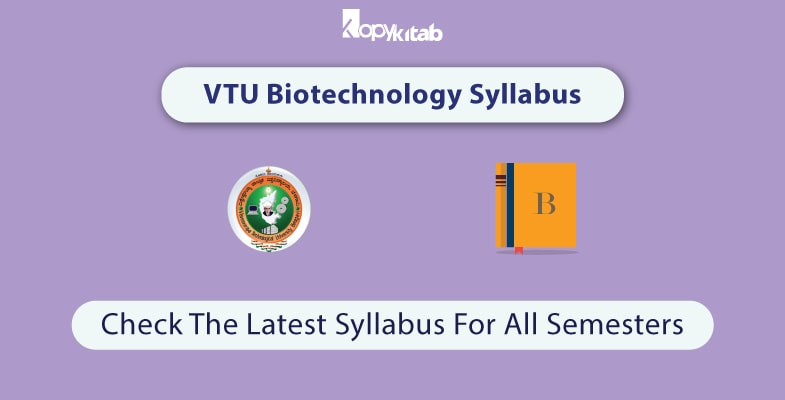 VTU Biotechnology Syllabus: You should know the latest Biotechnology Syllabus and marking scheme to prepare for the Biotechnology exam. The latest VTU Syllabus for Biotechnology lets you know the important chapters and concepts to be covered in all subjects.
With the clear concepts in every topic of Biotechnology, you can crack the various competitive exams like Gate.
Here we are providing you the complete guide on VTU Biotechnology Syllabus 2020 and Marking Scheme.
VTU Biotechnology Syllabus 2020
With the latest Biotechnology Syllabus, you can create a solid study plan and score a better mark in all subjects in the semester exam. 
You must have Biotechnology books & study materials, Previous years questions paper along with the latest Biotechnology Syllabus to enhance your semester exam preparation.
VTU publishes the latest syllabus for all branches in its official Website. All semesters are important stages for every student's life. Based on the score in a Biotechnology degree, you can shape your career in the proper way.
Before starting the complete guide on VTU Biotechnology Syllabus 2020, let's check the highlights of VTU from the table below.
VTU Belgaum Highlights
Established year
1998
Approvals
AICTE, UGC, COA( Council of Architecture)
Courses
UG(35), PG(94), Ph.D & Research(592 departments) Quality Improvement Program(13)
Official website
www.vtu.ac.in
Number of Students
+325000
Collaborations

Bosch Rexroth AG-Germany

Virginia Commonwealth University

University of California

Deshpande Foundation-Startup Center

India Electronics and Semiconductor Association

IBM India Ltd. Bengaluru

Intel Asia. Bengaluru
You should have the following syllabus to boost your exam preparation for the VTU Biotechnology.
Click on the link to access all semester syllabus related to Biotechnology.
VTU Biotechnology Syllabus:
VTU Biotechnology Syllabus:
Biotechnology Jobs
Entry-level biotechnologists or candidates with a bachelor's degree in biotechnology can work as research technicians. They help out leading research scientists to conduct and monitor experiments and may also record data and prepare reports.
Graduates with a master's degree can expect to work as a lead to research projects and team. A lab manager or teacher/lecturer.
 Biotechnological applications are used widely in the following industries:
Healthcare
Medicine
Pharmaceutical
Agriculture
Animal husbandry
Genetic engineering
Environmental conservation
Soil biology
Ecology
Textile industry
Cosmetics
Biotechnologists can find jobs in both private and government undertakings with specialisations in different sub-disciplines.
Biotechnologists can work for various organisations/industries under these positions:
Medical scientists,
Biological technicians
Medical and Clinical Lab Technologists & Technicians
Biochemists and Biophysicists
Biomedical Engineers
Microbiologists
Epidemiologists
R&D and Process Development Scientists
Biomanufacturing Specialists
Bioproduction Operators
Top Recruiters Hiring Biotechnologist
Even though several companies hire Biotechnology engineers; some of the most leading ones are mentioned below:
The Government of India National Biotechnology Board (NBTB)
The Department of Science and Technology (DST)
Council for Scientific and Industrial Research (CSIR)
Indian Council for Medical Research (ICMR)
Department of Atomic Energy (DAE)
Indian Council for Agricultural Research (ICAR)
Defense Research Development Organization (DRDO)
Indian Institute of Science (IISC)
Biotechnology Consortium of India Ltd (BCIL)
Biotechnology Professionals Salary
The renumeration here, depends on your academic qualification and skills like other job profiles.
Fresh graduates can expect a monthly salary in the range of Rs.8,000 to Rs.20,000.
With increase in level of experience, there is abundant scope for getting better salary.
We have covered the complete guide on VTU Biotechnology Syllabus 2020. feel free to ask us any questions in the comment section below