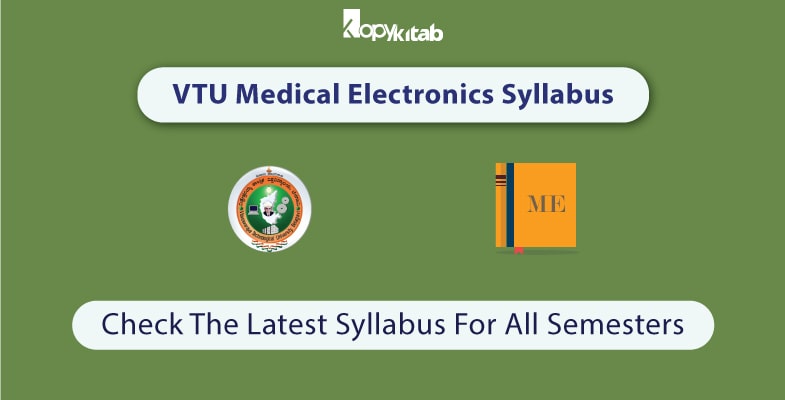 VTU Medical Electronics Syllabus: To secure a better grade in the exam, you must have the latest VTU Syllabus for Medical Electronics. It will give you a clear idea to find the important chapters and concepts to be covered in all subjects. With the clear concepts in every topic of Medical Electronics, you can crack the various competitive exams like Gate. 
Here we are providing you the complete guide on VTU Medical Electronics Syllabus 2020 and Marking Scheme.
VTU Medical Electronics Syllabus 2020
All semesters are important stages for every student's life. Based on the score in a Medical Electronics degree, you can shape your career in the proper way. With the latest Medical Electronics Syllabus, you can create a solid study plan and score a better mark in all subjects in the semester exam. 
You must have Medical Electronics books & study materials, Previous years questions paper along with the latest Medical Electronics Syllabus to enhance your semester exam preparation.
Before starting the complete guide on VTU Medical Electronics Syllabus 2020, let's check the highlights of VTU from the table below.
VTU Belgaum Highlights
Established year
1998
Approvals
AICTE, UGC, COA( Council of Architecture)
Courses
UG(35), PG(94), Ph.D & Research(592 departments) Quality Improvement Program(13)
Official website
www.vtu.ac.in
Number of Students
+325000
Collaborations

Bosch Rexroth AG-Germany

Virginia Commonwealth University

University of California

Deshpande Foundation-Startup Center

India Electronics and Semiconductor Association

IBM India Ltd. Bengaluru

Intel Asia. Bengaluru
You should have the following syllabus to boost your exam preparation for the VTU Medical Electronics.
Click on the link to access all semester syllabus related to Medical Electronics.
VTU Medical Electronics Syllabus:
VTU Medical Electronics Syllabus:
Medical Electronics Jobs & Salary
With the way, the healthcare sector is growing and the prices of sophisticated electronic equipment are falling, the field promises rewarding career opportunities for skilled Medical Electronics engineers. Such graduates are offered lucrative career opportunities in designing, manufacturing, maintenance, and repair of medical equipment.
| | | |
| --- | --- | --- |
| Job Profile | Job Description | Pay Scale |
| Clinical Engineers | Responsible for managing And organizing medical equipment, by administering the computer systems that process equipment data or overseeing service contracts. | Avg. 3.0 Lakh p.a. |
| Biomaterials Engineers | Responsible for all engineering functions involved in their product lines. This includes bringing a product from concept through design, prototyping, testing, verification and validation, manufacturing, FDA approval, product introduction and post- introduction monitoring. | Avg. 3.1 Lakh p.a. |
| Patent Analyst | Responsible for summarizing the content of a patent to produce a clear and concise abstract, identifying key areas of interest, such as new innovations and uses and advantages of the invention. | Avg. 4.0 Lakh p.a. |
| Business Managers | Responsible for performing day-to- day administrative tasks, keeping the medical practice running smoothly. Instead, they focus on the business aspects of operating a medical office, with duties that may include ordering supplies, hiring staff and budgeting. | Avg. 5.0 Lakh p.a. |
| Professors/Teachers | – | Avg. 3 Lakh p.a. |
| Research Scientists | Responsible for Designing and analyzing information from controlled laboratory-based investigations, experiments and trials. | Avg. 3.5 Lakh p.a. |
| Technical Writers | Also called Technical Communicators, responsible for preparing instruction manuals, journal articles, and other supporting documents to communicate complex and technical information more easily. | Avg. 2 Lakh p.a. |
| Biomechanics Engineers | Responsible for designing and evaluating devices and procedures, performing research, and evaluating treatment techniques. | Avg. 4 Lakh p.a. |
| Bioinstrumentation Engineer | Responsible for the research, design, development and installation of devices and systems used in manufacturing facilities and plants. | Avg. 5 Lakh p.a. |
Medical Electronics is one of the highly rewarding fields of engineering. 
Some of the top recruiting industries for this specialization are listed here:
Hospitals
Colleges and universities
R&D Firms
Medical Electronics and Instrumentation
Medical Systems
Some of the top recruiters in the field are as follows:
Fortis Hospital
Apollo Hospitals
Wipro Medical
BPL
Larsen & Toubro Ltd.
Neurofocus
Philips
Sap Labs
Siemens
TCS
Transasia Biomedical
Wipro Biomedical
GE Biomedical
We have covered the complete guide on VTU Medical Electronics Syllabus 2020. feel free to ask us any questions in the comment section below