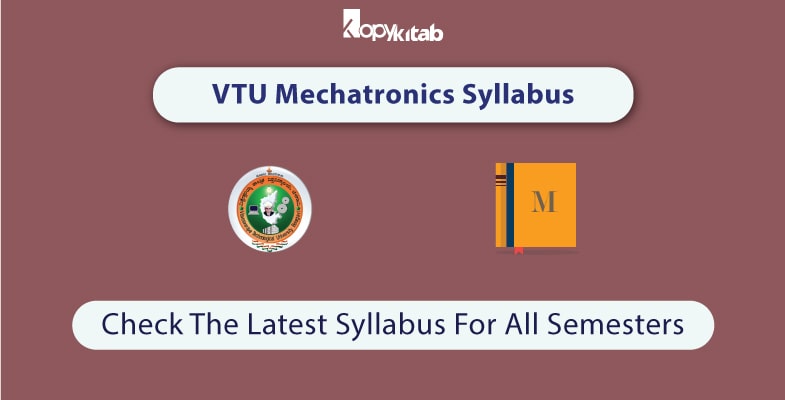 VTU Mechatronics Syllabus: You should know the latest VTU Syllabus for Mechatronics, you will help you to find the important chapters and concepts to be covered in all subjects. With the clear concepts in every topic of Mechatronics, you can crack the various competitive exams like Gate. 
Here we are providing you the complete guide on VTU Mechatronics Syllabus 2020 and Marking Scheme.
VTU Mechatronics Syllabus 2020
All semesters are important stages for every student's life. Based on the score in a Mechatronics degree, you can shape your career in the proper way. With the latest Mechatronics Syllabus, you can create a solid study plan and score a better mark in all subjects in the semester exam. 
You must have Mechatronics books & study materials, Previous year's questions paper along with the latest Mechatronics Syllabus to enhance your semester exam preparation.
Before starting the complete guide on VTU Mechatronics Syllabus 2020, let's check the highlights of VTU from the table below.
VTU Belgaum Highlights
Established year
1998
Approvals
AICTE, UGC, COA( Council of Architecture)
Courses
UG(35), PG(94), Ph.D & Research(592 departments) Quality Improvement Program(13)
Official website
www.vtu.ac.in
Number of Students
+325000
Collaborations

Bosch Rexroth AG-Germany

Virginia Commonwealth University

University of California

Deshpande Foundation-Startup Center

India Electronics and Semiconductor Association

IBM India Ltd. Bengaluru

Intel Asia. Bengaluru
You should have the following syllabus to boost your exam preparation for the VTU Mechatronics.
Click on the link to access all semester syllabus related to Mechatronics.
VTU Mechatronics Syllabus:
VTU Mechatronics Syllabus:
Mechatronics Jobs & Responsibilities
Mechatronics engineers create and improve automated processes. For example, mechatronics engineers may review an assembly line and determine that welding processes on the assembly line are inefficient. Next, engineers may use cost-analysis to highlight an estimated amount that could be gained by improving the system.
If superiors approve their project, mechatronics engineers may then use computer-aided design software to develop and test potential solutions, such as better machines or welding equipment. Once a new system has been tested and decided upon, engineers may help implement the machinery and controls.
Salary Structure: The Mechatronics Engineers actively participate in the product research & development process. The produced machines may be from any industry or located in any location. The Mechatronics career is very much sustainable and will play a key role in any future innovations.
The qualifications, work experience, and ability are the key factors to determine the salary of the engineering profession. In India, the starting salary of a fresh Engineer will range from Rs.15,000 to Rs.20,000 per month, with allowances.
Those who have gained experience can receive remuneration ranging from Rs.25,000 to Rs.40,000 per month within India.
We have covered the complete guide on VTU Mechatronics Syllabus 2020. feel free to ask us any questions in the comment section below