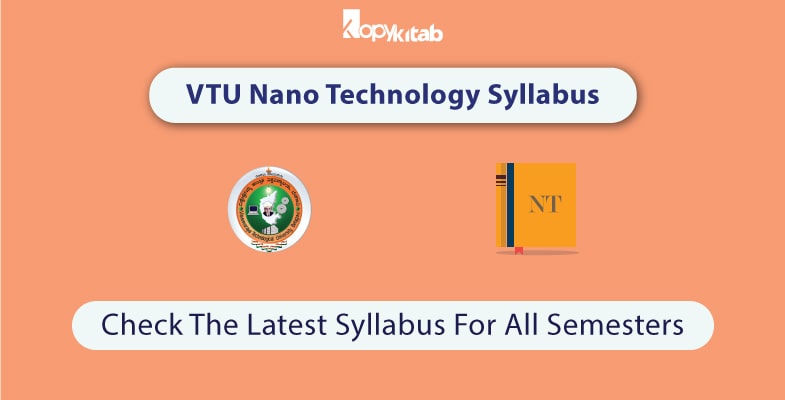 VTU Nano Technology Syllabus: You need to know the latest VTU Syllabus for Nano Technology to secure a better grade in the exam. It will give you a clear idea to find the important chapters and concepts to be covered in all subjects.
With the clear concepts in every topic of Nano Technology, you can crack the various competitive exams like Gate. 
Here we are providing you the complete guide on VTU Nano Technology Syllabus 2020 and Marking Scheme.
VTU Nano Technology Syllabus 2020
All semesters are important stages for every student's life. Based on the score in a Nano Technology degree, you can shape your career in the proper way. With the latest Nano Technology Syllabus, you can create a solid study plan and score a better mark in all subjects in the semester exam. 
Before starting the complete guide on VTU Nano Technology Syllabus 2020, let's check the highlights of VTU from the table below.
VTU Belgaum Highlights
Established year
1998
Approvals
AICTE, UGC, COA( Council of Architecture)
Courses
UG(35), PG(94), Ph.D & Research(592 departments) Quality Improvement Program(13)
Official website
www.vtu.ac.in
Number of Students
+325000
Collaborations

Bosch Rexroth AG-Germany

Virginia Commonwealth University

University of California

Deshpande Foundation-Startup Center

India Electronics and Semiconductor Association

IBM India Ltd. Bengaluru

Intel Asia. Bengaluru
You should have the following syllabus to boost your exam preparation for the VTU Nano Technology.
Click on the link to access all semester syllabus related to Nano Technology.
VTU Nano Technology Syllabus:
VTU Nano Technology Syllabus:
List of Job Options After B.Tech in Nano Technology
In Nano Technology, there are enormous job opportunities are available in public sector or government organizations.
Some of the job profiles for nanotechnology graduates at top recruiters are:
Industry

Job Profile

Description

Education

Assistant Professor

Required to teach students at the university and assist in the research carried out by the institution.

Research & Development

Research Associate

In this profile, the requirement is to carry out intensive research in areas concerned with nanotechnology.

R&D Executive

Plans, coordinates and supervises all the research activities. It is also required of a R&D executive to estimate and schedule the research project and report.

Engineering

Design Engineer

Needs to develop, improve and evaluate the designs in the field of nanotechnology and ensure their smooth application.

Research Scientist

Helps in evaluating the performance of research project going on and come up with new ones.

Project Lead

A Project Lead is needed for management of operations related to the project to ensure the smooth functioning.
Top Recruiters:
The top recruiters on the constant lookout to swoop away fresh talent from the field of nanotechnology are:
Council of Scientific and Industrial Research
Cranes Software International Limited
Monad Nanotech Pvt. Ltd.
Qtech Nanosystems
Innovations Unified Technology
Minatec
Meticulum
Johnson & Johnson
Yashnanotech
Velbionanotech
Nanoshel
Micromaterials Private Limited
Nanobio Chemicals
Salary: The starting remuneration in this field depends upon the industry. A fresher will gets the annual salary of around 3 lacs. Salary varies in the public and private sector.
We have covered the complete guide on VTU Nano Technology Syllabus 2020. feel free to ask us any questions in the comment section below