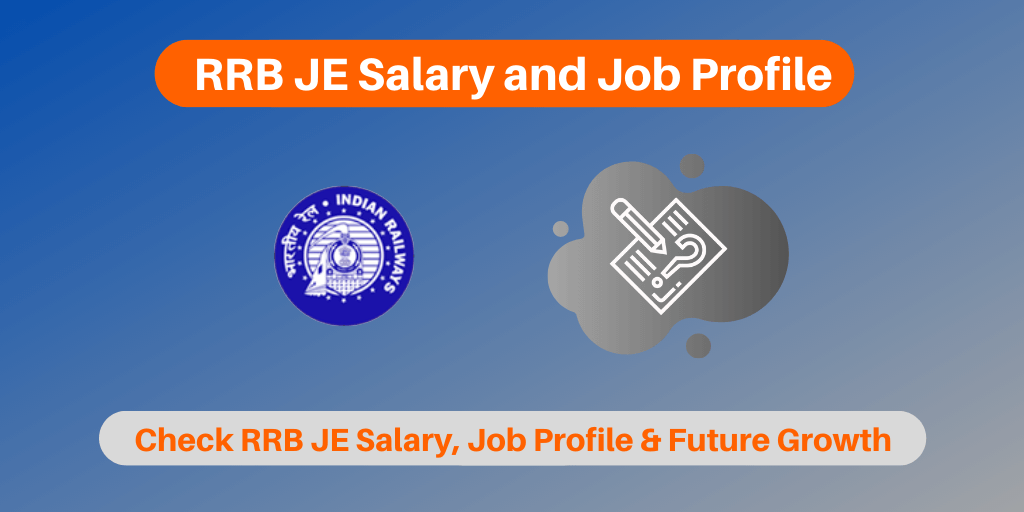 RRB JE recruitment starts with the RRB JE Exam notification 2020 in March. The aspirants can also apply online for the RRB JE job profile till April 2020 tentatively. This is a golden opportunity for all those aspirants who wish to join Indian railways after their diploma or degree. This article provides every detail regarding RRB JE Salary and Job profile. The Railway Recruitment Board JE notification released every year and this year, it releases 12873 vacancies.
RRB JE Salary
The aspirants who are engrossed can participate in RRB Railway Recruitment 2020 procedure as this job notification is the best career option. So, the aspirants who are applying for this post must search for the Railway JE salary and profile of several posts under RRB JE recruitment 2020.
Here is the detailed information about the RRB JE job profile, RRB JE pay scale, and other facilities.
| | |
| --- | --- |
| Exam | RRB JE |
| Exam Date | Tentatively June/Jul |
| Exam Mode | Online |
| Selection Process | CBT 1, CBT 2, Document Verification, Medical Examination |
| Vacancies  | 13,487 |
| Pay Scale | 9000-35000 + Allowances |
RRB is looking for young skilled candidates to recruit them. These job vacancies offer an excellent career scope for the candidates who are dreaming of being part of RRB Careers. The intended candidates must Apply for the RRB JE Exam before losing this golden chance. Therefore, inquisitive candidates who are eligible for this work profile according to the posts can fill the Junior Engineer Jobs.
RRB JE Job Profile
There are five departments that recruits candidates and they are:
| | |
| --- | --- |
| S. NO | Departments |
| 1 | Civil |
| 2 | Electrical |
| 3 | Electronics and Telecommunication |
| 4 | Mechanical |
| 5 | IT |
RRB JE Civil Work Profile
The candidate who will be selected as RRB JE Civil will work as a Supervisor in the Civil Engineering Department of Railways. He will be called as the Inspector of Works.
He is responsible for the construction and maintenance of Railway buildings.
He has to ensure that the track is maintained in the best quality to enable smooth, safe and fast movement of trains.
He is responsible for the maintenance of bridges in the Railway Division.
He holds the inspection and maintenance of all track machines and also confirms that the machines are working efficiently and are in proper working condition.
RRB JE Electrical Job Profile
The candidate entitles to this job role has responsibilities like maintenance of several types of equipment used in the Railway Department.
He is responsible for the production and safeguarding of the Main Line EMUs (MEMUs), Electrical Locomotives and Electrical Multiple Units (EMUs).
He ensures that the drive Wheels spin at a standard rate if the motion of wheels is too fast.
He handles the maintenance of overhead equipment (OHE) and substations which are involved in shifting of rolling stock.
RRB JE Electronics and Telecommunication Work Profile
The candidate entitles to this job role has responsibilities such as oversee the signaling installations of the stations, submission of proposals for revenue & work budget and for periodic reviews.
RRB JE Mechanical Job Profile
This Profile includes manufacturing, maintenance (Division and Workshop) and operation of carriage, wagon, and locomotives.
RRB JE IT Work Profile
The Profile of JE (IT) includes handling IT-related matters of the Railways, procurement of IT hardware, software, and office equipment such as photocopier, fax machine, and much more.
RRB JE Salary 2020
Here you can check the detailed salary structure of RRB JE. As per the 7th pay commission, the RRB JE salary 2019 was revised. The selected candidates will receive Rs 34,500 RRB JE salary in hand.
RRB JE Salary | After 7th Pay Commission
When the candidates complete the training period, they are eligible for allowances such as HRA and TA & other incentives. The candidates who work as JE in Railways, RRB JE pay scale is around Rs 42,000 per month after the RRB JE training period. The candidates will be posted in locations after the training period. However, Salary of Junior Engineer will depend upon their location of posting. The Railway Commission has Categorized the cities as city X, Y and Z.
City X – Metropolitan Cities
City Y – Metropolitan Cities along with other developed and larger cities.
City Z – Small Cities and Villages
| | |
| --- | --- |
| Categories | Name of the Cities |
| City X | Bengaluru, Greater Mumbai, Pune, Hyderabad, Delhi, Ahmedabad, Chennai, and Kolkata |
| City y | Amritsar, Jalandhar, Ludhiana, Puducherry, Meerut, Ghaziabad, Raipur, Rajkot, Jamnagar, Bhavnagar, Moradabad, Thrissur, Malappuram, Kannur, Kollam, Gwalior, Indore, Bhopal, Jabalpur, Ujjain, Amravati, Nagpur, Aurangabad, Nashik, Bhiwandi, Solapur, Kolhapur, Vasai-Virar Cty, Vijayawada, Warangal, Greater Visakhapatnam, Guntur, Nellore, Guwahati, Patna, Hubli-Dharwad, Mangalore, Mysore, Gulbarga, Kozhikode, Kochi, Thiruvananthapuram, Bikaner, Jaipur, Jodhpur, Kota, Ajmer, Salem, Tirupur, Coimbatore, Tiruchirappalli, Madurai, Erode, Dehradun, Chandigarh, Durg-Bhilai Nagar, Sangli, Cuttack, Bhubaneswar, Rourkela, Vadodara, Surat, Faridabad, Gurgaon, Srinagar, Jammu, Jamshedpur, Dhanbad, Ranchi, Bokaro Steel City, Belgaum, Malegaon, Nanded-Waghala, Aligarh, Agra, Bareilly, Lucknow, Kanpur, Allahabad, Gorakhpur, Varanasi, Saharanpur, Noida, Firozabad, Jhansi, Asansol, Siliguri, Durgapur |
| City Z | Remaining Cities |
RRB JE Pay Scale After 7th Pay Commission with Allowances
City X
City Y
City Z
Basic Pay
13,500
13,500
13,500
Dearness allowances
16,875
16,875
16,875
HR Allowances
4050(30% of Basic Sal)
2700(20% of Basic Sal)
1350(10% of Basic Sal)
others
4000
4000
4000
In-Hand Salary
38,425
37,075
35,725
Deductions
2000
2000
2000
Deductions
2000
2000
2000
Click Here to Know about Detailed RRB JE Syllabus
Railway Junior Engineer facilities and perks
The Junior Engineers who work in the Indian Railways will enjoy several facilities and perks apart from the job security and salary. The RRB JE facilities and perks offered by the government for JE include:
Medical Allowance
Travel Allowance
Educational Allowance
House Rent Allowance
RRB Junior Engineer(JE) Career Growth
Candidates need to focus on their work and occupy senior posts once they clear all rounds of RRB JE Selection Process. The Promotion level of RRB Junior Engineer is as Follows
Senior Section Engineer
Assistant Divisional Engineer
Divisional Engineer
Senior Divisional Engineer
Essential Information for RRB JE Exam
You should refer below links to know Railways Recruitment Board Junior Engineer Exam.
the detailed guide on RRB JE Salary and Profile. Feel free to ask us any questions in the comment section.