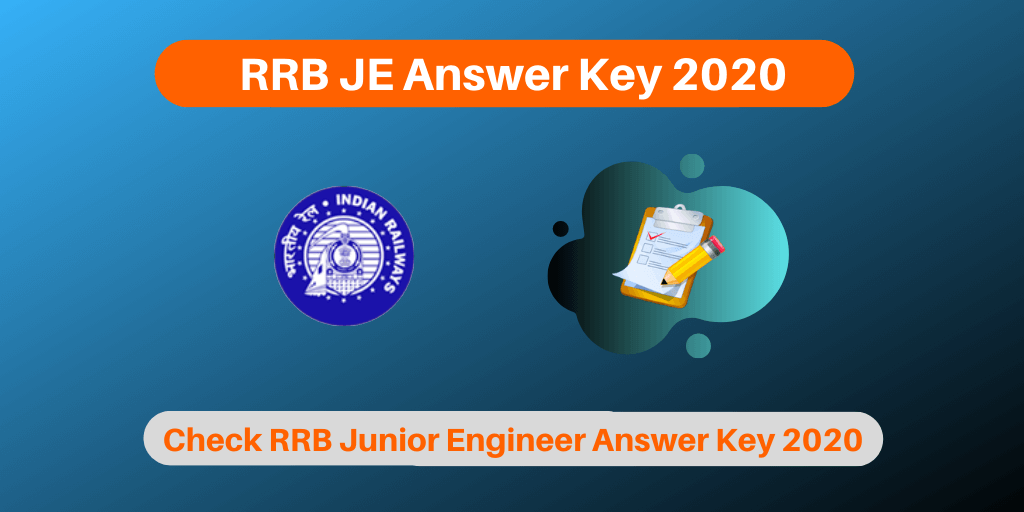 RRB JE is the Railway Recruitment Board's exams for hiring Junior Engineers. Thousands of job opportunities open up at Indian Railways every year and 2020 is no different. This year, the exam would be conducted to fill up the posts of Junior Engineer (JE), Junior Engineer (Information Technology), Depot Material Superintendent and Chemical & Metallurgical Assistant, and the opportunities will be available for candidates across zones. In this article, we will learn about RRB JE Answer Key and How to Download and raise the Objection.
RRB JE Answer Key
The Railway Recruitment Board successfully conducted the phase 1 online exam for recruiting across zones and the candidates can now check the RRB JE cut-off and merit list and also the Railway Recruitment Board JE Answer Key on the official RRB website of their zone.
The RRB JE exam Answer Key is provided to applicants to check the number of answers they got correct, calculate their marks and have an idea of their result. 
How to download RRB JE Answer Key PDF and calculate the Score?
Visit the official RRB website and search for Indian Railways Junior Engineer Answer Key 2020
Click on the RRB JE Answer Key link, save the exam paper solutions, and download and print the Answer Key pdf
Check the number of answers you got write and use the below formula to calculate your result.
(Correct answers × 1) – (Incorrect answers × 1/3) = Total marks
Region-Wise RRB JE Answer Key Links
How to raise RRB JE Objection over Answer Key?
RRB JE Answer Key is provisional and is prone to change. The candidates who wish to raise objections can do so only within the time provided. To raise the objections, participants must visit the official website, type their registration number and pay a fee of Rs. 50.
The board will consider the applicant's objections to the Answer Key and take into consideration the aspirant's concerns before publishing the Final Answer Key Official.
Know about the Selection Process of RRB JE
The Railway Recruitment Board JE exam is a three-part process. The RRB JE Selection Process begins with an application, CBT Stage 1 exam, Answer Key CBT 1, Results of CBT 1, CBT Stage 2 exam, Answer Key CBT 2, Results of CBT 2, official verification and the final selection list.
The three stages are:
RRB JE CBT 1 (Computer-based Test 1)
RRB JE CBT 2 (Computer-based Test 2)
Document Verification and Medical Examination.
Calculate your Answer Key CBT 1 to check the RRB JE cut-off, merit list and final selection list for the RRB JE CBT 2 exam. After clearing both, compare your Answer Key CBT 2 and CBT 1 to look at your average and figure out how much of a chance you have before receiving the final RRB JE Sarkari Result.
Important and Expected RRB JE 2020 dates
Here are all the RRB JE 2020 expected dates, do not miss out on anything!
Applications are open from 02/01/2020
Deadline to submit Online Application: 31/01/2020
Deadline to pay Online Fee: 04/02/2020
Deadline to pay Fee Online: 05/02/2020
Deadline to submit form: 07/02/2020
Deadline to update and change language: 01/05/2020
Stage 1 Exam start date: 22/05/2020
Mock Tests available from 12/05/2020
Stage 1 Result: 13/08/2020
Stage 2 Exam dates: 28/08/2020 to 01/09/2020
Passes available for Stage 2 Exam from 17/08/2020
Stage 2 Admit Card: Will be available 4 days before the Exam.
Other Important Links for RRB JE Exam
You should refer below links to know Railways Recruitment Board Junior Engineer Exam.
We have covered the detailed guide on RRB JE Answer Key 2020. Feel free to ask us any questions in the comment section below.