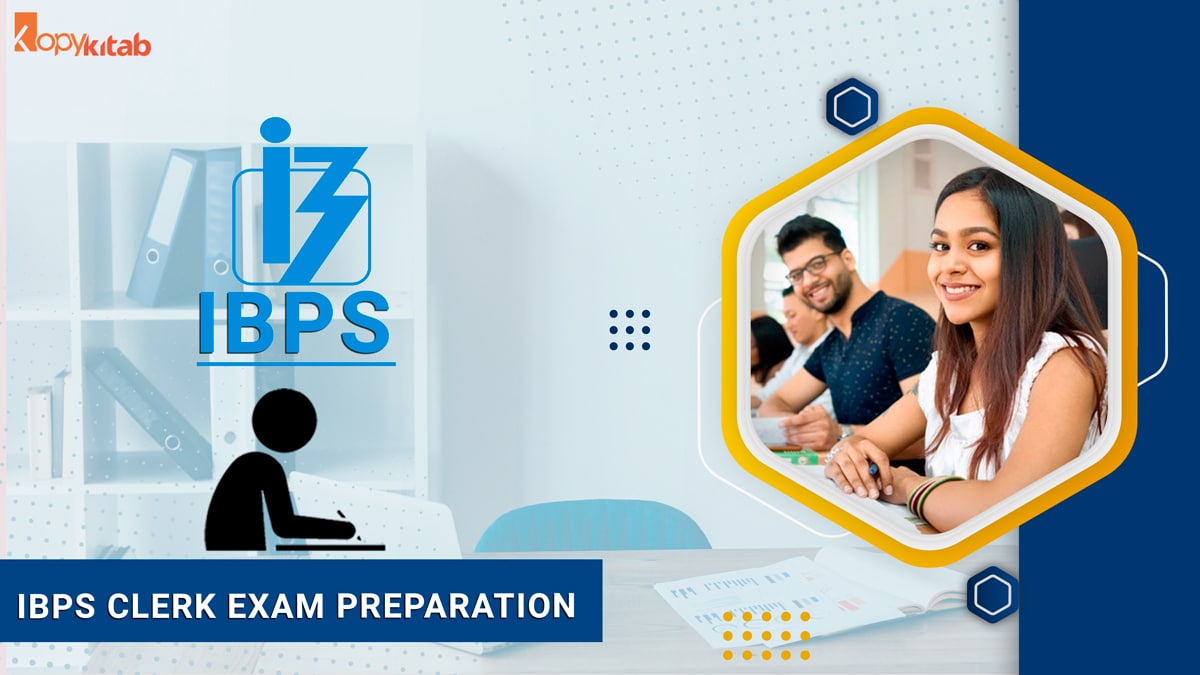 IBPS Clerk Exam Preparation 2022: IBPS is one of the popular exams to crack and one will have to use the right resources and put all the efforts in the right direction to ace the IBPS Clerk Exam. Thus, before starting your IBPS clerk 2022 preparation, you need to have knowledge of the best preparation strategy and IBPS Clerk 2022 study material. 
Don't worry! You can also follow the Best IBPS Clerk Exam Preparation Tips to improve the preparation level of Clerk Exam 2022.
IBPS Clerk Exam Preparation 2022
The Institute of Banking Personnel Selection (IBPS) is conducting the prelims exam that is expected to begin on 28th August 2022. IBPS Clerk Mains is expected to be held in the month of October 2022. The IBPS Clerk Application Form is expected to be available during the first week of July 2022.
To prepare for any exam properly, you should know the IBPS Clerk Syllabus and Exam Pattern correctly. By analyzing the syllabus and exam pattern, you can easily identify the easy and tough sections for you. So by covering tough sections first, you can easily score a better mark in the exam.

Get Other Highly Important Essentials for IBPS Clerk Exam
Unlock Ultimate IBPS Clerk Study Materials
IBPS Clerk Exam Preparation 2022 for Preliminary Exam
Prelims exam is organized to shortlist candidates for the Main exam. In this exam, you have to clear the cut-off. But it is always better to pass with a better score.
You should focus on clearing the cut-off of Prelims from the beginning of the preparation. The Preliminary exam is of one-hour time duration with three sections and a total of 100 questions. You can check the IBPS Clerk Prelims exam pattern below.
| | |
| --- | --- |
| Sections | No. of Questions/Maximum Marks |
| English Language | 30/30 |
| Numerical Ability | 35/35 |
| Reasoning Ability | 35/35 |
| Total | 100/100 |
You should clear the sectional cut-off. So you have to plan your IBPS Clerk preparation keeping in mind sectional IBPS Clerk Cut Off 2022.
IBPS Clerk Exam Preparation for the English Language
Here your basic proficiency in the English language will test. It contains vocabulary and basic knowledge of English grammar.
Important Topics For Clerical Exam Preparation – English Language

1. Vocabulary

2. Basic English grammar

3. Comprehension

4. Spotting errors

5. Cloze test

6. Fill in the gaps
You should keep the below points in mind for the English Language section preparing for the IBPS Clerk Prelims exam or any bank exam,
You should read newspapers and magazines regularly to learn new words. It will also help you to improve your reading speed.
You should have a clear concept of the basic grammatical rules.
You should solve practice questions daily basis to develop depth knowledge.
IBPS Clerk Exam Preparation For Numerical Ability
It is the most difficult section of the IBPS Clerk Preliminary exam. It contains the application of innumerable formulas. However, you can score better in sections by daily practice.
To score better in this section,
You should remember the formulas for each topic.
You have to practice regularly to become proficient in the formulas.
You should learn as tricks and shortcuts as possible as you can to solve problems.
You need to revise the formulas regularly and solve as many questions as you can from topics that you find difficult.
Important Topics For IBPS Clerk Exam Preparation – Numerical Ability

1. Simplification

2. Percentage

3. Average

4. Ratio and proportion

5. Simple and compound interest

6. Profit and loss

7. Time, speed and distance

8. Time and work

9. Number series

10. Number system

11. Data interpretation
IBPS Clerk Exam Preparation For Reasoning Ability
You can easily score high in this section if you have understood the logic behind every topic and practiced.
You should understand the theory behind every topic
You have to solve 20 questions from any three topics every day.
Important Topics For Clerical Exam Preparation – Reasoning Ability

1. Syllogisms

2. Blood relations

3. Puzzles

4. Linear and circular seating arrangements

5. Coded and mathematical inequalities

6. Coding-decoding

7. Distance and directions

8. Analogy/Classification
If you prepare by considering the above points, you will be able to crack the IBPS Clerk Preliminary exam with a high score. You will get only 1 hour to solve 100 questions. So you should focus on time management to solve a question.
By solving IBPS Clerk mock tests and previous year's papers, you can boost your speed to solve a problem.
IBPS Clerk Exam Preparation for Mains 2022
You will see that the IBPS Clerk Main exam has the same three sections as the above prelims exam out of five. Other two sections, you will see General Awareness and Computer Aptitude.
Check the IBPS Clerk Mains Exam Question Pattern from below:
| | |
| --- | --- |
| Sections | No. of Questions/ Maximum Marks |
| General/Financial Awareness | 50/50 |
| General English | 40/40 |
| Reasoning Ability and Computer Aptitude | 50/60 |
| Quantitative Aptitude | 50/50 |
| Total | 190/200 |
IBPS Clerk Exam Preparation For General Awareness
In this section, your knowledge of current affairs will be tested.
Important Topics For Clerical Exam Preparation – General Awareness

Banking news, current rates, banking rules and regulations, KYC, etc.

Current economic plans and policies, etc.

Finance, budget, etc.
You should be aware of current events around the world by reading the newspaper and searching on the internet. Make sure that you have read newspapers and magazines for the last six months and make a note of important events.
IBPS Clerk Exam Preparation For Computer Aptitude
It is the easiest section to score. Here you have to learn basic knowledge of computer hardware and software is tested.
Important Topics For Clerical Exam Preparation – Computer Aptitude

1. Internet and Email

2. Networking

3. Operating system

4. Microsoft applications

5. Keyboard shortcuts
You can easily finish this section by spending 45min-1hrs daily on it.

IBPS Clerk Mains Preparation Tips 2022
Candidates have to do their last-minute IBPS Clerk Study Plan 2022. We have listed out few last-minute IBPS Clerk mains preparation strategy 2022. 
Prepare a Time Table– As soon as you get notifications about the exam, it is suggested to prepare a timetable for yourself. This timetable must include equal time distribution for each and every topic. Give time for revising each and every small topic.
Build Reading habit– Make a habit to read and write important things. As you read make some notes that would be useful during last-minute preparation. Note down key points so that you do not miss any concepts. You can even download IBPS preparation books which can help you more in preparation for the examination.
Go through the previous year's Paper– During preparation along with reading from regular printed books, make a habit to refer to the previous year's question papers. It is recommended for any examination to go through the previous year's question paper. It will help in knowing what type of questions can be asked. Solving IBPS Previous year question papers during the last minute will improve your accuracy and speed.
Improve basics– During preparation, make sure you are completely well versed with your basics. Highlight important formulas, keywords during studying so that at the last moment you can just revise them. You do not have to sit and study everything again. Instead, just go through those points during last-minute preparation.
Take up mock tests– Once you are completed with preparation, take up mock tests to test your skills. You will know how much you are aware of the topic. There are sites offering IBPS mock tests for preparation.
Do not panic– As the exam is nearing, it is common that everyone becomes nervous and confused. But, stay calm and relax your mind. In the end, the moment does not worry about any unknown concept. Instead, revise the ones which you know well.
We have covered a detailed guide on the IBPS Clerk Exam Preparation 2022. If you have any queries related to IBPS Exam, feel free to ask us in the comment section below.
FAQ's Related To IBPS Clerk Exam Preparation 2022
Can the IBPS Clerk study material be valuable?
If you practice really harder together with the support of our experienced instructors, you can definitely excel with high grades.
Can I clear the IBPS Clerk Exam in preparation for two months?
Yes, you can clear the IBPS Clerk 2021 Exam with a proper study strategy and refer to the perfect books.
For bank Clerk exams at Kopykitab, are online lectures available?
Can I download the IBPS Clerk Exam Study material PDF?
Yes! You can download the textbook, notes, and previous year papers in PDF format and study whenever you wish to.
How can I pay for the IBPS Clerk Study Packages?
You can select any of the below transaction methods to pay for the IBPS Clerk study materials for the competitive exam:
Debit Card
Credit Card
Net Banking
Wallets
Paytm
UPI ID
Google Pay
Is there a negative marking for the IBPS Clerk Prelims exam?
Yes. 0.25 marks will be deducted for each wrong response.
What is the Application Fee for the IBPS clerk exam?
Rs. 100/- for SC/ ST/ PWD/ EXSM candidates and all others have to pay Rs. 600/- as their exam fee.