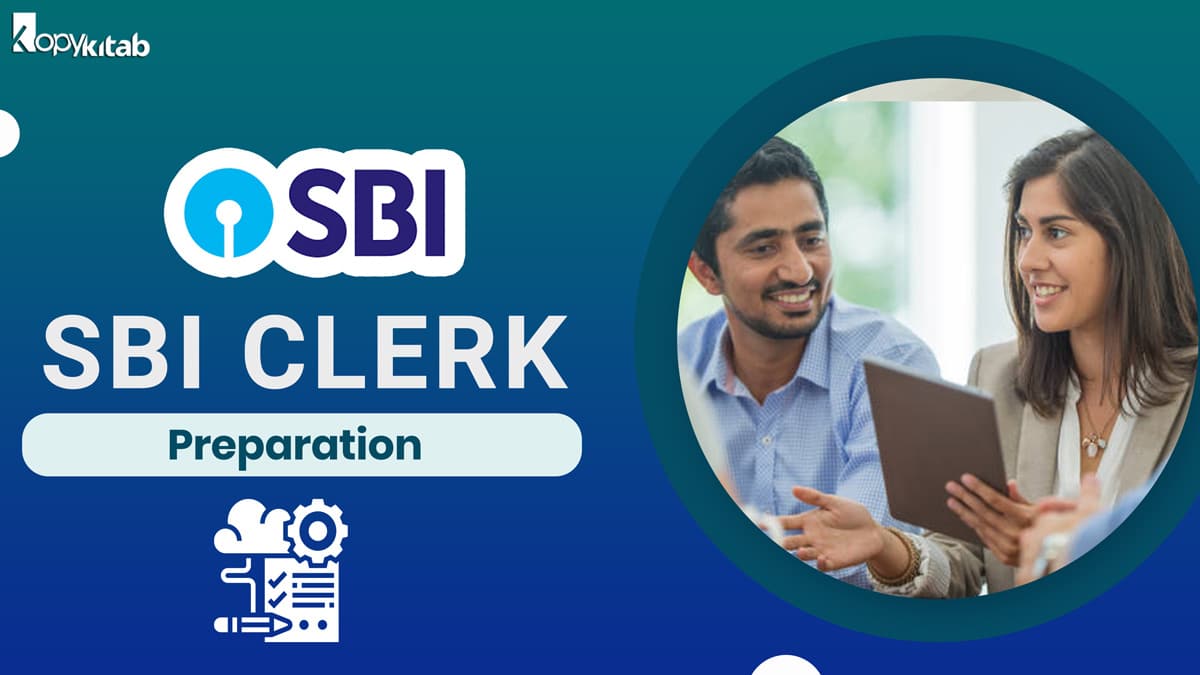 SBI Clerk Preparation Strategy: State Bank of India (SBI) is one of the popular exams to crack for banking aspirants. There is no direct way to pass the SBI Clerk 2021 exam; as it takes time and effort. The SBI Clerk Selection process is lengthy and requires a variety of steps.  To clear the SBI clerk exam, applicants must put in a lot of effort.
Because of the high level of competition and the complexity of the questions, passing the SBI Clerk exam is becoming more difficult with each passing year. Thus, before starting your SBI preparation, you need to have knowledge of the best preparation strategy and study tips.
Read our useful tips and the ultimate guide to SBI Clerk 2021 Strategy for making Prelims and Mains 2021 examination easy to crack.
SBI Clerk Preparation | How to Prepare for SBI 2021 Clerk Exam?
The SBI Clerk Preparation Strategy & tips that we have outlined below will help you increase your degree of readiness and achieve a high level at the SBI Clerk 2021 test. Scoring high in SBI Clerk Prelims raises the likelihood that SBI Clerk Mains 2021 exams will be picked.
Check out the ultimate SBI Clerk 2021 preparation strategy for the exam along with recommended books, materials, and strategies.
1- Plan accordingly with the curriculum
The very first tip for SBI Clerk Study Plan is, plan accordingly with the syllabus. It is necessary to know which subjects in the Clerk 2021 Syllabus. You should schedule your training for the SBI Clerk accordingly until you have an idea about your syllabus.
You will need to keep in mind that certain subjects are more critical than others. It means that you need to devote more time to them to learn them. Additionally, understand the weightage of the segments and certain parts of the papers. 
2- Create a reasonable timetable
The very next SBI Clerk Preparation tip is to create a timetable and commit to it since you have an understanding of the curriculum. Allot more time on the subjects/topics you are bad at. A smart and practical timetable encourages the preparation strategy of your SBI Clerk examination.
Spend more time solving Aptitude questions. It is important as per the Clerk 2020 Exam Analysis, the Qualitative Aptitude section has been marked as 'comparatively tougher' to other segments of the paper.
3- Reading Newspapers & Magazines
The daily reading of the newspapers and magazines is the next important strategy while doing SBI Clerk Preparation. Read newspapers every day to build upon your General Awareness and Financial Aptitude. 
All the sections mentioned in the newspapers are of primary importance because you never know, which line from which part of the newspaper or magazine is framed into a question in the SBI Clerk 2021 Exam.
Must Read:
4- Refer to Best SBI Clerk Preparation Books & Study Materials
If you want to make proper use of the time then you need to make the right choice while buying books, or other study materials for your upcoming SBI Clerk 2021 exam. 
Download SBI Clerk Study Materials PDF
Often students examine multiple banking exam books for the preparation for the SBI Clerk Prelims or Mains exam. Are those books covering all the important topics in relation to SBI Clerk Exam 2021?  You need to ask all the appropriate questions before you sit for the forthcoming SBI exam.
Go through the list of best reference books from the link mentioned below for the SBI 2021 Clerk exam.
Download Best SBI Clerk Preparation Books PDF
Crack The Exam Easily and Chase Your Dream with other important materials
Download SBI Clerk Ultimate Study Materials to Boost Preparation
5- Practice Previous Year's SBI Clerk Exam Paper
During preparation along with reading from regular printed books, another SBI Clerk Exam Preparation strategy is to make a habit to refer to the previous year's question papers.
When you face different kinds of questions from the SBI Clerk Previous Year's Question Paper then you will have an idea of the type of questions that are going to appear in the 2021 SBI Exam Paper.
Download SBI Clerk Solved-Previous Year Papers PDF
6- Take up SBI Clerk Mock Tests
Once you are completed with preparation, take up mock tests to test your skills. You will know how much you are aware of the topic. 
Click Here To Access SBI Clerk Test Series
7- T – 3 Days Preparation
Once your preparation has been done, three days before the examination is meant for just revising and going through sheets to make sure you remember all your basics. This time is meant for you to get enough sleep and nutrition so that you can perform well.
In addition to that, make sure you have all the necessary documents in place so that you do not struggle on the day of the examination. We have created a checklist for what all you need to carry in addition to the basics:
Two Recent Photographs

Aadhar Card or Photo Identity 

Admit Card
Get Other Highly Important Essentials for SBI Clerk Exam
Highlights of SBI Clerk 2021 Exam
Check out an overview of the SBI Clerk Exam 2021 from the table below:
Exam Name
SBI Clerk 2021 Exam
Conducting Body
SBI (State Bank of India)
Official Website
sbi.co.in
Exam Type
National Level
Eligibility Criteria
Qualification: Graduation
Age Limit: 20 – 28 years
Mode of Application
Online
Exam Mode
Computer-Based Test
Duration
Preliminary: 1 hour
Mains: 160 min
SBI Clerk Salary
₹20,000 to ₹23,000
SBI Clerk Help Desk
1800 222 366/ 1800 103 4566
SBI Clerk Syllabus & Exam Pattern
After completing the SBI Clerk preparation strategies, students must go through the SBI Clerk Syllabus and Exam Pattern to know the detailed subjects and important topics that will be covered in the Clerk Prelims and Mains Exam so as to prepare accordingly. It will help in enhancing the students' probability to score high.
We have covered a detailed guide on the SBI Clerk Preparation tips. If you have any queries related to SBI Exam, feel free to ask us in the comment section below.
FAQ- SBI Clerk 2021 Exam Preparation Strategy
When is the ideal time to start SBI Clerk Preparation?
Ideally, a candidate must plan and start their SBI Clerk Preparation anywhere between 6 to 2 months prior to the SBI Clerk Examination.
What are some important books for SBI Clerk Preparation?
Go through the above article for the list of the books you must use for SBI Clerk Preparation.
How many segments does the SBI Clerk Prelims have?
The SBI Clerk Prelims contains three segments. Those are-Reasoning Ability, Numerical Ability, and English Language
How many segments does the SBI Clerk Mains have?
The SBI Clerk Prelims contains four segments. Those are-Reasoning Ability, Numerical Ability, and English Language, General Knowledge.
Can I clear the SBI Clerk Prelims Exam in preparation for two months?
Yes, you can clear the Clerk 2021 Prelims Exam with proper Preparation Tips and refer to the perfect books.
Is it possible to pass Clerk 2021 without practicing mock tests?
No. With the help of the Mock Test, you will get an idea of the actual Clerk Prelims 2021 Exam, and also it will help you to identify your weakest area and strong area.
How many Mock tests are recommended to practice on a daily basis for clearing the SBI 2021 Clerk exam?
You need to solve a minimum of three Mock tests daily for SBI Clerk 2021 Exam to increase his clarity on those subjects.