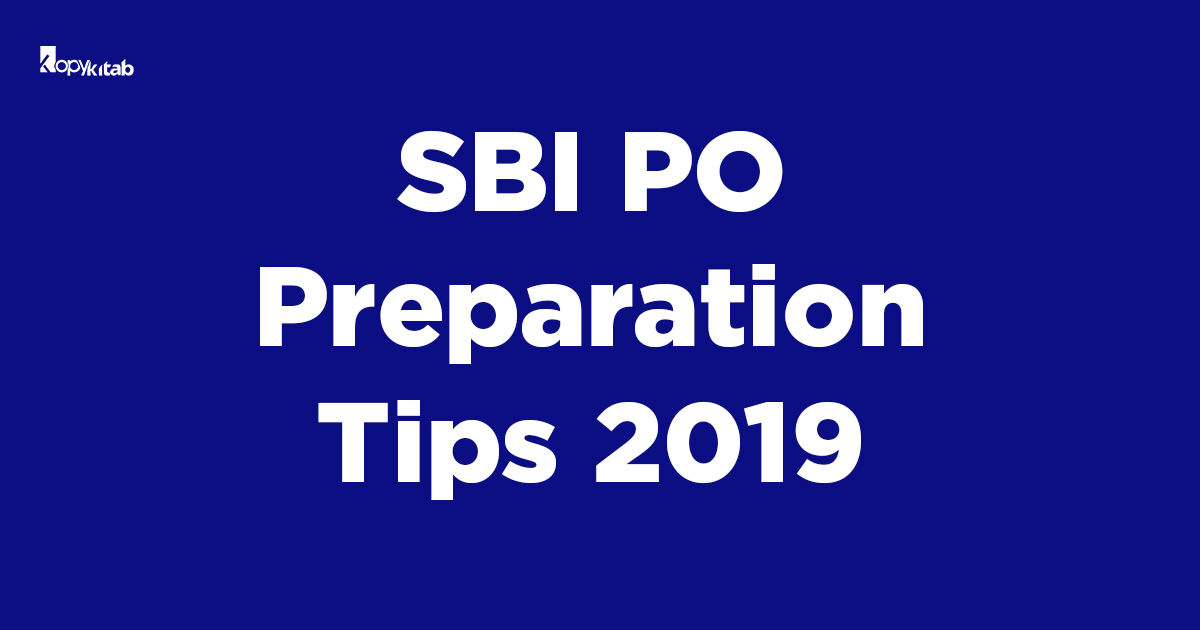 The State Bank of India (SBI) is one of the top banking sectors which conducts recruitment drive to fill in vacancies for various posts across the organization. SBI conducts recruitment drive for various posts like Probationary officer (PO), Specialist officer (SO), clerk and many more. Probationary Officer (PO) is one such post which has a lot of demand in the market and a lot of career growth opportunities due to SBI PO Salary, Job Profile, and Career Growth. As the SBI PO exam is scheduled in the month of July 2019, there is an ample amount of time for the exam. In the meantime, we have provided the detailed SBI PO Preparation tips to crack the exam with high score. Go through the blog to know more in detail.
SBI PO Preparation Tips
SBI PO Subject-wise preparation Tips
Before proceeding with the preparation, it is important to go through the SBI PO Syllabus and exam pattern thoroughly. It is important for a candidate to be aware of the detailed syllabus and pattern. The SBI PO Exam consists of four sections: Quantitative Aptitude, English language, General Awareness, and Reasoning. Here we have listed out subject-wise preparation.
Quantitative Aptitude
Learn all mathematical formulae
Solve Previous years questions
It is important to solve the SBI PO Mains mock Tests regularly
English Language
Improve in areas like one-word substitution, phrase replacement, idioms, and phrases, synonyms, and antonyms
Read top publication English books which covers all the topics.
Practice more and more is the only way to go
Use Dictionaries to learn new words
Solve Mock Tests
General Awareness
This is a very important section and scoring section as well.
Develop reading habits and read newspapers daily to update yourself with the latest issues happening across the globe.
Improve your general knowledge with Latest Current Affairs to know all the latest news.
Reasoning
Be perfect on topics like Classification, Analogy, Coding-Decoding, Puzzles, Matrix, Word Formation, Arranging Words in Dictionary Order or Meaningful order, Venn Diagram, Direction and Distances, Series, Non-Verbal Reasoning, Verbal Reasoning.
Important SBI PO Preparation Tips to Score more in SBI PO Exam 2019
Below are few tips to crack SBI PO exam. Go through the detailed strategies below to know SBI Po Preparation Tips.
1. Time Management – Time management is one of the basic keys which will help you to crack SBI PO Exam. Dividing your time judiciously will give you a proper time frame for each and every topic. You must know how much time is needed for each topic and you can allocate time accordingly and complete fastly.
2. Focus on Grammar – When it comes to SBI PO Exam, students find the grammar section easiest. If you have a clear concept on the use of basic elements such as preposition and adjective, you can easily get through this section with a heavy score. You need to spend only a few seconds while answering and hence, you can save time for the rest of the sections.
3. Move to next question if Confused – The most common mistake which is made by most of the candidates in SBI PO exams is solving each and every question. When you are over-confident, you try to solve the complex questions. This ends up in time loss as well as negative marking.
4. Quick calculations and result in a high score – Since you have to solve the questions of data interpretation and logical reasoning in the examination, your calculation speed will play as an important factor. Knowledge of Tables from 1 to 20 should be by heart along with the knowledge of making faster multiplication.
5. Guessing in English can make you lose – When it comes to solving English section questions, you either know the meaning of a particular word or you don't. There is simply no point in wasting time after a single word and thinking that you can derive its meaning with some stares at the options. Again, do not play the guessing game.
6. Practice More – Make sure to practice more problems from SBI PO Previous Year Question Papers. This helps in knowing different types of questions.
7. Stay calm and be cool – Be relaxed and stay calm. Getting anxious or stressed is a common problem before the exam. Overstressing can make your willpower weak and you might end up making mistakes.
Thus, by following these SBI PO Preparation Tips and Strategies, can help you to score more in all SBI PO exams. You can increase your preparation levels with a wide range of SBI PO Preparation Books.
 [related_books catid="451″ product_type="ebook" algo="Latest"]