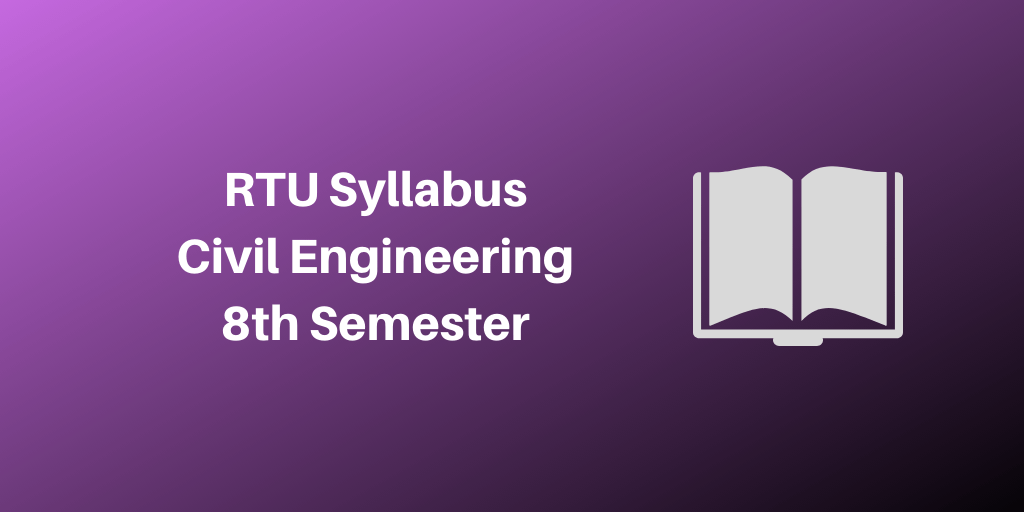 RTU Syllabus Civil Engineering 8th Semester 2020-21: Every semester plays the great role to shape Civil engineering Career. As an eight semester student, you must aware of the latest Civil Engineering Syllabus and marking scheme. It will give you information about the important chapters and concepts to be covered in all subjects.
Based on the score in a Civil Engineering degree, you can shape your career in the proper way.
In the depth knowledge in every topic of Civil Engineering 8th Semester will also helpful to crack the various competitive exams like Gate, IES.
Here we are providing you the complete guide on RTU Syllabus Civil Engineering 8th Semester 2020-21 and Marking Scheme.
RTU Syllabus Civil Engineering 8th Semester 2020-21
RTU publishes the latest syllabus for all branches in its official Website. With the latest Civil Engineering Syllabus for the 8th Semester, you can create a solid study plan and score a better mark in all subjects in the semester exam.
You must have Civil 8th Semester books & study materials, Previous years questions paper along with the latest Civil 8th sem Syllabus to enhance your semester exam preparation,
Before starting the complete guide on RTU Syllabus Civil Engineering 8th Semester 2020-21, let's check the highlights of RTU from the table below.
RTU Kota Highlights:
Establishment
2006
Formation
Govt. of Rajasthan
Type of University
State
Approvals
UGC
Admission through:
Merit-Based
Affiliations
AICTE
University Location
Rajasthan Technical University,
Rawathbhata Road Kota-324010, Rajasthan, India.
Check the latest syllabus for RTU Civil Engineering 8th sem from below.
RTU 8th Semester Civil Engineering Water Resources Engineering-II Syllabus 2020-21
Unit-1
Regulation of works: Falls, Classification of falls, Design of falls, Distributory head regulator and cross-head regulator, Escape, bed bars.
Cross-Drainage Structure: Necessity of Cross-drainage structures, their types and selection, comparative merits and demerits, design of various types of cross-drainage structure-aqueducts, siphon aqueduct, super passage siphon, level crossing and other types.
Unit-2
Diversion Head works: Design for surface and subsurface flows, Bligh's and Khosla's methods. Selection of site and layout, different parts of diversion head works, types of weirs and barrages, design of weirs on permeable foundation, silt excluders and different types of silt ejectors. Energy dissipation.
Unit-3
Embankment Dams: Suitable sites, causes of failures, stability and seepage analysis, flownet, slope stability analysis, precautions of piping, principles of design of earth dams.
Gravity Dams: Force acting on a gravity dam, stability requirements, Instrumentation.
Unit-4
Spillways: Spillway capacity, flood routing through spillways, different types of spillways and gates, energy dissipation below spillways.
Hydro Power Plant: General features of hydroelectric schemes, elements of power house structure, selection of turbines, draft tube and setting of turbine, cavitations.
Unit-5
Reservoirs: Evaluation of impact of water projects on river regimes and environment. Reservoir sedimentation and water shed management.
Optimization: Introduction to optimization techniques and system approach. Introduction to G.I.S. and Computer aided irrigation design.
Reference Books:
Irrigation Water Power and Water Resource Engineering By KR Arora, Standard Publishers and Distributers
Water Resources Engineering by Modi ,Standard Publishers.
Fundamentals of Irrigation Engineering by Bharat Singh, Nem Chand Brothers, Roorkee.
RTU 8th Semester Civil Engineering Design Of Steel Structures–II Syllabus 2020-21
Unit-1
Design of gantry girder. Design of roof trusses including wind loading and purlin design, Introduction to Pre Engineered Buildings and tubular sections and their applications.
Unit-2
Design of plate girder: Design of welded and bolted sections. Connections for flange plate to flange angles and flange angles to web, etc. Design of welded connections. Web and flange splicing. Horizontal, Intermediate and Bearing stiffeners. Curtailment of plates. Shear strength determination by post critical and tension field action methods. End panel design options and procedure as per IS 800.
Unit-3
Bridges: Types of bridges, Loadings, Standard loading for railway bridges, Design of Deck type plate-girder bridges, design of its bracings and frames.
Unit-4
Design aspects of foot over bridges. Design of through type truss girder bridges including stringer design, cross girder design, main truss members, portal and sway bracings etc.
Unit-5
Water tanks, circular tanks with segmental bottoms, rectangular tanks, pressed steel tanks, design of staging.
Reference Books:
Design of Steel Structures by S. Bhavikatti, I.K. International Pvt. Ltd.
Design of Steel Structures by V.L Shah, Structures Publications.
Limit State Design of Steel Structures: S K Duggal- Tat Mc Graw Hill
Design of Steel Structures by N. Subrananian, Oxford University Press.
Design of Steel Structures by B.C. Punmia Laxmi Publication
Design of Steel Structures Vol. II by Ram Chandra, Standard Publishers.
RTU 8th Semester Civil Engineering Project Planning & Construction Management Syllabus 2020-21
Unit-1
Financial Evaluation Of Projects And Project Planning: Capital investment proposals, criterions to judge the worth whileness of capital projects viz. net present value, benefit cost ratio, internal rate of return, Risk cost management, main causes of project failure. Categories of construction projects, objectives, project development process, Functions of project management, Project management organization and staffing, Stages and steps involved in project planning, Plan development process, objectives of construction project management.
Unit-2
Project Scheduling: Importance of project scheduling, project work breakdown process – determining activities involved, work breakdown structure, assessing activity duration, duration estimate procedure, Project work scheduling, Project management techniques – CPM and PERT networks analysis, concept of precedence network analysis.
Unit-3
Project Cost And Time Control: Monitoring the time progress and cost controlling measures in a construction project, Time cost trade-off process: direct and indirect project costs, cost slope, Process of crashing of activities, determination of the optimum duration of a project, updating of project networks, resources allocation.
Unit-4
Contract Management: Elements of tender operation, Types of tenders and contracts, Contract document, Legal aspects of contracts, Contract negotiation & award of work, breach of contract, determination of a contract, arbitration.
Unit-5
Safety And Other Aspects Of Construction Management: Causes and prevention of accidents at construction sites, Safety measures to be followed in various construction works like excavation, demolition of structures, explosive handling, hot bitumen work. Project Management Information System – Concept, frame work, benefits of computerized information system. Environmental and social aspects of various types of construction projects.
Reference Books:
Construction Project Management by K.K. Chitkara, Tata Mc Graw Hills.
Project Management by Modder & Phillph, CBS Publishers.
RTU 8th Semester Civil Engineering Bridge Engineering Syllabus 2020-21
Unit-1
Introduction: Type of bridges & classification of road & railways bridges. IRC & Railway loadings for bridges, wind load & Earthquake forces. Steel bridges Design of through type & deck type steel bridges for IRC loading. Design of deck type & through type truss bridges for railway loadings.
Unit-2
Reinforced concrete culverts & bridges: Reinforced concrete slab culvert, T-beam bridges-courbons & Hendry-Jaegar methods. Design of balanced cantilever bridge.
Unit-3
Prestressed Concrete bridges: Prestressed & Post stressed concrete bridges Design of deck slab & girder sections.
Unit-4
Bearings: Bearings for slab bridges and girder bridges. Elastomeric bearings, design concepts as per IRC 83 (Part II).
Unit-5
Joints: Expansion joints.
Reference Books:
Design of Bridge Structures by T.R. Jagadeesh & M.A. Jayaram, Prentice Hall Of India (PHI).
Bridge Engineering by Victor, Oxford and IBH Publishers.
Design of Bridges by Krishna Raju, Oxford and IBH Publishers.
Bridge Super Structures by Raj Gopalan, Standard Publishers & Distributers.
Goncrete Bridge Practice by Raina V.K., Tata Mc Graw Hill Co.
Bridge Engineering by Ponnuswamy, Tata Mc Graw Hills.
RTU 8th Semester Civil Engineering Advanced Foundation Engineering Syllabus 2020-21
Unit-1
Shallow Foundation: Methods of estimation of bearing capacity, computation of bearing capacity factors, Effect of eccentric and inclined loads, effect of water table on bearing capacity, Terzaghi, Vesic, Hansen, Moyerhof's analysis, Bearing capacity of stratified soils. IS code recommendations for minimum depth, factor of safety, design for local shear.and general shear failure.
Unit-2
Settlement Under Foundation: Methods of estimation of settlement of footings. Limits of settlements for various structures, Indian Standard Code Provisions (IS: 1904, 6403, 8009). Determination of allowable bearing capacity as per IS code. Schemartman's method, Dee beer's and Mortin method of finding out settlement from static cone penetration test. Methods of finding out bearing capacity from plate load test, standard penetration test data.
Unit-3
Pile Foundation: types of pile and their use, modes of failure. Bearing capacity and settlement of pile foundation. Types of piles, Allowable load, Pile load test, Dynamic and static formulae. Bearing Capacity factors. Pile group bearing capacity and settlement. Negative skin friction. Behavior of piles under lateral loading. Winkler's assumption. Pile resistance and deflection under lateral loads, elastic method, Brooms method.
Unit-4
Foundation on Difficult Soils: Collapsible soil; identification, Collapse settlement: foundation design. Sanitary land fills settlement of sanitary land fill.
Expensive soils: Behaviour of expansive soil, foundation practices, under- reamed piles. Methods of finding out load carrying capacity of under reamed piles in clayey and sandy soil. Provision of IS 2911 Part III-1980 for design of under-reamed pile foundations.
Unit-5
Raft foundation: Common types of raft, combined footing. Bearing capacity of raft, differential settlement of raft; semi empirical method of design of raft foundation.
Well foundations: design and construction. Bearing capacity, settlement and lateral resistance. Tilts and shifts, IS and IRC codes methods.
Reference Books:
Basic & Applied Soil Mechanics by Ranjan & Rao, New Age International Publishers.
Geotechnical Engineering by Gulhati & Dutta , Tata Mc Graw Hills, Delhi.
Design Aids in foundation Engineering by Kaniraj, Tata Mc Graw Hills, Delhi.
RTU 8th Semester Civil Engineering Earthquake Resistant Construction & Design Syllabus 2020-21
Unit-1
Introductory Seismology: Various terminology related with earthquake, Causes of earthquake, plate tectonics, Tsunami. Seismic wave propagation. Magnitude, intensity & energy of earthquake, magnitude & intensity scales, classifications of earthquakes, Seismic zoning case histories of earthquakes.Seismic hazards, induced hazards.
Unit-2
Earthquake recording, Seismic instruments, Seismographs & Seismograms. Basic concept of liquefaction and isolation. Introduction to various IS related codes. Structural systems, Effects of earthquake on buildings in general, structural and nonstructural failures.
Dynamic characteristics of buildings, natural period of vibration, damping, stiffness etc.
Seismic performance of traditionally built masonry constructions, typical failure mechanism of masonry buildings under earthquakes.
Unit-3
IS 4326: 1993: Planning consideration & architectural concept, provisions for earthquake resistant construction/ seismic strengthening of masonry constructions.
Unit-4
Seismic performance of reinforced concrete buildings. Plan, elevation & stiffness irregularities & their effects. Typical earthquake damages of RC constructions, short column effect, soft storey effect, strong column-weak beam analogy. IS 13920: 1993: Ductile detailing of reinforced concrete buildings and shear wall concept.
Unit-5
Seismic design philosophy, IS 1893 (part I):2002 codal provisions : Load combinations, Design lateral loads, response reduction factors, structural modeling of building frames, equivalent load method for earthquake analysis of multistory frames.
Reference Books:
Structural Dynamics by Anil K Chopra , Pearson Education.
Dynamics of Structures by Clough & Penzin, Mc Graw Hill Book Co.
Earthquake Engineering by Pankaj Agarwal & Manish Shree Khande, Prentice Hall of India.
Earthquake Tips by C.V R. Murthy, IIT Kanpur.
Earthquake-Resistant Design of Steel Structures by Duggal, Oxford University Press.
RTU 8th Semester Civil Engineering Professional Practices And Estimating Syllabus 2020-21
Experiments:
Estimates – Methods of building estimates, types; site plan, index plan, layout plan, plinth area, floor area Technical sanction, Administrative approval; estimate of buildings, roads, earthwork and R.C.C. works.
Analysis of rates– for earthwork, concrete work, D.P.C., stone masonry,, plastering, pointing and roadwork.
Specifications– For different classes of building and Civil Engineering works.
Types of contracts – Tenders, tender form, submission and opening of tenders, measurement book, muster roll, piecework agreement and work order.
Arbitration
Valuation of real estate.
RTU 8th Semester Civil Engineering Design Of Foundations Syllabus 2020-21
Experiments:
Design of isolated shallow footings, combined footings, raft foundations.
Design of pile foundations.
Design of wells and cassions.
Design of machine foundation.
Design of retaining structures etc.
---
RTU Civil Engineering Syllabus 2020-21 for All Semesters
You should have the following syllabus to boost your exam preparation for the RTU Civil Engineering.
Click on the link to access all semester syllabus related to Civil Engineering.
RTU Civil Engineering 8th Semester Marking Scheme
Here you can check the latest Civil Engineering 8th Semester Marking Scheme.
BRANCH CODE
Civil Engineering
CE
Hrs. / Week
SEMESTER – VIII
1
L
T
P
IA
Exam
Total
8CE1A
Water Resource Engineering-II
3
0
20
80
100
8CE2A
Design of Steel Structures-II
3
0
20
80
100
8CE3A
Project Planning & Construction

Management

3
0
20
80
100
8CE4.1A
Bridge Engineering
3
0
20
80
100
8CE4.2A
Advance Foundation Engineering
8CE4.3A
Earthquake Resistant Construction &

Design

Total
12
400
8CE5A
Design of Water Resource Structures-II
0
0
3
30
20
50
8CE6A
Professional Practice & Estimating
0
0
3
30
20
50
8CE7A
Steel Structures Design-II
3
30
20
50
8CE8A
Design of Foundations
2
30
20
50
8CE9A
Structural Analysis by Matrix Methods
0
0
2
30
20
50
8CESM
Seminar
0
0
2
60
40
100
8CEPR
Project-II
0
0
2
120
80
200
8CEDC
Discipline & Extra-Curricular Activity
50
Total
600
Grand Total
12
0
17
1000
Meaning Of various letters:
L: Lecture, T: Tutorial, P: Practical, Cr: Credits ETE: End Term Exam, IA: Internal Assessment
We have covered the complete guide on RTU Syllabus Civil Engineering 8th Semester 2020-21. Feel free to ask us any questions in the comment section below.