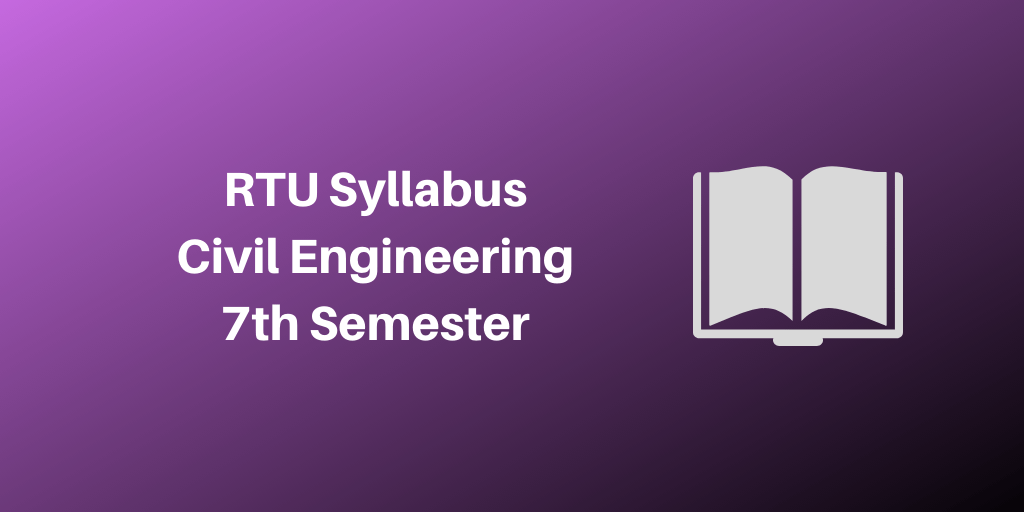 RTU Syllabus Civil Engineering 7th Semester 2020-21: Every semester plays the great role to shape Civil engineering Career. If you are preparing for the seventh-semester, you must aware of the latest Civil Engineering Syllabus and marking scheme. It will give you information about the important chapters and concepts to be covered in all subjects.
Based on the score in a Civil Engineering degree, you can shape your career in the proper way.
By clearing the concept behind every topic of Civil Engineering 7th Semester, you can easily build thorough knowledge and also helpful to crack the various competitive exams like Gate, IES.
Here we are providing you the complete guide on RTU Syllabus Civil Engineering 7th Semester 2020-21 and Marking Scheme.
RTU Syllabus Civil Engineering 7th Semester 2020-21
With the latest Civil Engineering Syllabus for the 7th Semester, you can create a solid study plan and score a better mark in all subjects in the semester exam.
You must have Civil 7th Semester books & study materials, Previous years questions paper along with the latest Civil 7th sem Syllabus to enhance your semester exam preparation,
Before starting the complete guide on RTU Syllabus Civil Engineering 7th Semester 2020, let's check the highlights of RTU from the table below.
RTU Kota Highlights:
Establishment
2006
Formation
Govt. of Rajasthan
Type of University
State
Approvals
UGC
Admission through:
Merit-Based
Affiliations
AICTE
University Location
Rajasthan Technical University,
Rawathbhata Road Kota-324010, Rajasthan, India.
Check the latest syllabus for RTU Civil Engineering 7th sem from below.
RTU 7th Semester Water Resources Engineering-I Syllabus 2020-21
Unit-1
Introduction: Definitions, functions and advantages of irrigation, present status of irrigation in India, classification for agriculture, soil moisture and crop water relations, Irrigation water quality. Consumptive use of water, principal Indian crop seasons and water requirements, multiple cropping, hybrid crops, water harvesting and conservation.
Unit-2
Canal Irrigation: Types of canals, parts of canal irrigation system, channel alignment, assessment of water requirements, estimation of channel losses, design of channels, regime and semi theoretical approaches (Kennedy's Theory, Lacey's Theory), cross section of channels, silt control in canals.
Water Distribution System: Rotational delivery (Warabandi, Jama Bandi, Khasra Bandi, Sajra Sheets), continuous delivery and delivery on demand, Role of command area development authority, Functions and organizational structures.
Unit-3
Distribution of Canal Water: System of regulation and control, outlets, assessment of canal revenue.
Hydraulics of Alluvial Rivers : Critical tractive force, regimes of flow, resistance relationship for natural streams, bed load, suspended load and total equations, different stages of rivers, meandering, aggradations, and degradation, river training & bank protection works.
Unit-4
Water Logging: Causes, preventive and curative measures, drainage of irrigated lands, saline and alkaline lands, types of channels lining and design of lined channel.
Well Irrigation: Open wells and tube wells, types of tube wells, duty of tube well water.
Unit-5
Hydrology: Definition, Hydrologic cycle, Application to Engineering problems, measurement of rainfall, rain gauge, peak flow, flood frequency method, catchment area formulae, Flood hydrograph, Rainfall analysis, Infiltration, Run off, Unit hydrograph and its determination, Estimation of run off.
Reference Books:
Irrigation Water Power and Water Resource Engineering By KR Arora, Standard Publishers and Distributers
Water Resource Engineering by Modi, Standard
Irrigation and Water Power Engineering by BC Punmia & B B Lal, Laxmi Publication (P) Ltd.
Irrigation Engineering by G.L.Asawa, New Age International Publishers, New
RTU 7th Semester Design Of Steel Structures-I Syllabus 2020-21
Unit-1
Introduction: Types of steels and their broad specifications.
Plastic Analysis: Plastic analysis of steel structures, fundamentals, static and mechanism method of analysis, bending of beams of rectangular and I sections beams, shape factor.
Classification of Cross Sections: As per IS 800-2007 Plastic, compact, semi compact, slender sections, their characteristics including moment- rotation.
Unit-2
Connections: Types of bolts, load transfer mechanism, prying action. Design of bolted and welded connections under axial and eccentric loadings.
Tension Members: Design strength in gross section yielding, net section rupture and block shear. Design of axially loaded tension members.
Unit-3
Compression Member: Types of buckling. Column buckling curves, Imperfection factor, Buckling curves for different cross sections. Design of compression member; Axially loaded compression members including angle section design: single and in pair, built up columns, design of lacings and battens.
Unit-4
Beams: Design of beams: simple and compound sections, main and subsidiary beams and their connections. Laterally supported and unsupported beam design, Web buckling, web crippling, lateral torsional buckling.
Unit-5
Member design under combined forces: Compressive load and uniaxial moment. tension and uniaxial moment Column Bases: Design of column bases, Slab base, gusseted base for axial and eccentric compressive load. Grillage foundation design.
Reference Books:
Design of Steel Structures by N. Subramanian, Oxford University Press.
Limit state Design of Steel Structures : S K Duggal, TMH publication
Design of Steel Structures by S. Bhavikatti, I.K. International Pvt. Ltd.
Design of Steel Structures by V.L. Shah, Structures Publications.
RTU 7th Semester Design Of Concrete Structures-II Syllabus 2020-21
Unit-1
Elements of Pre-stressed Concrete: Principles and systems, material properties, losses of pre-stress, I.S. specifications, analysis and design of rectangular and T sections for flexure and shear.
Unit-2
Torsion: Analysis and Design of beams for torsion as per codal method.Continuous and Curved Beams: Analysis and Design of continuous beams using coefficients (IS Code), concept of moment redistribution. Analysis and design of beams curved in plan.
Unit-3
Circular Domes: Analysis and design of Circular domes with u.d.l. & concentrated load at crown.
Water Tanks and Towers: Water Tanks and Water Towers-design of rectangular, circular and Intze type tanks, column brace type staging.
Unit-4
Yield Line Theory: Introduction to Yield line concept, Application of Y.L.T. to slabs with simple support conditions.
Retaining walls: Analysis and design of Cantilever Retaining Walls: Introduction to counterfort and buttress type retaining walls, their structural behaviour and stability analysis.
Unit-5
Culverts and Bridges: Analysis and Design of super structure of slab culverts and T-bridge for I.R.C. loading.
Reference Books:
Reinforced Concrete Vol. II by H.J. Shah; Charotar Publication House.
Advanced Reinforced Concrete Design by Verghese; Tata Mc Graw Hill.
Advanced Reinforced Concrete Design by Krishnaraju; Tata Mc Graw Hill.
Bridge Engineering by Ponnuswamy; Tata Mc Graw Hill
Prestressed Concerte Structures by N. Krishna Raju; Tata Mc Graw Hill.
Bridge Engineering by Johnson Victor; Oxford and IBH Publishers.
Prestressed Concrete by T.Y.Lin and Burn; John Wiley & Sons.
Reinforced Concrete Structures by Park & Poulay; Willey.
RTU 7th Semester Transportation Engineering-II Syllabus 2020-21
Unit-1
Introduction and Permanent Way Components: Types and Selection of Gauges, Selection of Alignment, Ideal Permanent Ways and Cross-sections in different conditions, Drainage, Salient Features and types of Components viz. Rails, Sleepers, Ballast, Rail Fastenings.
Study of Specific Aspects: Coning of Wheels, Creep, Wear, failures in Rails, Rail Joints, Length of Rail, Sleeper Density and Spacing, Stations, Yards and Sidings, Turn-Table, Signaling.
Unit-2
Points and Crossings: Types of Turnouts, Points or Switches, layout Plans of different types of Crossings, Design calculations of turnouts.
Railway Systems Specific to Urban Movements: Surface railways (sub urban railway system of Mumbai, Chennai and Delhi), Underground system (Metro of Kolkata/ Delhi), Elevated Systems (as Proposed for Jaipur, Delhi, Mumbai), Light Rail System (MRTS, Thane). Recent Developments in Railway Networking.
Unit-3
Geometric Design: Gradient and Grade Compensation, Super elevation and cant, cant deficiency, Types of Curves, Transition curves, their designs, Widening of Gauges.
Unit-4
Airport Engineering:-Introduction: Requirements to Airport Planning, Airport Classifications, Factors in Airport Site Selection, Airport Size, Obstructions, Zoning.
Planning and Design of Airport: Requirements of Airport, Planning of Terminal Area, and different Layouts, Location of Gates, Types of Runway patterns, Runway Layout, Runway Length, Geometric Design of Runways, Layout of Taxiways, Geometric Standards, Exit or Turnaround Taxiways, Apron and Hangers.
Unit-5
Airport Pavement Design: Factors Affecting Pavement Design, Design methods of Flexible Pavements, Design methods of Rigid Pavements.
Reference Books:
Transportation Engineering by A.K. Upadhyay, S.K.Kataria and Sons.
Railway Engineering by Satish Chandra and M.M Agarwal, Oxford University Press, Delhi.
RTU 7th Semester Applications Numerical Methods in Civil Engineering Syllabus 2020-21
Unit-1
Errors & Approximations in Numerical Computation: Introduction to Mathematical Modeling and Engineering Problem Solving. Decimal & Binary Number system. Accuracy, Precision and Significant Digits. Errors and their types.: absolute and relative errors, approximations and round off errors, truncation errors and Taylor's series. Propagation of errors.
Unit-2
Roots of Equations: Iterative processes and their Convergence. Existence of roots in engineering practices & their geometrical representation. Roots of the equations by: Graphical Method, Method of Successive Substitution, Bisection Method, False Position Method, Newton-Raphson Method, Secant Method, Regula Falsi Method. Application to simple civil engineering problems.
Unit-3
Matrices and Determinants: Their types and basic operations. Rank of a matrix. Solution of Linear system of equations by Direct methods: Cramer's Rule, Gaussian elimination method, Gauss-Jordan Method and Cholesky Method. Application to simple civil engineering problems.
Unit-4
Iterative Methods for solving Linear system of equations: Jacobi Method, LU decomposition and Matrix inversion, Gauss Seidel method. Application to simple civil engineering problems.
Unit-5
Interpolation and Curve Fitting: Newton's Forward Difference, Newton's Backward Difference, Newton's Central Difference, Newton's Divided Difference, Lagrangian Interpolation, Hermitian Interpolation, Method of least square. Application to simple civil engineering problems.
Reference Books:
Introductory Methods of Numerical Analysis, Sastry S.S., Prentice Hall India
Numerical Methods for Engineering and Scientific Computation, Jain and Jain, New Age International Pvt. Ltd.
Engineering Statistics, Bowker, A.H. and Liberman G.J., Prentice Hall.
Probability and Statics in Engineering, Hines, John Willey and Sons.
Applied Statistics and Probability for Engineers, Montgomery, John Wiley and Sons.
RTU 7th Semester Advance Transportation Engineering Syllabus 2020-21 
Unit-1
Traffic Studies: Road inventories, Traffic Volume Studies, Spot Speed Studies, Travel Time and delay Studies, Origin-Destination studies, Methodology and Analysis of O-D data, Traffic capacity, Parking studies and characteristics, Accident studies and characteristics, causes and preventive measures.
Unit-2
Statistical Methods for Traffic Engineering: Elementary concepts and Probability, Mean, Standard Deviation and variance, Poisson and Binomial Distribution, Normal distribution, sampling Theory and Significance testing, Linear Regression and correlation.
Unit-3
Traffic Characteristics: Macroscopic and Microscopic Characteristics related to Volume, Speed and Density, their relationships, Road User Characteristics – Human and vehicular Characteristics.
Traffic Engineering Design: Principles of Road Junction design, Design of Roundabouts, Bus Stops and Parking Lots, Design of Signals.
Unit-4
Traffic Management: Traffic Laws, Regulations and Ordinances for Drivers, Pedestrians and Mixed Traffic. Traffic control Measures – One Way streets, Kerb Parking Control, Intersection Control, Speed Control, Access Control. Expressways. Traffic Control Devices – Traffic Markings, Signs, Signals, Traffic Islands, their Classification, types and Sketches, Street Lighting.
Unit-5
Traffic and Environment: Detrimental Effects of Traffic on the environment – air pollution, noise pollution, visual intrusion, aesthetics etc.
Road Safety: The identification of problem, causation and Prevention, Road layout and Improvements, Safety equipment.
Reference Books:
Principles of Transportation Engineering by Parbha Chakrarborty & Animesh Dash, PHI.
Traffic System Analysis Wohl and Martin, Mc Graw Hill Co.
RTU 7th Semester Design Of Pre‐Stressed Concrete Structures Syllabus 2020-21
Unit-1
Introduction: Systems of pre‐stressing in detail, pre‐stressing techniques, transfer of pre‐stress, types of commercially available jacks, computation of losses of pre‐stress. Anchorage Zone: end block stresses, design.
Unit-2
Cable profiles: Concordant and non‐concordant cable profile and associated factors in continuous members. Modern cable laying: materials & practices, precautions etc. Computation of deflection in pre‐stressed concrete members.
Unit-3
Design of Pre‐stressed Concrete Sections: Flexural, shear and torsion resistance of members, preliminary and final design of sections, design of pre and post tensioned flexural members; simply supported and continuous members.
Unit-4
Pre‐stressed Slab: Design of slabs, tendon layout, precast slab, production and their applications. Partial Prestressing: Principles and advantages, methods, practices and design.
Unit-5
Design of circular pipes and circular water retaining structures etc. Case study of one bridge girder with design and constructional features.
Reference Books:
Design of Pre stressed Concrete by T.Y. Lin, Wiley Eastern International.
Design of Pre stressed Concrete Structures by N.Sinha Ray, S.Chand Co.
Prestressed concrete structures by Praveen Nagrajan, Pearsons
RTU 7th Semester Rural Water Supply And Sanitation Syllabus 2020-21
Unit-1
General: Importance of village community in India, Condition of Indian villages with special regard to economics, social and health aspects.
Sources of water: Traditional sources of water in rural areas. Different types of wells, sanitary aspects in well construction, pumps used for village wells, Hand pump Technology, its operation and maintenance. Water harvesting techniques.
Unit-2
Quality of water: Estimation of total water requirement including cattle water demand, quality of water needed for village community, water quality surveillance, standards of water quality.
Communicable Diseases: Diseases and immunity, Source of communicable diseases, Mode of transfer, Control of communicable diseases, Guinea worm Eradication.
Unit-3
Water Treatment: Slow sand filter, horizontal roughing filter and their combination. Disinfection of rural water sources, Fluoride and its removal.
Schemes of Rural water supply: Different Schemes of Rural water supply in Rajasthan, Their Design and project formulation including the programmes and standards laid by Govt. of India and Govt. of Rajasthan.
Unit-4
Milk and Food sanitation: Essentials of dairy farm and cattle shed sanitation, Tests for milk and dairy products, food epidemics, food poisoning, Botulism.
Fly and Mosquito control: Life cycle of flies and mosquitoes, various methods of flies and mosquito control.
Unit-5
Rural Sanitation: Village latrines, VIP latrines, pour flush latrines, materials, construction and cost of the latrines, Pollution aspects and pollution travel from latrines. Storm water and sludge problems. Septic tank, soak pit, small bore sewer system; its design and construction. Animal waste, method of composting, Biogas, collection and disposal of wastes.
Community Awareness and user participation: Planning of communication support in rural supply and sanitation projects.
Reference Books:
Rural Water Supply & Sanitation Manual by Govt. of India
Municipal and Rural Sanitation E.W.Steel, Mc Graw Hill Book Co.
Reports of Rajeev Gandhi National Drinking Water Mission
---
RTU Civil Engineering Syllabus 2020-21 for All Semester
You should have the following syllabus to boost your exam preparation for the RTU Civil Engineering.
Click on the link to access all semester syllabus related to Civil Engineering.
RTU Civil Engineering 7th Semester Marking Scheme
Here you can check the latest Civil Engineering 7th Semester Marking Scheme.
BRANCH CODE
Civil Engineering
CE
Hrs. / Week
SEMESTER – VII
Title
L
T
P
IA
Exam
Total
7CE1A
Water Resource Engineering-I
3
0
20
80
100
7CE2A
Design of Steel Structures-I
3
0
20
80
100
7CE3A
Design of Concrete Structures-II
3
0
20
80
100
7CE4A
Transportation Engineering-II
3
0
20
80
100
7CE5A
Application of Numerical Methods in Civil Engineerinng
3
0
20
80
100
7CE6.1A
Advance Transportation Engineering
3
0
20
80
100
7CE6.2A
Design of Prestress Concrete Structures
7CE6.3A
Rural Water Supply & Sanitation
Total
18
600
7CE7A
Design of Water Resource Structures-I
2
30
20
50
7CE8A
Steel Structures Design-I
0
0
3
30
20
50
7CE9A
Concrete Structures Design-II
3
30
20
50
7CE10A
Application of Numerical Methods in Civil Engineerinng Lab
0
0
3
30
20
50
7CETR
Practical Training & Industrial Visit
2
100
100
7CEPR
Project-I
2
50
50
7CEDC
Discipline & Extra Curricular Activity
50
Total
400
Grand Total
18
0
15
1000
Meaning Of various letters:
L: Lecture, T: Tutorial, P: Practical, Cr: Credits ETE: End Term Exam, IA: Internal Assessment
We have covered the complete guide on RTU Syllabus Civil Engineering 7th Semester 2020. feel free to ask us any questions in the comment section below.