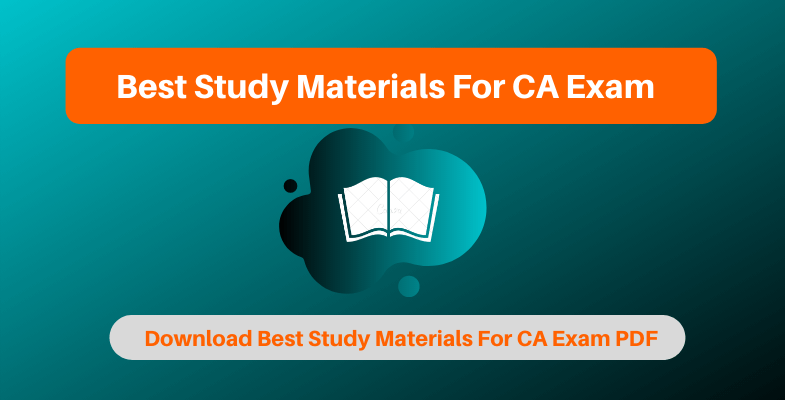 Best Study Materials For CA Exam: CA is one of those exams which require a tremendous amount of effort as well as energy. The preparations for this exam start right from Class 11.
A career in Chartered Accountancy makes way for new opportunities. Are you planning to overcome all those challenges for a better future? You have come to the right place because in this blog the things which we will be talking about are CA Study Materials, CA Books, question papers and mock tests.
The exams are conducted twice a year by the Institute of Chartered Accountant of India. We have covered some of the important aspects of this exam which will be beneficial for you. Read all the parts carefully before making the necessary arrangements for the upcoming exam CA.
Best Study Materials For CA Exam
With a lot of choices in the market, selecting the best books for CA Exam becomes a tough task. It is a crucial step in the process of preparation for the CA Exam, as you can not start with the preparation process without the books to study.
You are suggested to commence your preparation process as soon as possible. Keeping in mind the date of examination you are advised to first go through the pattern of CA and then the syllabus of the exam to begin preparing for the examination. It would be more helpful to create a study plan and for that, the syllabus plays an important role. 
ICAI Exam Highlights
| Features | Details |
| --- | --- |
| Exam Name | ICAI Foundation, ICAI Intermediate, and ICAI Final |
| Conducting Body | Institute of Chartered Accountants of India |
| Exam Level | National Level Exam |
| Exam Frequency | Twice a year |
| Exam Mode | Online |
| Exam Duration | Two hours |
| Language | English |
| Exam Purpose | Training and Certifying Chartered Accountants in India |
| Course Offered | Chartered Accountancy  |
| No. of Test Cities | 192 cities in India and 5 abroad |
| Exam Helpdesk No. | 1800 419 2929 |
| Exam Website | |
How to Select the Best Books for CA Exam?
There are certain points that need to be considered to select the best books for CA Exam. You must know the factors that decide which book should be bought to help proceed with the preparation process and which not.
Here we have covered a few important factors you should consider while purchasing the best books for CA Exam.
Check the date of publication of the book. Books with old publication dates might not contain the right and updated content. Search for the one with the latest date of publication for updated and revised content.

Cross-check the content of books with the syllabus of CA prescribed by the conducting authority of the exam.

Books that cater to a particular section of the exam contain more elaborative information than the common books. Try looking for these kinds of books.
Go for the books that contain sample papers in them. Experts advise using such books for better exam preparation.

The study material provided by celebrated coaching institutes is also considered as a good source of information.
Best Books & Study Materials for CA Foundation Exam
A CA aspirant has to cross different kinds of hurdles to reach the destination of his or her choice. Some of the bridges which he or she has to be careful about are Chartered Accountant Books along with the study materials.
Some candidates fail to overcome the different stages of the CA exam because they are not aware of the ways to succeed. There are different kinds of CA Foundation Books which are available for the Foundation Exam and you can go for those books which have got good reviews.
Check the reviews several times before purchasing those books. You also need to check the parts which the books will cover. Refer to the syllabus and buy those CA Books which will help you to prepare your CA Foundation Notes in a better way. Design the study materials after examining the contents of the books. When you follow these simple steps you will be closer to your destination.
The CA Study Materials will help you to stay on the track and that is why structuring notes is important. Here are some useful books for your forthcoming exam-
Name of Book

Author

Publisher

CA Foundation Scanner Cum Compiler Volume 1:

Paper 1- Principles & Practice of Accounting

Paper 2- Business Laws & Business Correspondence and Reporting

Manmeet Kaur

S.K. Agrawal

Taxmann

CA Foundation Scanner Cum Compiler Volume 2:

Paper 3 – Business Mathematics, Logical Reasoning and Statistics: Padhuka's

Paper 4 – Business Economics & Business and Commercial Knowledge

Dr. S.K. Agrawal

CA Manmeet Kaur

Taxmann

Elements of Mercantile Law

N.D. Kapoor

Sultan Chand and Sons

Padhuka's Easy Guide to Business Maths and Logical Reasoning & Statistics

CA G. Sekar

CA b. Saravana Prasath

Wolters Kluwer India Pvt. Ltd.

CA Foundation Business Laws

Dr. V.K. Jain

CA Shashank S. Sharma

Taxmann

CA Foundation Scanner

Miscellaneous

Shuchita Prakashan

Taxmann's Quicker- Business Mathematics and Logical Reasoning & Statistics

Kailash Thakur

Taxmann

Taxmann's Business and Commercial Knowledge

Dr C. B. Gupta

Taxmann
Best Books & Study Materials for CA Intermediate Exam
You already have an idea of the relevant books for the Foundation Exam CA and now we will throw a light on the next phase which is Intermediate Exam CA. CA Inter Books. If you are aiming for something big like Chartered Accountancy then you need to clear all the levels.
It is not an easy task and for this reason, you must concentrate on the useful books as well as CA Notes for cracking this kind of exam. Your professors are there to guide you and you can also seek help from your friends who are who will be appearing for this exam.
You can even visit a bookstore and make a note of all the important books which are available. Keep an eye on the contents as well as the ratings. When you are ready with the books of your choice you will be able to design your study materials with ease. While you prepare your notes don't exclude the parts which are have appeared in the test papers many times.
Here are the books for the next phase-
Suject

Name of the Author

Law

Munish Bhandari

Taxation

T.N.Manoharan for Indirect Tax

V.K. Singhania

Auditing

Surbhi Bansal

Accounts

P.C Tulsian
Best Books & Study Materials for CA Final Exam
The final stage that is CA Final or Professional Exam will determine your fate. You cannot afford to make any kind of mistakes here. Before you take any kind step you need to refer to the guidelines which have been provided by the experts. Give attention to the tiny details and try to write all the important points on your notebook.
You need a solid foundation to complete your final objective. The best way to deal with this kind of problem is by referring to the books which follow the updated syllabus. Often there are some changes in the syllabus.
If you can manage to buy the best CA Final Books for your final exam then your journey will have a new meaning. If you focus on the essential points which are mentioned in the books then your study material will have an appeal. You will be clear about your requirements and your job will become easier for you to understand.
Here are some of the books which you must follow for shaping your CA Notes.
| | |
| --- | --- |
| Subject | Name of the Author |
| Financial Reporting | D S Rawat for AS & IND AS, M P Vijay Kumar |
| Strategic Financial Management | J B Gupta, A N Sridhar, SM & PM |
| Advanced Auditing and Professional Ethics | Surbhi Bansal, V K Agarwal, Aseem Trivedi |
| Corporate and Allied Laws | Munish Bhandari |
| Advanced Management Accounting | SM & PM |
| Information Systems Control and Audit |  SM,Manish Valecha, Jignesh Chedda |
| Direct Tax Laws | Manoharan, Vinod Gupta, Singhania. |
| Indirect Tax Laws | Bangar, Vineet Sodhani, Raj Kumar. |
ICAI CA Questions Papers
When a candidate solves previous year CA question papers he will be in a position to accept all kinds of challenges. The experts tell you to solve test papers for this reason. While attempting different kinds of questions you will get the entire picture. Often the candidates leave out some topics and this will be reduced when you examine the questions appearing in the test papers carefully.
Another advantage of solving question papers is that you get a chance to identify and rectify all the errors that you have made. As you know there are three phases which you have to cross. You can ask for the CA Foundation Previous year Papers from your friends or professors. You also need to collect the CA Inter Papers as well as Chartered Accountant Previous year papers to work on your errors.
You can even ask for a pdf file from your close friends. There are some coaching centers where you can get access to all the important things for your exam 2020 CA and for that you have to enroll for a course. Take care of the little things while you improve your methods of preparation.
CA Mock Test Series
You have often heard about the importance of solving sample test papers. Yes, the questions which usually appear in the sample question papers follow the new pattern and it highlights the important topics associated with Chartered Accountancy final exam which need your attention.
For this reason, you must appear for mock tests. The more you appear for the tests the better it will be for your performance. While taking the tests you will get to know about the division of marks. It's never too late to appear for CA Mock tests. You will know where you stand and how much effort you have to make to secure a good place in your forthcoming exam.
If you are careful about these things which we have mentioned here then you will be able to crack all the exams with confidence.
We have covered a complete guide on Best Study Materials For CA Exam. Feel free to ask us any questions in the comment section below.