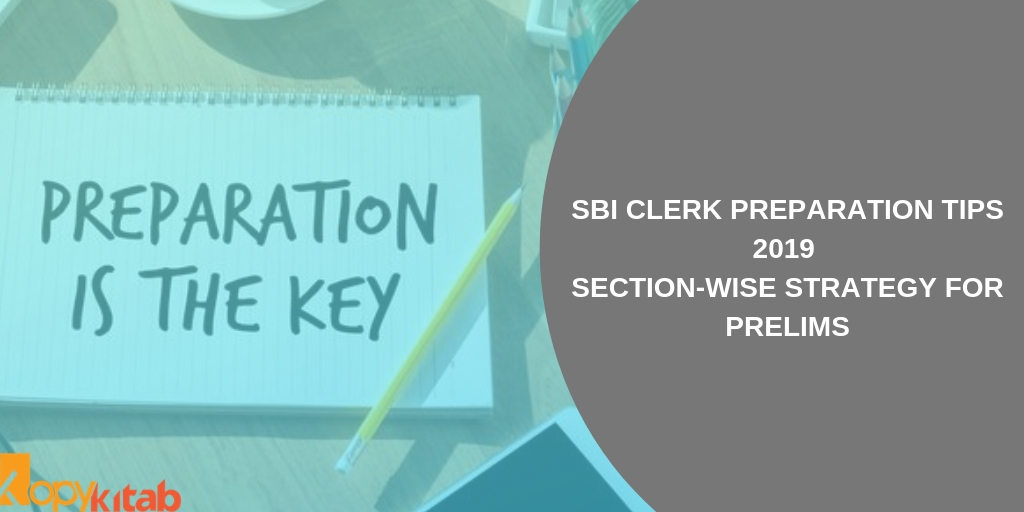 The State Bank of India (SBI) is one of the topmost banking sectors which conducts recruitment every year for filling in various vacancies across the organization. As the SBI Clerk Recruitment 2019 has begun, it is time for candidates to begin their preparation. SBI Clerk post is one of the posts which is in high demand due to its high paid salary, job profile and career growth. Every year there are lakhs of candidates taking up SBI Clerk Exams. This is one of the topmost national level examinations conducted by SBI board. As there is an ample amount of time for preparation, it is high time for candidates to start SBI Clerk Preparation. Go through the blog completely to know more in detail about SBI Clerk Preparation Tips.
How To Prepare for SBI Clerk Exam 2019?
This is a common question in most of the candidates when they start preparing for an exam. Well, there are many ways to prepare well for the SBI Clerk exam 2019. Firstly, for any preparation to be a success, knowing the SBI Clerk Syllabus and Exam Pattern is important. Below is the SBI Clerk Exam pattern tabulated. Go through the table to know about what all topics are present in the exam.
| | | | |
| --- | --- | --- | --- |
| Section | No. of Questions | Marks | Duration |
| General / Financial Awareness | 50 | 50 | 35 Minutes |
| General English | 40 | 40 | 35 Minutes |
| Reasoning Ability & Computer Aptitude | 50 | 60 | 45 Minutes |
| Quantitative Aptitude | 50 | 50 | 45 Minutes |
| Total | 190 | 200 | 2 hr 40 Min. |
As now you are well versed with the SBI Clerk Exam Pattern, it is time to know the SBI Clerk Preparation Tips. Below is the detailed SBI Clerk Preparation Tips listed out which will help in scoring more in the upcoming SBI Clerk Exam.
SBI Clerk Preparation Tips
1. Be thorough with exam pattern & syllabus: IWhen you begin with the preparation for SBI Clerk, it is important that you know which topics are included in the SBI Clerk syllabus. Once you have an idea about the syllabus, you can start planning for SBI Clerk preparation accordingly.
2. Create a Study time table: Now that you have an idea about the exam pattern and syllabus, you have to create a time table and stick to it. Allocate time for each section based on your strengths and weaknesses. Spend more time on topics you are weak at. If your  Numerical Ability is weak, spend more time solving numerical questions. Having a smart and proper time table will make your SBI Clerk preparation easier.
3. Read regularly: Reading regularly plays a major role in competitive entrance exams like SBI Clerk. Your SBI Clerk preparation time table must have a separate time allocated for reading newspapers and magazines. Spend two hours daily on reading. This will help you in having proper SBI Clerk preparation for English Language section, General Awareness section, and Computer Aptitude section. Make a note of important key points as you read. Make sure to have the right SBI Clerk Preparation Books that covers and explains all topics in detail.
4. Understand concepts properly:  Study each and every topic in depth. Rather than learning the shortcuts to solve a problem, it is important that you understand the concepts and theories first. This is very important for sections like Numerical Ability and Reasoning Ability. Once that is achieved, you can learn the shortcuts. For English Language section, learning the theory, i.e. the basic grammatical rules is very crucial.
5. Remember formulas thoroughly: The Quantitative Aptitude section has many formulas to remember. So, it is important that you learn the derivations of the formulas too and practice them regularly.
6. Practice Continuously: Every time you finish a chapter or a topic, solve SBI Clerk questions from that topic. With more practice, definitely, you can score more.
7. Improve your time management skills: Time Management is very important in a competitive examination. Know the SBI Clerk Time Management Strategy to improve speed and accuracy.
8. Revise regularly: Revising topics after completion of one round of studying will make you remember the topics for a long time. Make sure you allow some time for revision during few days left for the exam.
9. Take up SBI Clerk tests: Once you have finished the entire syllabus, take up SBI Clerk online tests and analyze your preparation. Identify your weak areas and work on them to improve.
How to Study for SBI Clerk Exam 2019 Subject Wise?
As now you are aware of the SBI Preparation Tips, read the below listed SBI Clerk Subject Wise preparation tips. Here is the brief explanation of subject wise tips strategy for SBI Clerk Prelims exam.
SBI Clerk Preparation Tips for Quantitative Aptitude Section
This section contains the mathematical calculations and problems which must be solved manually. For this section, practice is most important. Regular practice for the questions and problems would be one way to sort out the problems. With proper shortcuts and understanding of topics, you can score more in this section. Some of the important topics under the Quantitative Aptitude section are
Data Interpretation
Simplification and Approximation
Number Series
Quadratic Equation
Profit & Loss
Simple and Compound Interest
Percentage
Time and Work (Including Pipe & Cisterns)
Time, Speed and Distance (Including Problems on Train and Boat & Stream)
Ratio and Proportion
Mixture and Allegation
Partnership
Average
Permutation and Combination
Probability
Problems of Ages
Mensuration
Geometry
Data Sufficiency
SBI Clerk Preparation Tips for Reasoning Section
This section contains the questions which test the mental ability and observing power. Regular working is the key to crack this section with more marks. Candidates must pay high-level concentration to this section and solve more of questions. With regular practice and workout, definitely, candidates can skyrocket this section. Some of the important topics in this section are
Syllogism.
Seating Arrangement – Circular table and Line (North & South).
Puzzle.
Blood Relation.
Inequality or Decision Making.
Data Sufficiency.
Logical Reasoning.
Input-Output.
Number series.
Statement and Argument.
Passage and conclusion.
Coding and decoding.
Order and ranking.
Making Judgments.
SBI Clerk Preparation Tips for English Section
The most important point for scoring more in the English section is reading the English newspaper regularly. Try to increase the vocabulary by reading new things and new words from the dictionary and try the questions for synonyms and antonyms as well. The regular reading will help to develop the skill for reading, speaking, understanding and writing English. Some of the important topics are
Vocabulary – Antonyms and Synonyms
Sentence Completion
Basic English Grammar – Tenses, Articles, Prepositions, Subject-Verb Agreement, Parts of Speech, etc.
Reading Comprehension
Error Spotting
Cloze Test
Sentence Rearrangement or Para Jumbles
Phrases and Idioms
Fill in the Blanks
Spell Checks
SBI Clerk Preparation Tips for General Awareness Section
This section deals with general knowledge or general awareness along with financial knowledge. The main key to crack this section is only one that is reading daily current affairs. Regular watching of news, reading newspapers can help in scoring more in this section. Some of the important topics in this section are
Current Affairs – Sports, Technology, Books and Authors, Awards, National and International Events, Defence, Summits, etc.
History
Geography
Culture
Indian Constitution
Economics News
Financial Awareness (Railway Budget, Union Budget, etc.)
Banking Awareness – History, RBI Guidelines, Banking Terms, Abbreviations, etc.
Get SBI Clerk Previous Year Question Papers Here
SBI Clerk Preparation Tips for Computer Section
This section deals with the basic knowledge of computers. The knowledge such as hardware operating system concepts, keyboard shortcuts, MS word, excel, MS power point, internets, etc. This section can be cracked with Computer books. Important topics in this section are
Generations of Computer
Computer Fundamentals and Terminologies, Hardware and Software, Memory and Storages, Input and Output Devices, etc.
Operating System
Internet and Networking
MS Office – MS Word, MS Excel, MS Powerpoint, etc.
Keyboard Shortcuts
Computer Abbreviations
Basic Security Concepts
Thus, with regular practice and following these above SBI Clerk Preparation Tips, one can definitely achieve his/her dreams. Make sure to study and practice regularly with the right preparation materials.
  [related_books catid="513″ product_type="ebook" algo="Latest"]