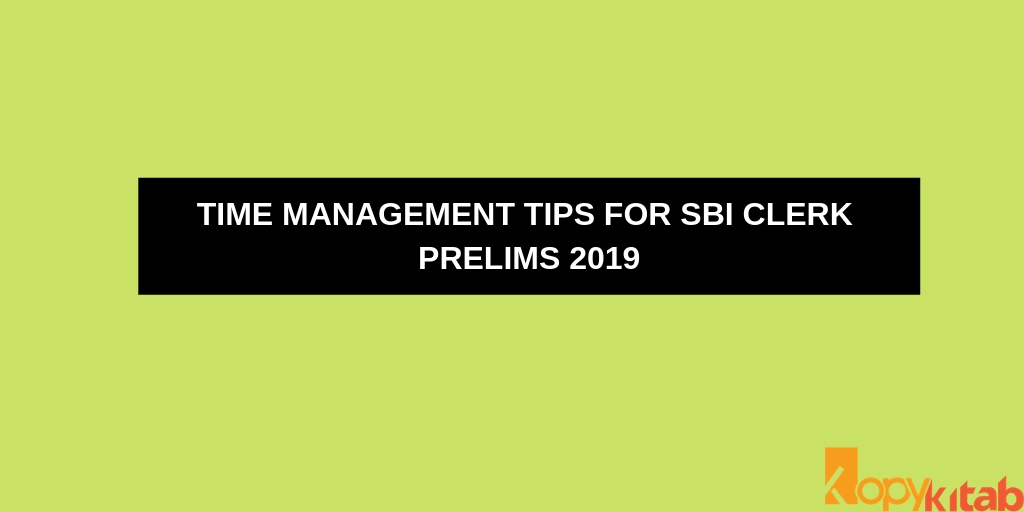 The State Bank of India (SBI) is one of the largest banking and financial services across the country. There are huge recruitment drives conducted every year by SBI for filling in various vacancies like Clerk, Probationary Officer, Specialist Officer and many more. Currently, the SBI Clerk recruitment has begun and a large number of candidates have registered.
As it is one of the topmost competitive exams in the banking sector, preparation needs to be at high levels. Managing time is the key to success. So, to ease your preparation we have provided the detailed time management tips to crack SBI Clerk Prelims 2021 with more marks. Go through the blog to know more in detail.
SBI Clerk Time Management Tips 2021
Before beginning with the Time Management tips, it is important to be aware of the SBI Clerk Exam Pattern and Syllabus in detail.
1. Plan Your Preparation
Prepare a proper study plan and set a time to study each topic
List out the topics which you need to complete and study according to the time-table.
Set each day target and achieve it
2. Practice regularly
Practicing is very essential for any exam preparation
Take up SBI Clerk Online Mock tests to check in which area you are strong. You can also know where you go wrong and improve that area.
Solving more and more problems daily will gradually increase your speed and accuracy
3. Stick on to the Time Limit
During solving any problem or taking up test, try to finish it within the set time limit.
This way you can complete the actual exam in time.
A total of 100 questions must be solved in 1 hour. Solve those questions which you find it easier.
4. Do not Get Distracted
Distractions will ruin your precious time
Stay focussed and be confident during the exam
5. Try Finishing before Time
Try to complete each section before time if possible
Save some time for the end to review all answers and ensure everything is right
Time Management Tips Section-wise for SBI Clerk Prelims
1. English Language
If you are well versed with your basics, then you can easily score more in this section
Begin with easier questions as they will not consume much time
Allot more time for lengthier and difficult sections like Reading Comprehension and Para Jumbles.
Do not spend time re-reading the questions. Answer those questions later which needs time to be read and understood.
Attempt only those in which you are confident as there is negative marking
solve Previous year question papers to get a clear idea about different types of questions.
2. Numerical Ability
Try to solve all the questions within 17-18 minutes. So that you spend time in the end to review your answers.
Start with the questions in which you are strong
Be well versed with all the formulas
Do not do guesswork, as there is negative marking
Skip those questions which you are unable to solve.
3. Reasoning Ability
Try solving those which you can answer by reading at once.
Focus on the questions that you are confident
Do not waste your time on tough ones.
Solve more questions to be perfect in each topic
Solving from previous year papers will help you to be perfect and know various types of questions.
Get SBI Clerk Previous Year Question Papers Here
Thus, with these Time Management Tips, there is no doubt that you can score more in all the sections and clear off SBI Clerk Prelims easily. Enhance your preparation now with a wide range of SBI Clerk test series available online.
  [related_books catid="513″ product_type="ebook" algo="Latest"]