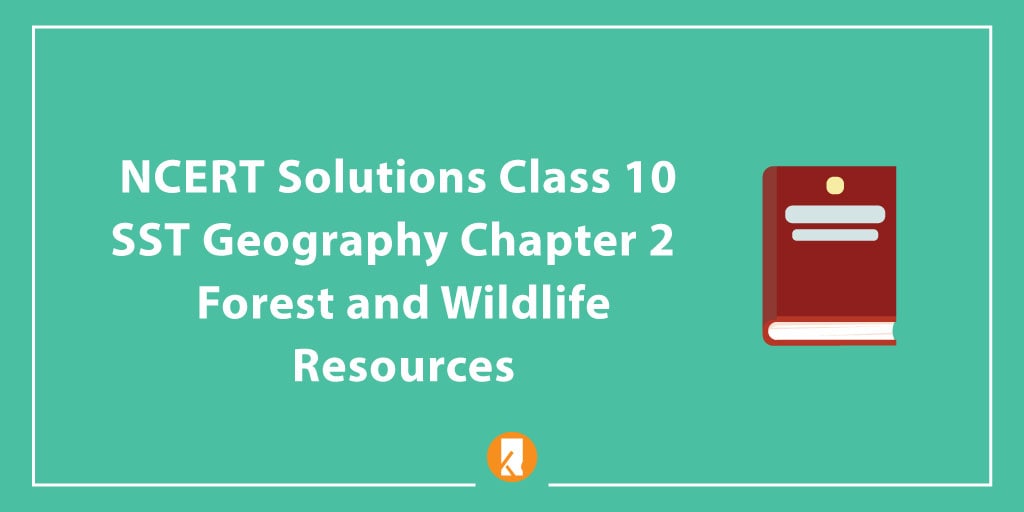 NCERT Solutions Class 10 SST Geography Chapter 2 – Forest and Wildlife Resources: Are you preparing for the Class 10 Board Exam 2020-2021? Are you facing difficulties to get the Solutions for 10th class social Science Geography Chapters, then Don't worry! Here we are providing NCERT Solutions Class 10 SST Geography Chapter 2 – Forest and Wildlife Resources.
You can download NCERT Class 10 Social Science Solutions free PDF and boost Class 10 Social Science Board Exams.
NCERT Solutions Class 10 SST Geography Chapter 2 – Forest and Wildlife Resources
You will find all Questions solutions for the 10th SST Geography Chapter 2. The materials are created by experts based on CBSE NCERT Curriculum.
You can also download Class 10 Social Science PDF for all chapters to learn to solve the Maths problems and build the depth concept. You can score a better grade in the 2021 board exam by plasticizing solutions daily. 
NCERT Solutions Class 10 SST Geography Chapter 2 – Forest and Wildlife Resources – Sample Questions
Question: Describe how communities have conserved and protected forests and wildlife in India?
Answer: In India, many traditional communities still live in the forests and depend on their livelihood for forest produce. These communities are working hand in hand with the government to conserve forests.
In Sariska Tiger Reserve, Rajasthan, villagers fought against mining activities. In the Alwar district of Rajasthan, local communities belonging to five villages have set their own rules and regulations in 1,200 hectares of forest land. They have named it the Bhairodev Dakav 'Sonchuri'. Hunting is not allowed in these lands and outside encroachments are prohibited.
The famous Chipko movement was started in the Himalayan region to stop deforestation. People belonging to the local community took to afforestation in a big way. Indigenous species were cultivated and protected.
Involving local communities in protecting the environment, and stopping the degradation of forests has reaped many benefits.
Question: Write a note on good practices towards conserving forest and wildlife.
Answer: In 1972, the Indian Wildlife (Protection) Act was implemented. It made protecting specific habitats a law. A list of wildlife species that had to be protected was published and hunting these animals was against the law.
National Parks and Wildlife Sanctuaries were set up in many states to protect endangered species.
Under the Wildlife Act of 1980 and 1986, several insects have also been included in the list of protected species. Butterflies, moths, beetles, dragonflies, and even certain plants are included in the protected list.
"Project Tiger" was initiated in 1973 by the government of India to protect tigers. It is one of the most well-publicized wildlife campaigns in the world.
Key Features of NCERT Class 10 Social Science Solutions Geography Chapter 2
Build Strong Basics for Understanding the Chapter 
The unique way of Understanding
You can easily prepare 10 Geography textbook Chapter 2.
Helps to Score  More in Class 10 Board Exams
Other Important CBSE NCERT 10th Social Science Solutions
You should have solutions to boost your exam preparation for the Class 10 Social Science exam. From below you can download Chapter-Wise Class 10 Social Science NCERT Solutions PDF.
Class 10 Geography (Contemporary India – II)
Geography Chapter 2: Forest and Wildlife Resources
Class 10 Political Science (Democratic Politics -II)
Class 10 Economics (Understanding Economic Development)
Class 10 History (India and The Contemporary World – II)
Download CBSE Class 10 Study Materials  and Books for better preparations