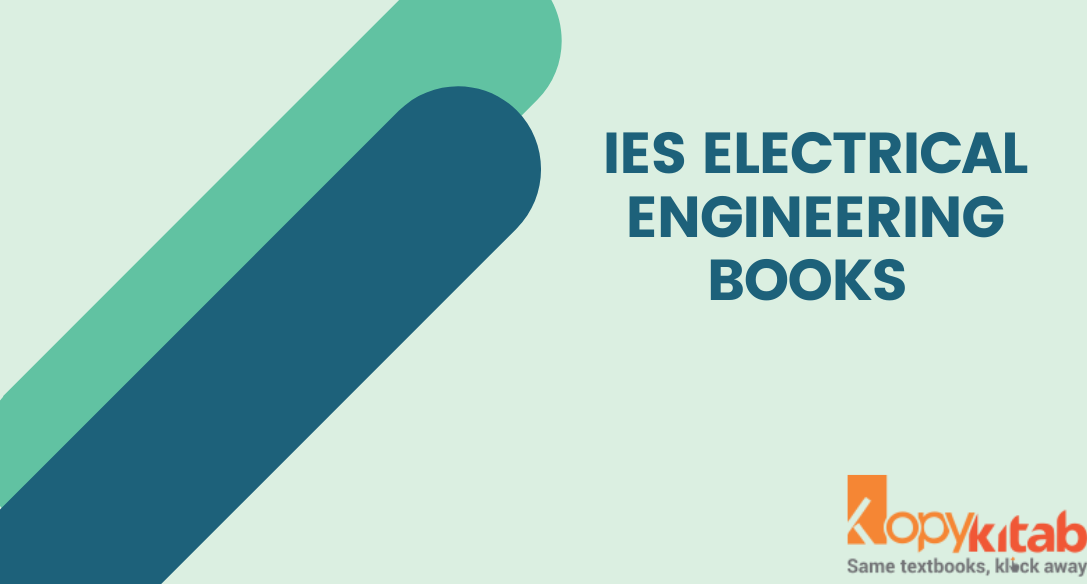 Indian Engineering Services (IES) or Engineering Services Examination (ESE) is one of the most competitive exams in India with lakhs of aspirants and only hundreds of seats.
Every year, the exam is conducted in four different branches of Engineering- Civil Engineering, Mechanical Engineering, Electronics and Telecommunication Engineering, and Electrical Engineering. To Prepare well for the Exam Selection of Best Reference Books Plays a Prominent Role one among them are, IES Electrical Engineering Books 
IES Electrical Engineering Books 2020
The IES Syllabus for Electrical Engineering consists of some of the toughest topics and subjects that require strenuous amounts of studying. There are more than a fair amount of IES preparation books for Electrical Engineering, so, to make your work easier we have brought you some best IES reference books for Electrical Engineering pdf free downloads.
IES preparation books for electrical engineering covers all the subjects that need to be learned for answering all the Electrical Engineering papers (one objective and two subjective) in both preliminary and main examinations. 
Download ESE Electrical Books PDF
Top 6 IES Electrical Engineering Books pdf 
1.IES Master Engineering Aptitude Book pdf 
Author: Team IES Master
About the book: IES Master Engineering Aptitude book pdf is the one that you must have in your collection if you're an aspirant of GATE, IES, State Engineering Services Examination and Public sector examinations such as BHEL, NTDC, NHPC, DRDO, SAIL, HAL, BSNL, NPCL, etc., 
It is among the best IES master books for electrical engineering pdf available for free download. The book consists of 362 pages and covers various topics under Numerical Ability and Algebra, Arithmetic, and Reasoning.
2. Basics of Material Science and Engineering Book 
Author: Team IES Master 
About the book: Materials form the base of any technical and non-technical engineering application. Learning and understanding the basic concepts of material science is significant no matter what branch of engineering you decide to pursue. Studying material science helps you understand what materials to use to gain higher efficiency and reduce risks, costs, and pollution – this is precisely why the subject has been included in the IES examination syllabus. Basic of Material Science and Engineering is one of the best IES reference books for electrical engineering pdf available online.
3. Principles of Electromagnetics
Author: Matthew N.O. Sadiku, S.V. Kulkarni
About the book: Principles of Electromagnetics, 6th Edition is one the best available IES preparation books for Electrical Engineering and Electronics and Telecommunication Engineering.The authors explain both theoretical and practical applications of subjects by providing solved examples at the end of each chapter. The book covers Vector Analysis, Electrostatics, Magnetostatics, Waves and Application, and encompasses many numerical techniques and methods that explain practical applications of theories. 
4. Objective Electrical Technology 
Author: V.K. Mehta and Rohit Mehta 
About the book: Objective Electrical Technology is one of the best IES reference books electrical engineering pdf available on the internet. The textbook is very helpful for answering the IES preliminary examination Electrical Engineering Objective paper.
The book is divided into four parts – Basic Electrical Engineering, Electrical Machines, Power system, Basic Electronics and covers 41 chapters under it, explaining every important topic and concepts in Electrical Engineering. To prepare the students best for the IES exam, the book clarifies many questions and has around 5,500 practice questions.
5. Electrical Mechanics and Power Transformers
Author: P.S. Bimbhra 
About the book: Electrical Mechanics is not just one of the best IES preparation books for Electrical Engineering but it will also be a reference book that'll aid in your professional life. Electrical Mechanics covers the fundamental principles through which electrical machines work and explain the handling of Transformers, D.C. Machines, 3-phase synchronous, and induction machines. It also explains power diods, power transistors and thyristors.
6. Circuits and Networks: Analysis and Synthesis
Authors: Anant Sudhakar
About the book: Circuits and Networks is one the popular and most updated IES Electrical Engineering book. In the book, the author takes a new approach based on MATLAB® and introduces new topics such as bode plots, four-wire systems and composite filters. The book provides a practical knowledge of the commonly used methods of analysis in electrical engineering and explains the basic law of electrical circuits. The book consists of many numerical problems, solved examples, circuit diagrams, and tools and techniques that will help you greatly for the exam. 
Note: You can either buy the book or download pdf from one of the paid sites online.
Along with these top six books, there are many other IES electrical engineering books pdf you can download online. It is always better to invest in hard copies of books though, either way, study hard and ace your examinations!