CBSE Class 12 Hindi Syllabus | Free PDF Download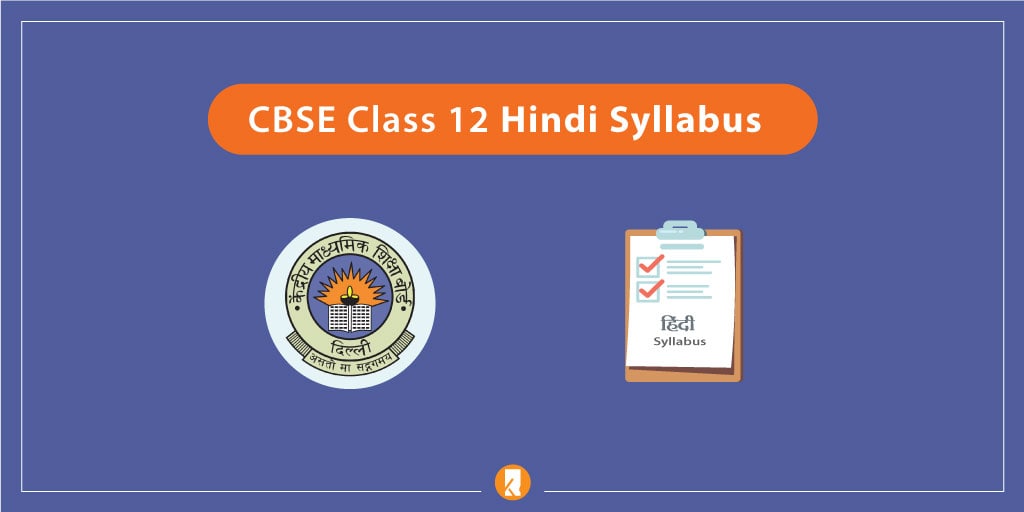 Class 12 is one of the important phases in every student's life. To get into the top places in the chart is the aim of all. We can see the increasing trend of high marks on language papers among the top 10 rank students. To score high in language papers is one well-established strategy to stand ahead of your competitors. How to approach each subject is very different. So let us see how to approach CBSE class 12 Hindi exam preparation. First and foremost in every subject approach style is to know the syllabus and weightage. So let us take a look at the detailed CBSE Class 12 Hindi syllabus 2019-20.
Basic Introduction
CBSE Class 12 offers students with various languages to opt for. The most preferred choices in regional languages among CBSE students is Hindi and Sanskrit. CBSE class 12 Hindi, generally has 2 sections – One is the elective course and the other is the core course.
CBSE Class 12 Hindi Syllabus
CBSE 12th Hindi syllabus 2019-20 remains almost unchanged from so many years.
Download Free PDF of Class 12 Hindi Syllabus for Both Core and Elective 
CBSE Class 12 Hindi Core Syllabus PDF
CBSE Class 12 Hindi Elective Syllabus PDF
CBSE 12th Hindi Core Syllabus
It has basically main 3 important parts but in actual the class 12 Hindi core syllabus 2019-20 has 4 parts.
Let us take a detailed look of the syllabus –
In Class 12 CBSE Hindi syllabus 2020 students can see there are 4 sections as given below –
This section accounts for about 16 marks in weightage as per the CBSE class 12 Hindi syllabus. Questions from this section are further divided into the marking scheme of (12+4). To know it clearly take a look at the detailed syllabus given below which is as per the official Syllabus CBSE Class 12 Hindi 2019-20 pdf.
 कायायऱय हहिंदी और रचनात्मक ऱेखन 
As per Hindi syllabus Class 12 2019 this section accounts for about 20 marks, so students have to work out this section very well.
This section is the most important part of the CBSE class 12 Hindi core syllabus 2019-20, because this is the highest-scoring section, as well as this section, occupies the highest weightage of approx 44 marks.
This is an easy scorer section with 10 marks that is almost achievable by every average student as well.
Like section four this also takes up 10 marks weightage and the easy scoring sections.
Students can take a look at the detailed syllabus given below to understand the mark division for each subsection within the CBSE class 12 Hindi core syllabus.
CBSE Class 12 Hindi Books
As per the official syllabus of CBSE, the prescribed books for class 12 Hindi is provided by NCERT publications. 
There are 4 books for the CBSE Class 12 Hindi –
Antra

Aroh

Vitan

Antral Bhag 2 
All these are NCERT publication books that students can study for the CBSE class 12 Hindi paper.
CBSE Question Papers Class 12 Hindi
Students can score high for CBSE class 12 Hindi exam by referring to the CBSE Hindi model question paper 2019-20 
CBSE NCERT Solutions Class 12 Hindi 
Hindi being language paper, doesn't have so much out of box questions to expect. Students can see that even as per CBSE class 12 syllabus 2018-19 also the class 12 Hindi board exam questions were mostly based on the NCERT questions itself.
So rely on any good publications that provide key answers to CBSE class 12 NCERT solutions.
CBSE Worksheet Class 12 Hindi
To score high , there is only one key as usual . What can be that ? Practice and Practice.
Being a class 12 student you really know the importance of worksheets to improve your score. So don't be lazy to go for practicing CBSE class 12 Hindi worksheets.
CBSE Revision Notes Class 12 Hindi 
Not really necessary but you can make short revision notes for CBSE class 12 Hindi  for grammar section that needs to be memorized 
Good luck all !!!