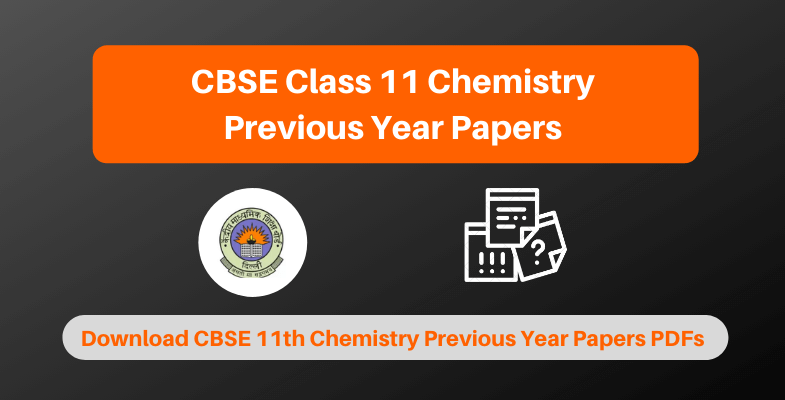 CBSE Class 11 Chemistry Previous year Papers: Are you worried about your performance in the CBSE Class 11 final exam? You are not the only one here and because of the rise of corona cases every student on Earth is feeling threatened. Are you thinking about the ways to channelize your methods of preparation? You don't need to worry because all your queries or doubts will be cleared here in this blog.
Today we are going to throw a light on some of the important aspects of Chemistry like its benefits as well as exam pattern. It is that kind of subject which talks about the composition, structure, properties, and transformation of matter. Scoring good marks in Chemistry might seem like an impossible task but it is not.
CBSE Class 11 Chemistry Previous Year Papers
Attempting different kinds of questions from previous years is absolutely necessary as you need to understand the distribution of marks, time duration along with the latest trend. You will automatically be in an advantageous position if you can refer to CBSE Previous Year Question Papers Class 11 Chemistry Solved PDF. You can practice and check the answers as many times you want after solving Class 11 Chemistry Previous Year Question Papers.
The possibility of making mistakes reduces the more you do this. You can ask for CBSE Class 11 Chemistry Previous Year Question Papers With Solutions from your friends or relatives if you want to make a note of the topics which are important fir the final exam. Your professors can also guide you as you solve Chemistry Previous year Question Papers Class 11.
Download CBSE Class 11 Chemistry Previous Year Papers
You can download the 11th Chemistry Question Papers From below.
Download CBSE 11th Chemistry Previous Year Question Papers
The above Question Papers covers,
11th Chemistry Question Paper 2020
11th Chemistry Question Paper 2019
11th Chemistry Question Paper 2018
11th Chemistry Question Paper 2017
11th Chemistry Question Paper 2016
11th Chemistry Question Paper 2015
Important Links Related To CBSE Class 11 Chemistry
Here you can check the important links related to 11th Chemistry.
Advantages Of CBSE Class 11 Chemistry Question Papers With Answers
Practicing CBSE Class 11 Chemistry Previous Year Question Papers is something which plays an important role in shaping your preparation. If you want to understand the need to solve you need to read all the sections with an attentive mind.
Another good thing about following NCERT Class 11 Chemistry Previous Year Question Papers is that it helps you to design your study materials in a way which is good for your performance. Your performance in Class 11 final exam will determine your performance in Class 12 board exam and hence checking Class 11 Chemistry Previous Year Question Papers With Solutions is a must.
We have already focused on some of the essential aspects of solving previous year papers and now we will try to highlight the benefits of solving previous year papers. Read the points –
When you make an honest effort to answer different kinds of questions from question papers your level of confidence reaches a different level.
The number of mistakes is inversely proportional to the number of times you solve previous year papers. You will get plenty of time to identify and rectify your mistakes after attempting questions from previous year papers for Class 11 Chemistry.
Shaping study materials will seem like an easy task after you solve questions papers. You will know about the important topics which need to be placed at the top.
When you solve questions from previous years your study materials become easy to structure.
You will be in a position to keep a track of your performance at home as many times as you want.
When you appear for your final exam you will already know about the ways to manage time. Practicing question papers helps you to complete your answers within a fixed time.
You can make a note of all the important questions by answering questions from question papers and this helps you to concentrate on the topics which require immediate attention.
You will have an idea of the weightage of marks, marking schemes, time duration as well as the mode of examination.
Examine the exam pattern carefully while attempting questions from previous papers
You need to be familiar with the CBSE latest exam pattern for Class 11 Chemistry besides practicing the previous year papers. There are some modifications in the pattern every year and the only way to deal with this is by observing the changes in the exam pattern. Knowing about the distribution of marks is something you cannot skip. Here is the exam pattern –
The table highlights the marks distribution and number of periods allocated for each unit. Some of the important points which you have to keep in your mind are as follows-
No overall choice in the paper
Internal choice in one Q of 2 marks each
Internal choice in one Q of 3 marks each
Internal choice in all three Q of 5 marks each
Theory Exam Pattern
Time: 3 Hours 70 marks
Unit No.

Title

No. of Periods

Marks

Unit I

Some Basic Concepts of Chemistry

10

11

Unit II

Structure of Atom

12

Unit III

Classification of Elements and Periodicity in Properties

06

04

Unit IV

Chemical Bonding and Molecular Structure

14

21

Unit V

States of Matter: Gases and Liquids

09

Unit VI

Chemical Thermodynamics

14

Unit VII

Equilibrium

12

Unit VIII

Redox Reactions

04

16

Unit IX

Hydrogen

04

Unit X

s -Block Elements

05

Unit XI

p -Block Elements

09

Unit XII

Organic Chemistry: Some Basic Principles and Techniques

10

18

Unit XIII

Hydrocarbons

10

Unit XIV

Environmental Chemistry (Deleted for 2020-21 Syllabus)

Total

119

70
Practical Exam Pattern
| | |
| --- | --- |
| Evaluation Scheme for Examination | Marks |
| Volumetric Analysis | 08 |
| Salt Analysis | 08 |
| Content Based Experiment | 06 |
| Project Work | 04 |
| Class record and viva | 04 |
| Total | 30 |
Here is the complete guide concerning CBSE class 11 Chemistry previous year papers. We have covered every nook and cranny regarding the topic. Start preparing early to score well in your exam.