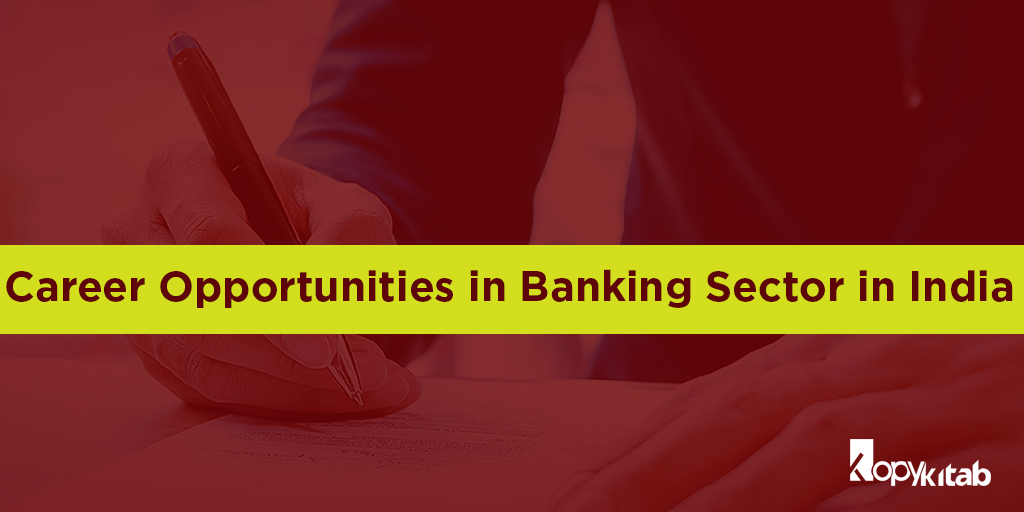 In today's world, banking is emerging in large pace among youngsters. Day by day vacancies in the banking sector is attracting a large number of youngsters. There are lucrative opportunities in the banking sector. If you are one among the person looking out to choose banking as a career, then here is the news for you. There are various jobs available in the banking sector. Go through the blog to know about various career options in banking stream.
Job Profiles in Banking Sector
You can kickstart your career in the banking sector based on your qualification and interest. For all banking jobs, there are entrance exams which is mandatory. After clearing the exams, you will be selected based on results in the exam. There are many careers options like a clerk, Probationary Officer (PO), Specialist Officer (SO). Apart from these, you can also play a regulatory and developmental role if you are joining organizations such as RBI, NABARD, National Housing Bank etc. With the merger of six associates with the SBI, there are now 21 public sector banks in the country and they together employ about 8 lakh people.
Job Titles and their Salary
1. Sub-Staff: You can start your career in any bank as a sub-staff. This is the lowest most cadre of recruitment in any bank. For most of the banks, you need to pass at least the 10th exam in order to be eligible for this post. However, you are required to pass an exam before you are appointed in a bank. You are mainly expected to do work of a peon or a sweeper in the branch or any administrative office. You can rise in ranks if you manage to acquire requisite educational qualification during your tenure at the bank.
The salary of Sub-Staff in public sector banks ranges from Rs 9560 to Rs. 18545 per month. After the 11th bi-partite settlement, it is expected that the salary of sub-staff will be increased to Rs. 44200 per month.
2. Clerk or Clerical Cadre: If you are willing to be in front line of any bank, then you must be graduated at least. Apart from that, you need to have basic computer knowledge as well as communication skills. If you are expecting front line job such as account opening, passbook entry, fixed deposit opening, marketing of various products of the bank etc. You can have a very good career growth if you are joining the bank as a clerical cadre staff.
The salary of a junior associate or clerk will be around Rs 23600/- per month inclusive of all the allowances at the current rate.
3. Probationary Officer: Probationary Officer or PO also called as Management Trainees are the backbone of any branch since they are required to keep an eye on the daily activities of the branch. They manage the cash, account opening, preparing reports, marketing, loan account opening, compliance part etc. You can rise up to the rank of the head of a bank if you join as a PO in any commercial bank. If you are good enough, you can also make it to the RBI as the Deputy Governor. Probationary officers are recruited through the exam conducted by SBI and IBPS.
The salary of the PO or Probationary Officer can be in the range from Rs. 23700 to Rs. 42020.
4. Specialist Officer: If you are willing to use your academics in career, then a specialist officer is the best suitable option for you. Banks conduct recruitment drives for deploying Specialist officer into fields like  IT, HR, Agriculture, Marketing, Planning, Corporate Finance etc. These officers are expected to take care of the concerned department only. Though the career growth is limited, you can leave a good lifestyle in only the metropolitan centers. Specialist officers (SO) in banks offered in banks offered lucrative packages and perks.
The salary of an IBPS SO scale I  will be approximately between Rs. 30,000 – to 38,000.
5. Grade B Officer at RBI (Generalist/ Statistics / Economics): Being at RBI means you are a part of the regulating process of the banking industry in India. As generalist officer, you will manage the basic functions of the bank whereas, in Economics and Statistics department, you are supposed to take care of these areas only. RBI plays the role of the regulator as well as the development of banking in the country. So, you are going to be a part of the decision-making process for the regulation and development of banking in the country.
The starting basic pay of  RBI grade B officer is Rs. 35,150/- per month.
6. NABARD Officer Grade A: NABARD is another banking career option. Being the development organization for agriculture and rural economy, you need to have good and thorough knowledge about the rural economy. You are also a regulator of the co-operative banks in the country, so, you need to have basic knowledge of that industry as well. This is a very prestigious job in the banking industry because rural India looks up to NABARD for development and assistance. You require to pass the examination by NABARD in order to get into the organization.
The officers in Grade 'A' NABARD draw a starting basic pay of Rs.28150/- per month.
These are the top career options in the banking sector. There are many other levels of options like investment banking, corporate financing, and others. Candidates for these positions are recruited through top universities. So, candidates who are looking for banking sector can get a clear idea about bank jobs and their salary. You can excel in bank entrance exams with top sold Bank Exam Preparation Books available online.
[related_books catid="510″ product_type="ebook" algo="Latest"]