Khushi Tiwari AIR 2, AIPMT 2015 recommends that NCERT books of Class 11 & 12 helped her a lot in AIPMT preparation. She says, "I have found NCERT books to be very simple and helpful, especially in Biology and Physics subjects. I found NCERT books easy in comprehending concepts as compared to other books. I used to read these books regularly along with other study materials".Tejaswin Jha who secured AIR 1 in AIPMT 2014  also emphasizes on importance of NCERT books for AIPMT preparation. He says, "NCERT is the best way to clear your base and concepts in all the three subjects–Physics, Chemistry and Biology. Once the base is clear, scoring in AIPMT is easier for anyone. One must study NCERT books seriously along with other reference materials to score good marks in the entrance exam."
Click here to download free AIPMT previous years question papers with solutions and free mock test :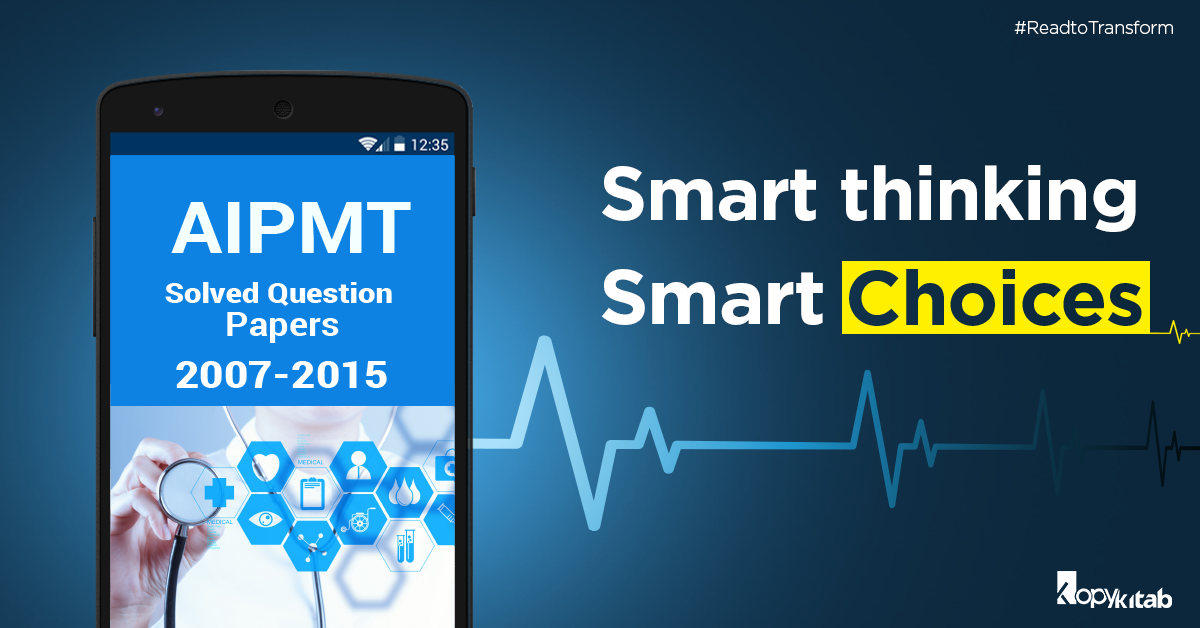 The success story of  Bathinda twins, Sahil Bansal and Rahul Bansal who cracked the AIPMT 2015 with 4th and 6th rank respectively also reflects that NCERT books plays vital role in scoring good marks in AIPMT. While preparing for AIPMT, at first one must thoroughly read the chapters from NCERT books to know the basic concepts. They say, "Our preparation included regular and systematic study of NCERT books. Although we had taken guidance from coaching institute, still we provided equal emphasis on self-study. We ensured to complete the syllabus from NCERT text books. We also solved past years AIPMT question papers and took several mock tests which kept us prepared for the test."
Toppers and exam experts suggest that aspirants should have clarity in concepts of subjects including Physics, Chemistry and Biology. They recommend that aspirants should thoroughly brush and revise the studied topics. The best way to do this is to read NCERT books of Class XI and XII, take mock tests of the studied or revised chapters. Aakash Chaudhry, Director  recommending NCERT books for AIPMT says, "Students should refer to NCERT books for AIPMT preparation. The best way to get your concepts clear is by reading NCERT books. Also, going through previous year's questions is very important. That way student will have an understanding of the type of questions and the difficulty level of the entrance exam". He further suggests, "This approach will help students in getting good command over the studied portion and help in tackling different types of questions that can be asked from chapters."
Free Download NCERT Books for Class 12 Online PDF
Parv Mehta, a diehard Eminem fan and gadget geek secured AIR 7 in AIPMT 2015 by scoring 671 marks also highlights the importance of NCERT books in AIPMT and other medical exam preparation. Parv found that NCERT books played vital role in cracking the AIPMT along with other medical entrance exam. He says, "I adopted a simple strategy. I prepared from NCERT Books and practiced every new concept and topic being taught to me in my school and coaching classes. It is very important for a medical aspirant to cover the entire syllabus on time and revise it NCERT books thoroughly. I used to practice sample papers on weekly basis to check my preparation level. Another thing that I followed which made me a topper was solving last years' question papers, as they provide a lot of understanding about what to study, how to study and how to tackle difficult questions."
AIPMT 2016 is a national level undergraduate medical entrance exam conducted by Central Board of Secondary Education (CBSE) for admission to as many as 3500 MBBS and BDS seats under 15% All India Quota in government medical and dental colleges of India except institutions in Andhra Pradesh, Telangana and Jammu & Kashmir.
As per the experts, every topic is important from the exam but following topics seems to be important for AIPMT 2016 and must be prepared thoroughly.
Important Topics of Biology for AIPMT 2016
All topics are important and should be prepared thoroughly though there have been more questions from Human Physiology, Plant Physiology, Cell Biology, Ecology, Biomolecules, Biotechnology as per the questions asked in past years exams. After completing any topic, the objective questions should be solved and one must go through the questions asked in previous year exams from the same topic as it will give insight to the depth of the topic to be covered
Animalia and Plantae topic needs to be prepared more carefully as otherwise it can be too exhaustive as given in many books. The main emphasis must be on the characters of Phylum in Non-Chordates and up to class level in Chordates. All examples given in the NCERT along with the common name (wherever given) should also be learnt
Important Topics of Chemistry for AIPMT 2016
Physical Chemistry is about clearing concepts and implementing these concepts and procedures by solving maximum MCQs. Inorganic chemistry is more about facts and little about concepts. Students take the advantage of cramming ability in this section. Some topics like Coordination chemistry and P Block chemistry are important, therefore medical aspirants regular solve questions from these topics.
Organic chemistry is very demanding where you must have clarity about the concepts. First of all start with NCERT but to prepare a bit extra consult other relevant books also. When your concepts are clear, start doing MCQs on simple concepts and then try for tougher questions, since topics are interlinked they may create a fuss, but do not lose your heart keep on going with strong determination.
Important Topics of Physics for AIPMT 2016
Kinematics, laws of motion, electrostatics, and magnetic effects of current and modern physics are important