Here Kopykitab brings you a detailed picture of the practicing tips for Physics for AIPMT, which features both experts and toppers of previous years.
Get ready for Physics
AIPMT 2016 is a 3-hour Multiple Choice Question based paper. The paper consist of 180 questions in all from Physics, Chemistry  Zoology and Botany with each section being allotted 45 questions each.
The physics section of AIPMT roughly covers the following sections:
Physical World and Measurement
 Kinematics
 Laws of Motion
Work, Energy and Power
Thermodynamics
Oscillations and Waves
Electrostatics
Current Electricity
Magnetic Effects of Current and Magnetism
Electromagnetic Waves
So, what is the mantra that you should follow to crack this section?
Get your concepts right:
According to Experts, some of the important areas of physics that an aspirant should focus on are kinematics, laws of motion, electrostatics, magnetic effects of current and modern physics.
"It is imperative that you clear concepts in these areas. It is all about clearing concepts and implementing these concepts and procedures in solving maximum MCQs. This is what works in AIPMT", they says.
Experts says that candidates should be conceptually strong so as to be able to write the answers as per any exam pattern.
"Important Derivations and formulas should be on finger tips", they says.
According to another experts, Heat and Thermodynamics, Waves, Optics, Modern Physics are some of the topics in Physics that an aspirant should focus on.
Keys areas of focus in Physics:
According to experts point the key areas for focus in Physics are:
1. Theoretical Questions related to Modern Physics are too easy and having very less calculations, therefore,  students of biology must emphasize on that.
2. In Heat and thermodynamics majority of questions are of P-Y graph or principles of thermodynamics which are easy to solve
3. First solve direct formula based questions of any topic.
4. In case if any question is of lengthy calculation then first try to solve through approximation or as per options.
 Open your books
According to expert, as part of a strong preparation aspirants must thoroughly read NCERT books as most of the questions in AIPMT 2016 are from NCERT. "Aspirants should go through the NCERT textbook word by word and should have complete mastery over it. Aspirants must do a lot of practice in solving the objective problems based on NCERT pattern" says the experts.
NCERT books should, in fact, form the very basis of your preparation. Tejaswin Jha who topped AIPMT 2014 with 682 marks out of 720 says that studying NCERT books rather than heavy weight expensive study material was the mantra behind his success.
Below are the books you should refer to as part of your preparation for physics:
Concepts of Physics by H.C.Verma
NCERT Physics: CBSE PMT set of 3 Volumes by Anil Aggarwal
Concept of Competition Physics for CBSE PMT by Aggarwals
NCERT- Physics Part 1 and Part 2
Solve previous year's question papers:
Click here to download free AIPMT previous years question papers with solutions and free mock test :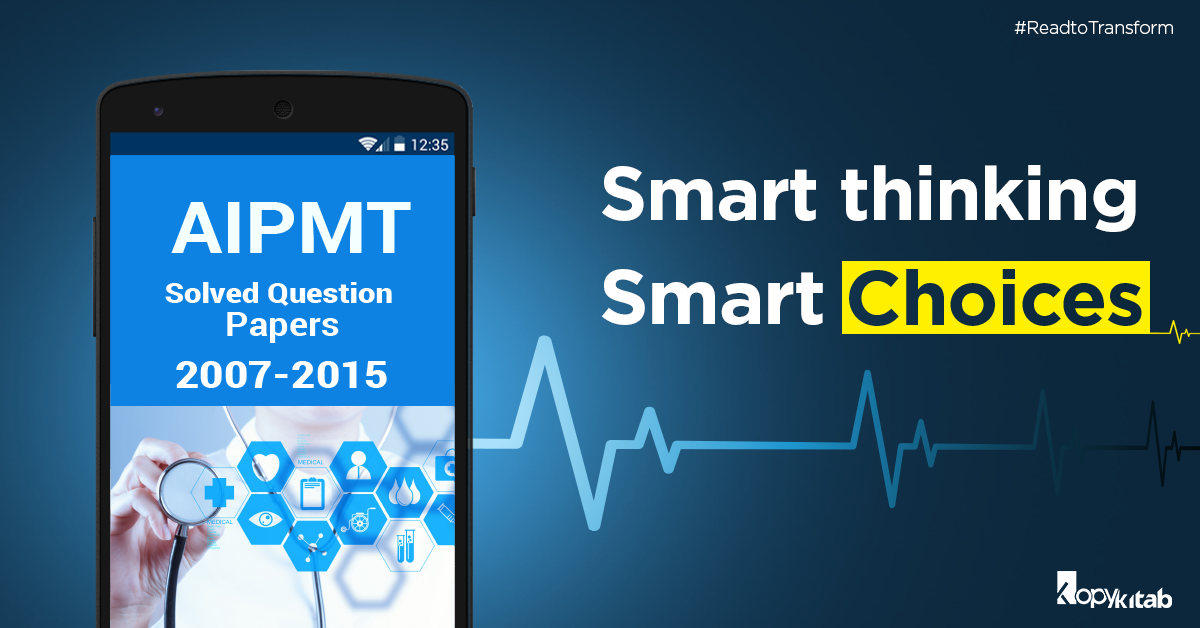 One of the best ways to prepare for the Physics is by referring to and solving previous year's question papers. As, Thermodynamics, laws of motion and modern physics are some of the popular topics aspirants are bound to find many questions from these topics.
Practicing from previous year's papers not only familiarizes you with the AIPMT physics paper pattern but also improves your speed and accuracy.
This is why you should practice from previous year's question papers:
Improves your speed in solving the question paper.
Gives you an idea about the pattern and kind of questions one can expect from physics.
Generally, questions in AIPMT are not direct but framed in such a way that it requires multiple theories and calculations to reach a conclusion. Solving question papers gives you an idea about the variety of questions that can come in AIPMT 2015.
Usually, question papers follow a similar pattern. You can also plan your preparation strategy by checking the questions, which came in previous years.
Mock test:
Mock tests are the most important aspect of your AIPMT 2015 preparation strategy. Mock tests are and easy way to increase your speed and efficiency. Most importantly, it gives you an idea of where you stand in your preparation and what you need to achieve to crack one of the most vital undergraduate medical exam in the country.
Click Here to Enroll Free Online Mock Test For AIPMT.
Lovedeep Singh Dhingra scored perfect 180 marks in Physics and fetched an overall score of 680 out of 720 in AIPMT 2014 says, "Solving sample papers and mock tests helped me mentally prepare for actual AIPMT exam day. On the exam day, I could control my nervousness during the exam duration as I was already accustomed to exam time pressure during my mock tests."