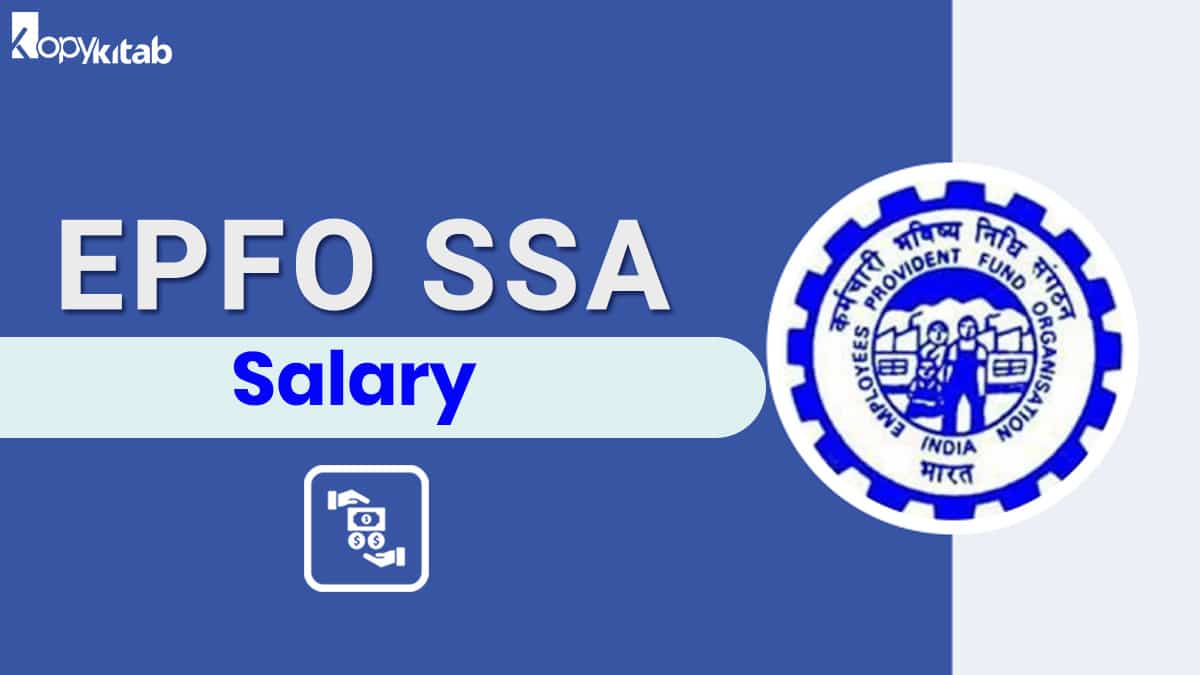 UPSC EPFO Salary 2023: UPSC EPFO is a post that releases an enormous number of vacancies per annum, offering an excellent salary that too during a central government organization. UPSC EPFO Enforcement Officer/ Accounts Officer posts are permanent and are available under Level-8 within the Pay Matrix as per 7th CPC, General Central Service Group 'B', Non-Ministerial. Read the article to have details of UPSC EPFO Salary.
UPSC EPFO Salary 2023
Employees & Provident Fund Organisation releases a huge number of vacancies every year for Enforcement Officer/Accounts Officer and Assistant PF Commissioner, offering a great salary that too in a central government organization. Hence, we would be discussing the salary details of the UPSC Enforcement Officer to answer all the queries of the aspirants/ applicants.
UPSC EPFO EO/AO Salary 2023
Name of The Component
Amount
Basic Salary
Rs. 47,600
Dearness Allowance (DA)
Rs. 18088
House Rent Allowance (HRA)
Rs. 12852
Transport Allowance (TA)
Rs. 4968
FMA
Rs. 2000
Total
Rs. 85,508
UPSC EPFO Salary 2023- Pay scale
Roles and responsibilities are among the foremost important facts of any government job. Here are the duties of the Enforcement Officer/Accounts Officer:
To look after the overall administrative work of enforcement, recovery, accounts, administration cash, legal pension, and computer sections.

Now, Conduct regular inquiries of accounts and settlement of claims for EPFO.

Maintaining cash book, statement verification, MIS returns, etc.

Under the Employees' Provident Funds and Miscellaneous Provisions Act, 1952, Enforcement of the orders with the provisions and schemes.

For further action address the grievances of employees and report cases to the Regional Provident Fund Commissioner They also conduct surveys as per the need to assess coverage potential to new categories of the establishment.

They also educate employers about prescribed forms and the way they will complete them properly.

They are also responsible for attending prosecution cases.

They also hold the authority to serve summons/warrants on the defaulting employer
UPSC EPFO- Career Growth
The career ladder during this recruitment comes with great opportunities and benefits. The UPSC EPFO Career Growth and Promotion has been explained in the table below. undergo the table to understand more about it.
| | |
| --- | --- |
| Post name | Years of service |
| Assistant PF Commissioner | 7 Years (In proposed Recruitment rules for APFC, it is 5 years) |
| Regional PF Commissioner-II | 5 Years |
| Regional PF Commissioner-I | 5 Years |
| Additional Central PF Commissioner | 6 Years |
| Additional Central PF Commissioner(HQ) | 4 Years |
| Central PF Commissioner | Appointed on the recommendation of the Appointments Committee of Cabinet |
UPSC EPFO- Allowances and Benefits
Apart from the essential Pay, UPSC EPFO Enforcement Officers/ Accounts Officers are entitled to many other benefits and allowances. These allowances will vary as per the varied official rules of the respective Government Departments where the candidates are posted. a number of these allowances are:
Dearness Allowance

House Rent Allowance

Transport Allowance

Medical Facility

Loan Facility

Gratuity

Provident Fund

Mobile Facility

Conveyance Maintenance

Insurance
Must-Read: EPFO Assistant(SSA) Job Profile
The EPFO SSA job profile is clerical in nature, and will require you to perform the following duties:
Data entry on computers is the primary scope of this job, which is why good typing skills are an essential qualification for EPFO SSA. To be selected for this job, a candidate must be able to meet the speed criteria of a minimum of 5,000 key depression per hour.
Maintaining records, and data, and managing files.
Keeping the information in all the files updated as and when required.
Compiling files as per the instructions of seniors.
The nature and scope of the job may differ from department to department.
It is a desk job and selected candidates will be posted in regional EPFO offices situated in different cities across the country.
EPFO Assistant Promotions and other Perks
EPFO SSA is a Central Government job with a better salary, more allowances, growth opportunities, job security, and less workload
The Promotions for EPFO Assistant depend on their level of Contribution to their work, The Promotions of EPFO Assistant is as follows

Section Officer
Assistant PF Commissioner
Regional PF Commissioner-II
Regional PF Commissioner-I
Additional Central PF Commissioner
Who Can Apply for EPFO SSA Job?
Anyone in the age group of 18 to 27 years, as of June 21, 2023, with a graduate degree or an equivalent from a recognized university, can apply for this job. The age criterion is relaxed for candidates from reserved categories such as SC, ST, and OBC-NCL. Candidates with computer training from a recognized institute are given preference.
We have covered the detailed guide UPSC EPFO Salary 2023. Be happy to ask any questions in the comment section below.
FAQs on UPSC EPFO Salary
What is the salary given to the UPSC EPFO Enforcement Officer?
UPSC EPFO Enforcement Officer Salary is of Level 8 in the pay matrix of 7th Pay. Thus, the salary received is Rs 43600-55200.
What are the duties assigned to UPSC EPFO Enforcement Officers?
Check out the duties during this post to be performed by the Enforcement Officers as given within the official EPFO handbook.
What is the UPSC EPFO salary structure?
With a grade pay of Rs 5800, the total emoluments become Rs 53312. TA, HRA, and allowances are extra on the UPSC EPFO salary structure.
Is working with EPFO SSA a good job?
It puts an EPFO SSA's gross salary at Rs 38,168, plus allowances and other benefits that are updated on a regular basis.
Is EPFO a government or private organization?
The Employees' PF Organization (EPFO), which has offices in 122 sites across the country, assists the Board. The EPFO is administered by the Government of India's Ministry of Labour and Employment.