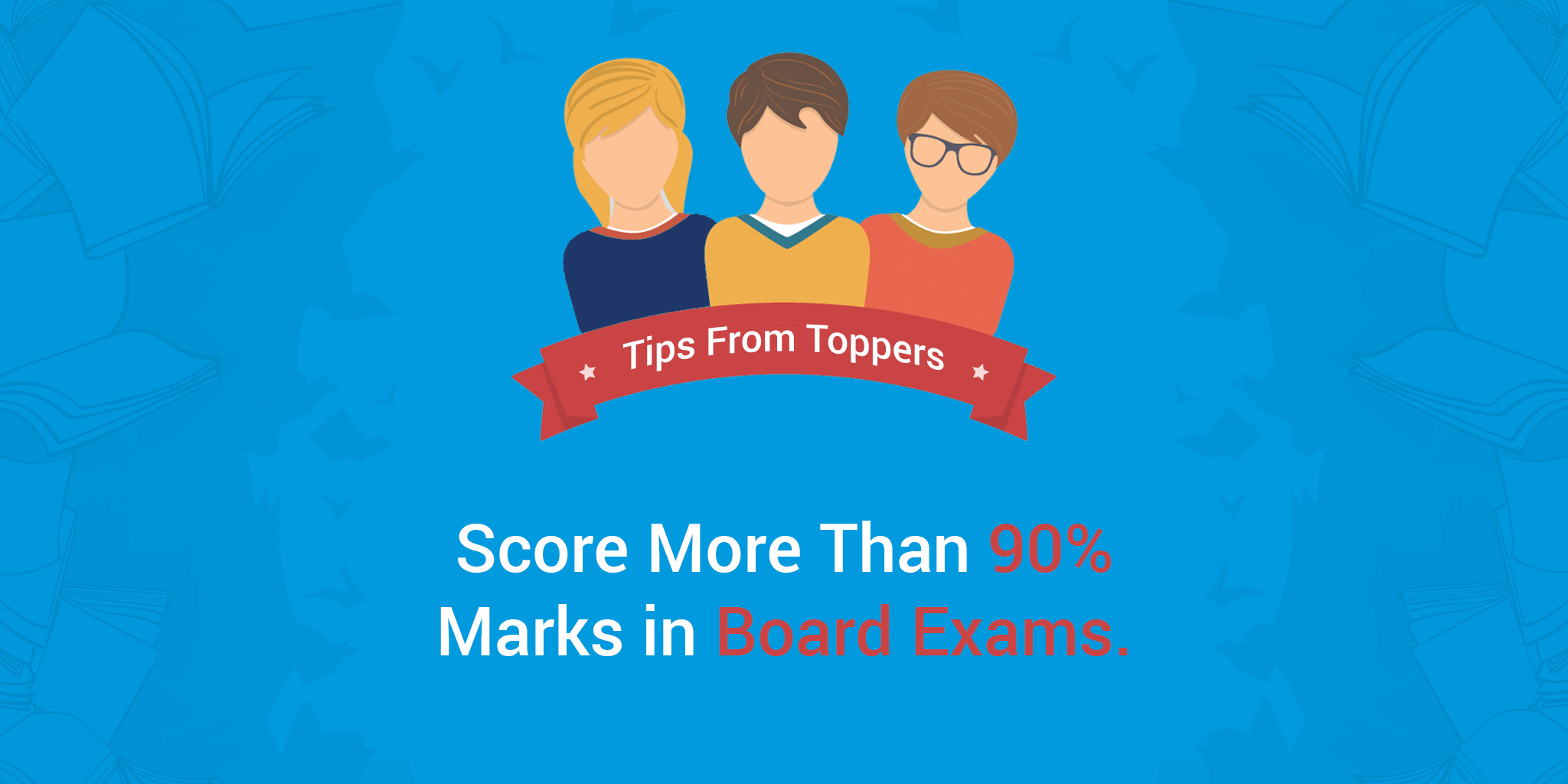 How to Score More Than 90% Marks in Board Exams – Tips from Toppers – Securing a 90-plus score in board examinations has become a pre-requisite for pursuing your academic goals. Getting a stream of your choice in a school of your choice in Class 11 or a course and college of your dreams after Class 12 rests primarily on your board examination score. While every student aspires for it, only a handful make the cut. These students too study the same Class 12 Books, follow the same classroom lessons and have the same amount of time at hand. So what is it that sets these toppers apart from the rest of their peers? Consistency, hard work, and single-minded devotion, to name a few. By channelizing your energies in the right direction, you can too.
We bring you some of the top tips for board examination toppers to help you get on the right side of that 90 percent mark:
Be Your Own Competition
The road to success comes with a steep gradient, and the climb uphill is often slow and arduous. The mantra of emerging successful at the end of this long road is to stay in touch with reality at all times. Remember that you are your own competition, and how well or poorly your peers are performing is inconsequential to your goal of securing 90 percent or more in your board exams. Right from Day One of your board class, be it 10th or 12th, keep a track of your performance in class tests, unit exams, half-yearly, revision tests and pre-boards to gauge where you have improved and where you still need to put in more hard work. Don't let disappointing scores in any one test or subject dent your morale. Instead, use every little setback to strengthen your resolve to work harder.
Stick to Syllabus
A lot of students embark on a wild goose chase of hoarding up reference books and additional study materials and trying to study and learn it all in their pursuit of excellence. However, sometimes it is best to not complicate things. If you are a CBSE student, the NCERT books should be your holy grail as far as the board exams are concerned. All the questions papers are based on the syllabus prescribed by the board, which is covered in the textbooks being taught at school. Yes, you need these extra reference books and study materials if you are preparing for competitive exams. Therefore, you need to segregate your board exam preparation from that for the competitive.
Identify and Work on Your Weaknesses
Facing one's weaknesses is often the most challenging things to do in life, but also one that helps you push the envelope in terms of what you are capable of. Instead of brushing your weaknesses under the carpet and working on your strong point for that fleeting thrill of achievement, focus on devoting time to your weak subjects and areas. Go over the answer sheets for every test and exam you take during the course of the academic year, identify and earmark the mistakes that have cost you marks and revisit these subjects, topics or chapters to understand them better. If you are unable to make headway on your own, seek extra help. A lot of schools organize extra classes for students appearing in board exams, so you could consider signing up for those. Private tuitions are always an option too. Besides, you can rely on e-learning tools such as online classes, video tutorials, e-books to work on your weak point independently.
Focus on All the Subjects
A lot of times students overlook the seemingly simpler subjects while trying to master the more difficult ones. However, it is important to remember that each subject will carry the same weight in your boards and by mastering these 'simpler' subjects you can actually make a big difference in your final score. If you are in Class 10, for instance, overlooking English, Hindi and Computer Science for more difficult subjects like Social Studies, Science, Mathematics is not a wise call. Similarly, in Class 12, don't neglect the compulsory and add-on subjects like English, Computer Science and Physical Education for your mainstream subjects. All of these subjects can be immensely scoring if you are well-versed in the syllabus. On the flip side, rookie mistakes can cost you precious marks because all of these subjects rest on intricate concepts of grammar, sentence structure, programming etc. If you can manage a 90-plus score in each one of these, you can easily achieve your target percentage. On the other hand, scoring poorly in these subjects can set you back by several percentage points.
Manage Your Time Well
The difference between 85 and 90 percent is often a couple of hours worth of hard work each day. You must have an organized schedule in place right from the beginning of the session and stick to it through the year. Don't fool yourself into believing that you have a lot of time at hand. These 11-odd months will zip past faster than you can imagine, so make every day count. Dedicate at least four-five hours to studying, besides school, right from day one. During the last three or four months, you should be investing a minimum of eight hours to self-study to be able to finish and revise your syllabus well before the boards.
Cut Back on Distractions
We live in a time where gadgets can double as important tools of education. However, the same gadgets, be it your smartphone, laptop or tablet, can be bastions of distractions. Cleanse your phone or any other device that you use for studying at least three months before your board exams, removing all social media, music and gaming apps so that you don't get carried away from your target. If you need to blow off some steam or freshen up your mind, take a break and step out of your house instead of getting lost in the maze of smartphone applications. These are black holes that suck in productive hours without you even realizing it.
Practice Makes Perfect
Always remember that testing your knowledge is the only way to ascertain where you stand. Once you have finished studying the entire course syllabus, attempt sample papers and previous years' question papers to see how well prepared you are for the boards and tweak your study plan accordingly, dedicating more time and effort to areas you lag behind in.
Focus on Clarity and Handwriting
Finishing an exam on time is always a race against the clock. Be that as it may, don't let that affect the clarity of your thoughts and the neatness with which you answer the paper. Keeping your answer sheets neat and organized, and writing everything in legible handwriting also makes a difference. An examiner cannot mark your question right if they don't understand what you are trying to stay. This is also why practicing with sample papers is extremely important, as it prepares for the grind to answer all the question well and within the stipulated time of three hours.