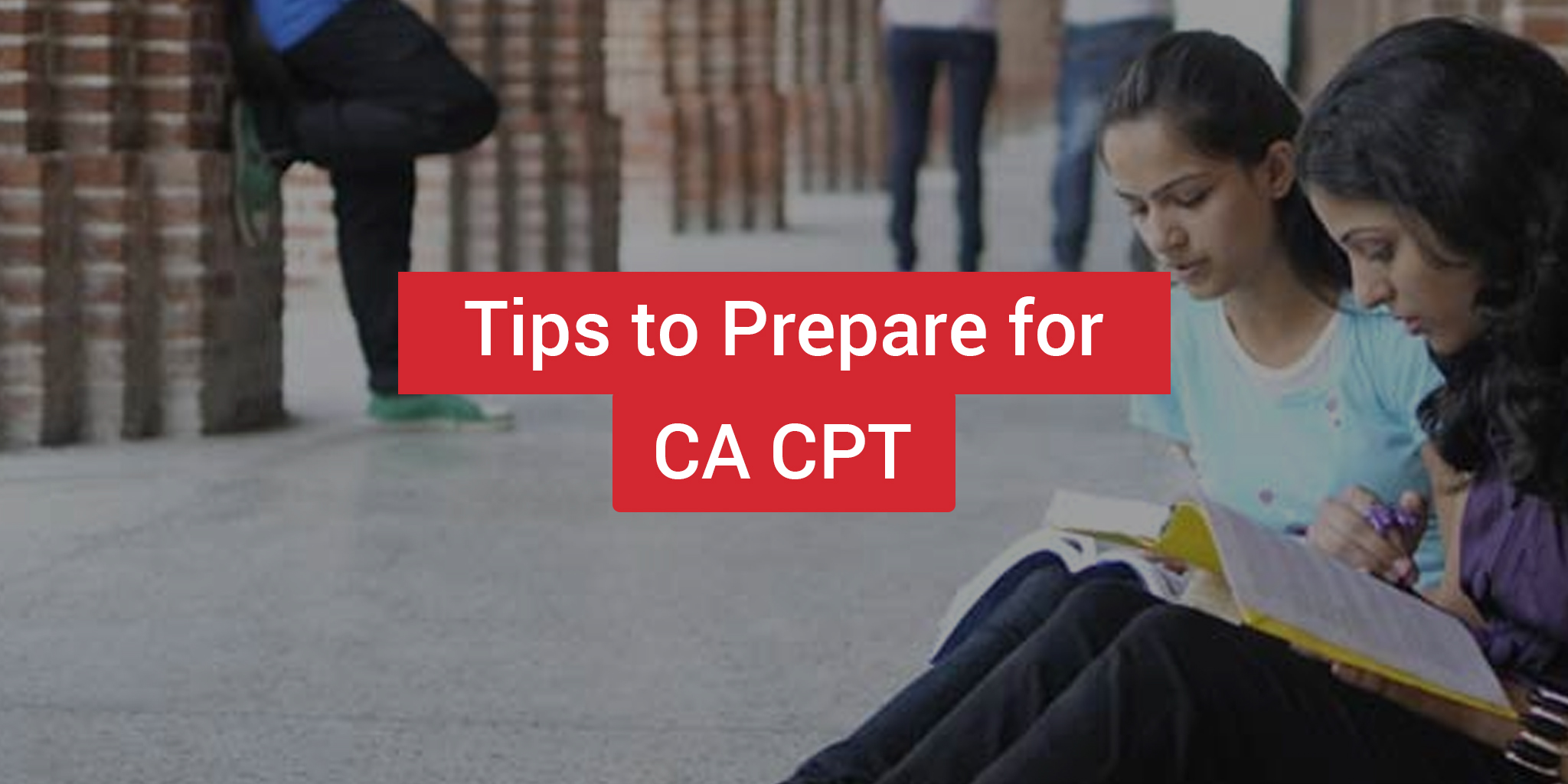 Tips to Prepare for CA CPT – The CA CPT – the Common Proficiency Test for chartered accountancy course – is a preliminary entrance exam conducted by the Institute of Chartered Accountants of India (ICAI) twice a year. The exam that takes place in June and December every year is an offline test comprising four key subjects – Fundamentals of Accounting, Mercantile Laws, General Economics and Quantitative Aptitude. Given that chartered accountancy is one the most sought-after and lucrative career options in the country, the competition is stiff and difficulty level of the exam fairly high. As with any other competitive exam, the odds of success rest on thorough preparation and the right approach for attempting the exam. Here are some useful tips that will help you achieve both and channelize your preparation in the right direction:
Understand the Exam Pattern
To be able to prepare for the CA CPT the right away, you should be aware of the exam pattern and syllabus. As mentioned before, the entrance exam is divided into four sections and comprises a total of 200 questions. You need to score a minimum of 30 percent in each of these individual sections and an aggregate of 50 percent to make the cut. The breakup of marks is like this: Fundamentals of Accounting carries 60 marks and the passing score for this section is 18, Mercantile Laws carry 40 marks and the minimum score required is 12, both General Economic and Quantitative Aptitude account for 50 marks each with a passing cut-off of 15. Apart from meeting the minimum cut-off for these individual subjects, you need a minimum aggregate score of 100 marks to qualify the CA CPT.
Devise a Study Schedule
You need a methodical approach to be well-versed with the entire syllabus for each of these four subjects in order to succeed, and for that, devising a study schedule is of utmost importance. A random approach where you study whatever you want, for as long as you feel like, is not going to lead to anywhere. You must divide the preparation time evenly between all the four subjects in a manner that the entire syllabus for each gets covered at least a month before the examination. While you must study all four subjects every day, it is also crucial to focus more on topics that you find tricky or more difficult. This could vary from student to student, so there is no one size fits all approach here. You've got to arrive at a study pattern that works best for you.
Best Chartered Accountant Books
Practice is the Key for Quantitative Aptitude
Quantitative Aptitude is considered the trickiest of all subjects by a wide majority for CA CPT aspirants. This subject pertains to mathematical concepts such as ratio and proportion, logarithms, indices, equations, inequalities, sets, permutations and combinations, functions and relations, correlation and regression, arithmetic and geometric progressions. Since mathematics is not everybody's cup of tea, consistent practice is the only way to better your chances of cracking this section. Also, remember, that you need only 30 percent marks to be in the clear. Therefore, if find yourself struggling with quantitative aptitude, go through previous years' question papers to find out which topics carry greater weightage in the exam and focus on preparing just those.
Solve as Many Questions as You Can for Fundamentals of Accounting
This can be the most scoring section of the CA CPT, if you get the concepts right. Since almost all CA aspirants come from commerce background, there is a good chance that you already have a solid base of accounting knowledge to rest your preparation on. Clarity of basic concepts is the key to cracking this section and securing a high score. The rule of thumb for preparing for this section of the CA CPT is to first learn all the concepts and then solve as many questions as you can. All questions in this section of the exam require intensive calculations. Practice is the key to polish your calculations skills and rules out the risk of rookie mistakes. As you finish a topic or concept, make short notes of key formulae, tricks and important points to help with your question-solving abilities. Besides, the Fundamentals of Accounting section contains a lot of tricky, twisted question that you'll be able to crack only if you have solved sample questions extensively during your preparation.
Notes Are Crucial for Mercantile Law
Mercantile Law can be the most challenging or the most scoring section of your CA CPT, depending on your preparation levels. An in-depth study of all the acts, the Contract Act, in particular, is the way to excel in this subject. While you are studying different laws covered in the syllabus, make sure you refer to all the relevant applicability dates and definitions. It is crucial to make notes for this subject on a daily basis, as it helps in memorizing facts, figures, and concepts and also helps you brush up these key points quickly during your revisions. Make it a point to revise whatever you've studied during a week over the weekend. Repeated revisions are a must to embed the intricate information of this subject in your memory.
[related_books catid="84″ product_type="ebook" algo="Latest" ]
Macro Economics holds the key to High Scores
Economics is divided into two parts – micro and macroeconomics. Of these, macroeconomics is more theoretical in its content and considered a mark-fetching discipline. Macro Economics accounts for 25 of the 50 marks for the General Economics section of the exam. If you have a comprehensive understanding of the concepts and theories of Macro Economics, you can easily get past the cut-off for this section. The syllabus includes India-specific national economic policies since independence, so most students find the course material easy to relate to. In addition to this, do pay attention to topics such as business cycles, consumption, saving and investment to ace the General Economics section.
Mock Tests Are Your Best Friend
You finish your CA CPT syllabus at least a month ahead of the exam and then use that time to attempt mock tests and sample papers on a daily basis. First and foremost, this will give you a reality check on your preparation levels and help identify the weak areas you need to work on. Secondly, this will get familiarised with the exam pattern, so there is no last-minute nervousness to weight you down on the day of the exam.