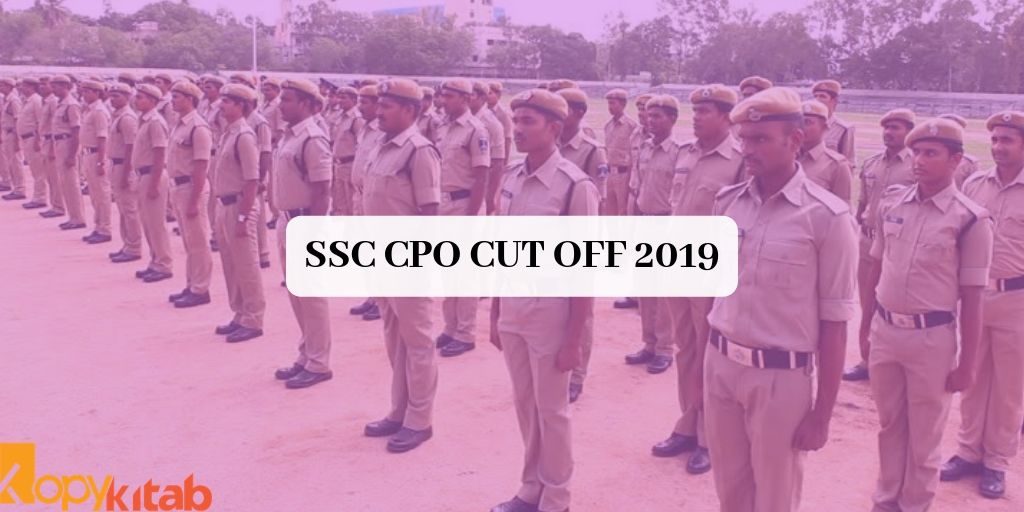 Staff Selection Commission is one of the largest government sector recruiting candidates for various positions in the Government sector. There are lakhs of applicants every year. SSC recruits candidates for Central Police Organization (CPO) department. Candidates are recruited for various posts under SSC CPO examination which includes Sub Inspector in Delhi Police and Central Armed Police Forces (CAPF), and Assistant Sub Inspector in Central Industrial Security Force (CISF). Under CAPF, the following units come – Border Security Force (BSF), Central Reserve Police Force (CRPF), Indo-Tibetan Border Police (ITBP), Seema Suraksha Bal (SSB), and Central Industrial Security Force (CISF). The SSC CPO Exam 2019 was scheduled from March 12 to 16, 2019. As the exam is completed successfully and candidates have checked their SSC CPO Result, it is now time to know about the cutoff. SSC has released the Cut Off Marks for CPO Exam. Here in this blog, we have compiled the SSC CPO Cutoff for 2019 which includes the previous year and present cutoff. Using this candidate can prepare better for the examination.
SSC CPO Cut Off 2019
The SSC CPO Cutoff helps in self-assessment of the exam. With the expected cutoff you can set ideal goals for yourself. It also helps in knowing the chances of clearing the exam. The SSC CPO cutoff is prepared based on the following criteria:
Analysis of the entire paper, focussing on good attempts and difficulty level.
The past and present trends are also followed to prepare the most accurate cutoff.
Here is the table below consisting of SSC CPO cutoff for male and female separately under each category. Go through the table and know whether you are above the cutoff marks
1. SSC CPO Cut Off – Female (Open Vacancies)
Category
Cut Off Marks
 No. Of Candidates 
SC
110.31
386
ST
99.50
237
OBC
127.51
812
UR
137.60
735
Total
2170
2. SSC CPO Cut Off – Male (Open Vacancies)
Category
Cut Off Marks
No. of Candidates
SC
114.23
3065
ST
111.17
1713
OBC
133.36
6736
UR
140.08
5902
Total
17416
EXSM
59.64
1864
3. SSC CPO Cut Off – Male (Departmental Candidates, Delhi Police)
Category
Cut Off Marks
No. of Candidates
SC
55.91
386
ST
58.26
190
OBC
87.67
626
UR
93.43
360
Total
1562
4. SSC CPO Cut Off – Male (Specialized Categories of Ex-Servicemen, Delhi Police)
Category
Cut Off Marks
No. of Candidates
SC
50.00
07
ST
50.00
01
OBC
60.00
38
UR
70.00
62
Total
108
SSC CPO Previous Year Cut Off Marks
Know the past trends of the cutoff for SSC CPO and prepare for upcoming exams accordingly. SSC CPO Previous Year Cutoff  (2016, 2015, 2014)
Category
2016 Cutoff Marks
2015 Cutoff Marks
2014 Cutoff Marks
Male
Female
Male
Female
Male
Female
General
89.75
83.50
88.25
83.00
85.00
81.85
OBC
77.00
69.50
74.00
70.75
70.00
68.00
SC
67.75
60.25
68.00
62.00
63.25
61.00
ST
67.25
58.25
65.00
60.00
59.25
54.00
Ex-Servicemen
30.00
–
63.00
–
40.00
–
Hope you have received complete information on SSC CPO Cutoff. We will keep you posted with all the latest news regarding the exam. In the meantime, candidates can prepare well with a wide range of SSC CPO Preparation Books available online.
  [related_books catid="501″ product_type="ebook" algo="Latest"]