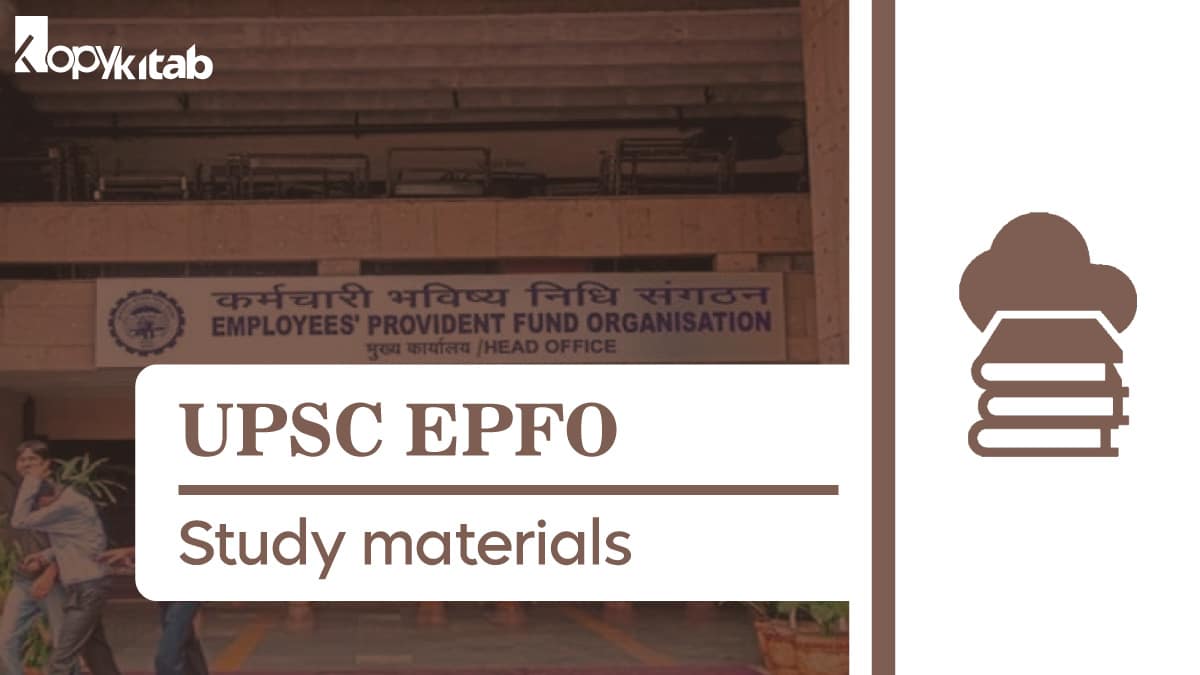 UPSC EPFO Study Material: Appearing for UPSC EPFO 2023? Concerned about materials for consistency study? No Worry! Kopykitab offers you the best UPSC Study Material that can certainly support you to pass through this hiring process. Read the article to get the best UPSC EPFO Study Material.
UPSC EPFO Study Material 2023 | EPFO Enforcement Officer Study Material PDF Free Download
Hunting for the best UPSC EPFO Study Material PDF for your preparation? Don't waste time doing so. Kopykitab provides you with the best UPSC EPFO Study Material that incorporates the Books, Previous Year Papers, Notes, Online Coaching, and Mock Test Series in one place.
Tap the link below to check out UPSC EPFO Study Material:
Best Books for UPSC EPFO Preparation | Download PDF
Donate a few minutes of yours to this article without skipping it.
Scroll down and have a glimpse at the list of books for UPSC EPFO 2023:
Applicants devote a lot of their study time to researching the one perfect book with which they can effectively cover their entire syllabus. If you are one of them, then you are definitely in the perfect spot, as Kopykitab will advise you on the Best Books for UPSC EPFO Preparation to help you out in clearing UPSC EPFO 2023 Exam.
UPSC EPFO Previous Year Papers: Download PDF
Go through the list of UPSC EPFO Previous Year Papers: –
Now is the perfect moment to kickstart your UPSC EPFO 2023 Exam preparation. The perfect approach to prepare for the UPSC EPFO 2023 is to recognize the essence and demand of the examination, which can be achieved by practicing the above-mentioned UPSC EPFO Previous Year Papers.
UPSC EPFO Mock Test Series
Kopykitab provides the UPSC EPFO Mock Test Series to guide applicants in clearing the EPFO Exam 2023. It also supports applicants to have an in-depth understanding of the actual exam. It will encourage students to have hands-on knowledge of topics of various degrees of complexity.
Begin practicing the Mock Tests from the links mentioned below:
Benefits of using Test Series PDF
Innumerable Mock Tests available for the applicants serve a relevant role for the factors mentioned below:
Accessible as per the comfort of applicants at any moment and anywhere,
Furnish applicants with deadlines to get them to adapt to the restricted time,
Develop the confidence level of aspirants,
At a reasonable price, all these advantages are available,
Comprehensive solutions with techniques and tips will be presented for every question,
Help in evaluating your own performance in-depth
UPSC EPFO Notes PDF Free Download
Study notes are a must-read as it provides a significant context of information and concepts in a clear and point-wise format. It will also save you time and provides tricks and techniques related to important topics.
The mentioned link in the table would be beneficial for a quick revision of the UPSC EPFO Exam 2023:
Benefits of using UPSC EPFO Study Material PDF
Below are the factors to make you understand why UPSC EPFO Study materials are Best for Exam Preparation:
The course provides you with previous year-based/examination-oriented material to support you do best in the UPSC EPFO 2023,
The amount of the UPSC EPFO Study Material is very reasonable,
Provide you live interactive conversations with the professors,
Best quality of the resources offered for preparation,
Grants you access to joint revision tests together with full-length Mock Tests,
Provides links to the most important and useful study notes, and
Provides frequent query gatherings to ensure that you remain ahead of the competition.
Grab our unlimited UPSC EPFO Study Materials, for your advanced level of preparation to beat other candidates in the exam. 
FAQs around UPSC EPFO Study Material
Here are the most often asked queries about UPSC EPFO Study Material from the aspirants.
Who is administering the UPSC EPFO Exam?
The Union Public Service Commission (UPSC) has been approved to carry out a pan-Indian recruiting test.
Are the positions posted under the UPSC EPFO EO/AO gazette?
Yes. The positions offered under the UPSC EPFO as an EO/AO are Permanent, Group' B', and Non-Ministerial.
As per the Official Announcement, what is the Age Restriction for UPSC EPFO 2023 Recruitment?
The recruitment age cap for UPSC EPFO 2023 is 30 years.
Does the UPSC EPFO 2023 Exam include any NEGATIVE MARKING?
For each incorrect response in UPSC EPFO, 1/3rd of the marks assigned for each question will be subtracted.
Will the UPSC EPFO 2023 be carried out in ONLINE or OFFLINE mode?
The UPSC EPFO 2023 exam, comprising Objective Multiple-Choice Questions, will be carried out in offline mode.
In which language will the UPSC exam be conducted?
The language for the UPSC exam would be Hindi as well as English.
Does the UPSC EPFO 2023 Exam have a sectional cut-off?
No, there will be no sectional cut-off in UPSC EPFO Exam.
How can I pay for the UPSC EPFO Study Materials?
You can select any of the below transaction methods to pay for the UPSC EPFO Study Materials for the competitive exam:
Debit Card
Credit Card
Net Banking
Wallets
Paytm
UPI ID
Google Pay