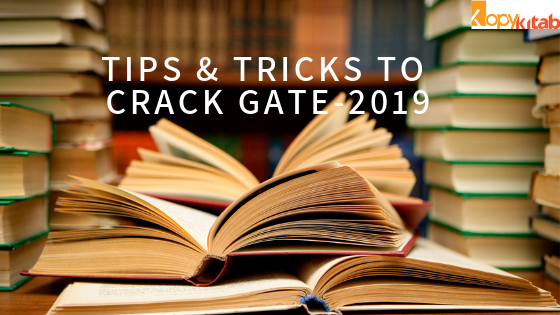 The Graduate Aptitude Test in Engineering is an examination which checks the ability in a comprehensive understanding of various undergraduate subjects in engineering and science. GATE 2019 is conducted jointly by the Indian Institute of Science and seven Indian Institutes of Technologies at Roorkee, Delhi, Guwahati, Kanpur, Kharagpur, Chennai (Madras) and Mumbai (Bombay) on behalf of the National Coordination Board. The exam is held from February 2, 2019, to February 10, 2019. Its high time for candidates to prepare well for the exam with a proper schedule. Candidates can check out the official website of GATE 2019 for more information. It is an entrance exam for several higher courses including M.Tech, M.E., M.Phill. The GATE score is used for various admission process. Even for many government exam GATE score is mandatory.
[related_books catid="242″ product_type="ebook" algo="TopSold"]
GATE 2019 Admit Card Released – Download Here
GATE 2019 admit card is out officially. You can download it from the below link:
Preparation Tips for GATE 2019:
Firstly, decide yourself to start preparation. A candidate must have a firm mindset to start preparing for the exam. As the exam is nearing, it's definitely a high time to start covering all topics.
Go through the exam pattern, syllabus properly to start with preparation. Make a schedule and divide your topics accordingly. As the exam paper consists of negative marking, make sure you are careful in answering the questions. The exam paper consists of Multiple choice questions which have negative marking and numerical questions do not have negative marking.
Get to know the weightage of topics in the exam paper. It is very important to know how much marks are allocated for each topic so that you can easily prepare your schedule.
Make a study plan for the GATE exam. Scheduling time for each topic helps in easy grasping of concepts. You can divide your time for each topic accordingly so that you have more time for tough topics. Plan yourself to complete all topics before the exam and also allow some time for revising topics. While preparing for the exam refer to previous year question papers. There are sites offering previous year papers and sample papers as well.
Choose your preparation books wisely. There are sites which offer e-books or digital books for competitive exams. You can download and read them when you wish to. You can even buy books online. You can check out this website for great deals on GATE exam books.
After preparation, take up tests to check your ability on the subject. Take up Gate online test series and make sure you are aware of all topics. You can take up mock tests to check your knowledge on the topic.
After completion of GATE exam, every candidate receives a gate score which can be used to enter into any Master Graduations or Post Graduation courses. Candidates can check out our blog to stay updated with GATE news.