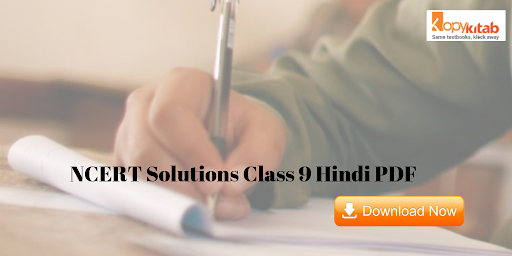 NCERT solutions are Very Important for class 9 Academic exams. These solutions are created in such a way that the entire CBSE Class 9 syllabus is covered. The NCERT Class 9 solutions Hindi  are created by the subject matter experts, therefore the solutions are accurate, relevant and complete. They also contain unsolved questions that gives scope for practice and revision.
NCERT Solutions Class 9 Hindi
NCERT Class 9 Solutions for Hindi includes both long as well as short type of question, multiple choice questions (MCQs), conceptual questions etc. These solutions are designed topic-wise, chapter-wise and additional Questions that specifically focus on testing conceptual knowledge.
Download Chapter wise NCERT Solutions for Class 9 Hindi
Importance Of NCERT Class 9 Hindi Solutions
You may have read the various book of prominent Hindi writers covered in your Class 9 Hindi syllabus. Have you understood the work properly? If you facing difficulties to build the concept, you won't be able to score good marks in your CBSE Class 9 Hindi exam.
The purpose of NCERT Solutions is to help you. Our Hindi experts have created the books to help you write better answers in your Hindi exams. Also, our experts ensure that while you write accurate answers, you clearly understand the prose or poetry which forms part of your syllabus.
Few Benefits NCERT Class 9 Hindi Solutions
1)Basics: The students can strengthen their basics with the solutions provided by the experienced professionals. The solutions that provided are well researched by the experts and they are chapter-wise as well as topic-wise. It helps the students to focus on the gaps and prepare well for the exams. These solutions are beneficial for both the students who prepare for the boards as well as competitive exams.
2)Improves problem solving capability: NCERT solutions are created in such a way that the queries or doubts are easily clarified. The solutions are explained with easily understandable examples and relevant examples. The Class 9 books also provide practice questions at the end of every topic that can help students to score better. It is recommended to keep these solution books handy at the time exam preparation. This will help as an effective method of revision as well as saves a lot of preparation time.
3)Achieve results: These solutions are provided with proper illustrations and examples. This will help to increase student's confidence and perform better in the examinations. The solutions help in building up conceptual knowledge, understanding of all the topics well by looking at the illustrations. The students must practice long and short type of questions, match type, fill in the blank questions that are provided for every topic. Practicing these solutions will help in overall preparation.
4) CBSE prescribes NCERT books: CBSE always prescribed NCERT Books for Class 9 for board exams to score better. No other book is recommended. CBSE has also notified all the private schools not to pressurize he students with other books. These Class 9 Hindi book are also published in a very simple language which makes it easy to understand. Any other reference books may confuse the students. This is the reason, CBSE recommends NCERT books.
Other Important Links for CBSE 9th Hindi
You should refer below links to know CBSE 9th Hindi Exam. Click on the link to access other important information related to the CBSE 9th Hindi.
We have covered a detailed guide on NCERT Solutions Class 9 Hindi.