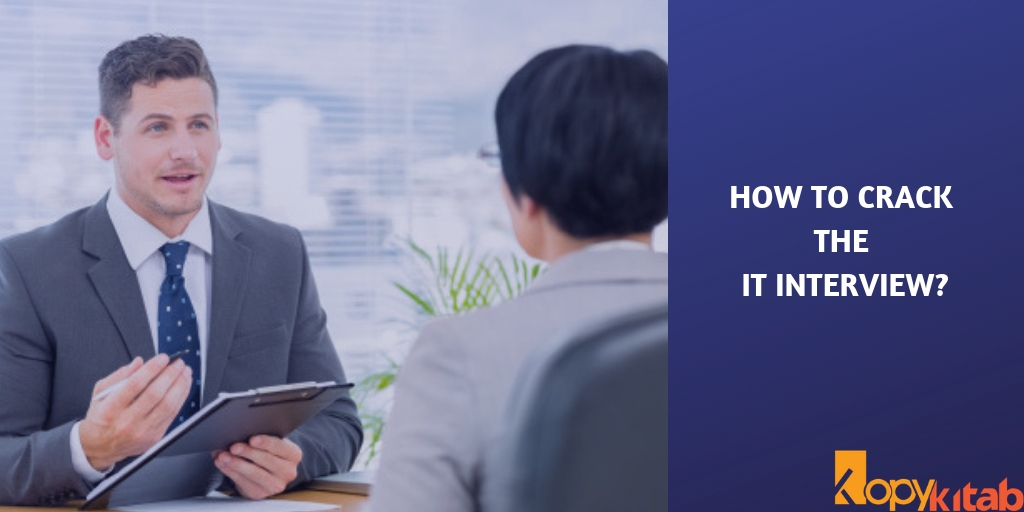 Attending an Interview? Worried about cracking the Interview? Confused about how to prepare? Well, just stay calm and be relaxed. We will explain how to crack an Interview. Compared to other interviews, an IT interview seems to be tough. Most of the graduates are finding an IT Interview is tough and feared of clearing it. But, if u overcome your fear, you can have a bright future. So here are a few tips and tricks that will help you to crack an IT Interview easily. Go through the blog to know how to crack the IT Interview. You can go through the latest IT Interview Preparation Materials to be well prepared for any IT Interview.
How To Crack The IT Interview?
Here are a few tips that show how to crack the IT interview. Go through and follow them to reach your goal.
1. Overcome the Fear of Rejection– Firstly, an important point to remember for all those who are attending an interview is that they must not be feared of losing or rejection. Most commonly, students are not feared about the interview but they are feared of rejection. Well, Self Confidence is the most important in any student's life. Always remember to appear for an interview with an attitude as if you don't need this job. Yes, always appear in interview with this attitude. This will increase your self-confidence. So your first focus must be on achieving your dreams and removing the fear.  All the companies need a person who has self-confidence, so overcome your fear and reach your goals.
2. Understand Job Requirement– Well, if you are going for an interview, it is very important to know what kind of a job you are going, What is the job profile?. Understand the Job requirement carefully. Make sure you are aware of the job description completely. Know your strengths and be clear on what kind of candidate the organization is looking for.
3. What all you are bringing it to the table?– If you need a good job in an organization, then you must also know that even an organization needs a good candidate. During an interview, make sure you carry all the skillset required for the organization and also how the organization will be benefited with your skills. An organization expects some benefits from the candidate. So, ensure you are the one among those skilled people. Also, showcase how the organization is going to be benefited if this job is offered to you.
4. Probable Questions and Answers– This is one of the best tips of how to crack the IT Interview. Once you are clear with the job profile and understood the job description, make a list of all the probable questions an interviewer can ask. Try to answer them yourself or take help from any seniors in the industry. This will definitely help you to crack an interview easily. You can know more than 80% of the questions if you practice this.
5. Never Fake or Fabricate your CV– This is the most important thing a candidate must remember. Most of the candidates do this mistake and spoil their career. Be truthful and honest in showing your career. Do not fake your CV. Make sure you have added all the correct information in the CV. Organizations can easily find it out which can later create a big problem for your career.
Take Up IT Interview Preparation Online Practice Tests Here
6. Never Argue with Interviewer– Candidates must remember one thing that the one who takes your interview has more experience so just listen to them with arguing. Do not get into an argument. It is not that you cannot put across your words, but tell it in a polite manner rather than arguing.
7. Be Honest & Flexible– Always be honest and during the interview. If you don't know any answer, just accept it rather than giving the wrong answers. Apart from knowledge, organizations give priority to candidates who are honest and flexible in their approach. Never be rigid in your approach as a business environment is changing fast these days.
8. Ask your feedback at the end of Interview– Before leaving the interview, ask for feedback from the interviewer irrespective of how your interview went. This will create a positive impression about the candidate and organization feels that the candidate has a positive attitude and willingness to accept his/her feedback.
9. Salary Negotiations– Never ask for unrealistic salary hike which gives an impression that you are not serious about the job and just changing the job for money. Kindly know your experience and industry benchmark before asking for salary hikes.
10. Never ditch the Organization after accepting the Job– This is a common mistake made by most of the candidates. Once they are offered a job in an organization, they start searching for various jobs with a higher salary package. If they get a job in another organization, candidates say NO to the one where they are given an offer to join. This can spoil your career and ruin your life. You can never be able to reach top level management with this attitude. The world is too small, you will never know when you will come across the same people who offered you a job. If you are not interested in the job, do not accept the offer letter. But, after accepting, if you say No, then it is completely unethical and unprofessional.
Thus, candidates who are appearing for an interview must remember these points and reach their desired goals. Knowing these tips and tricks will help you crack an IT Interview easily. Follow these how to crack the IT Interview Tips to get your dream job. Apart from these tips, it is suggested to read IT Interview Preparation Books available online.
  [related_books catid="274″ product_type="ebook" algo="Latest"]