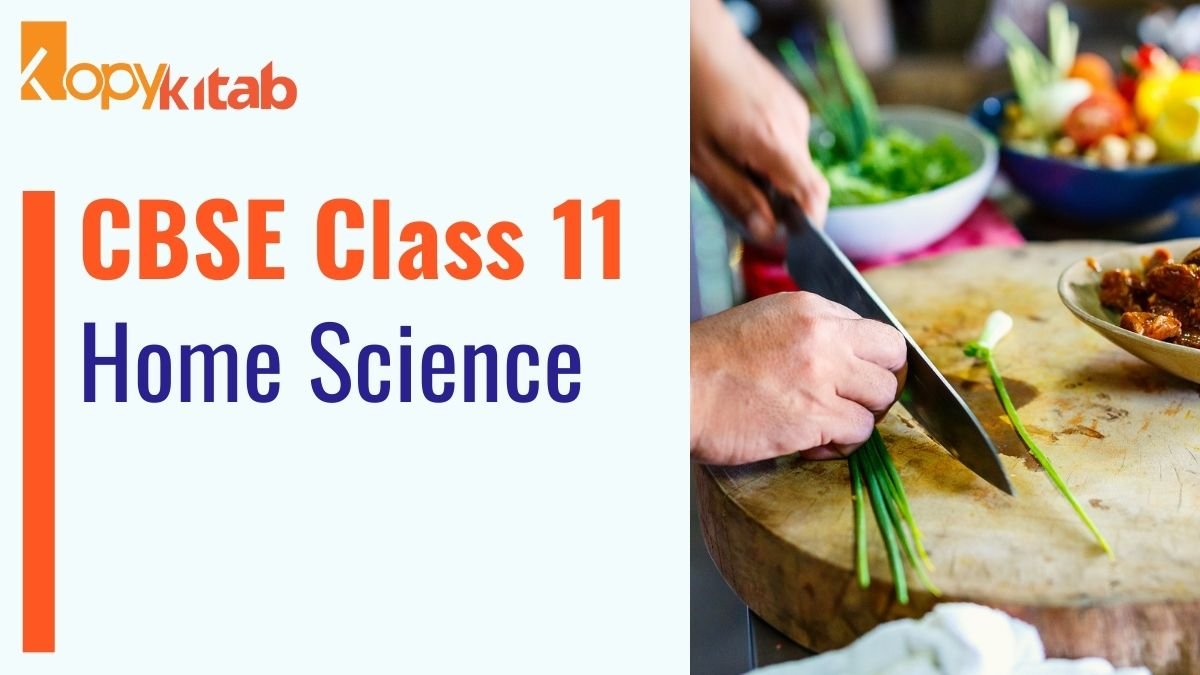 CBSE Class 11 Home Science 2022
:
Home science is the science of a home and it includes all the things that concern the person, home, family members and resources. It is the education for "better living" and the core of this education is the family ecosystem. It also deals with reciprocal relations between the family and its natural and man-made environments.
In this article, we have provided the complete details CBSE Class 11 Home Science Exam.
CBSE Class 11 Home Science 2022
The students who are keen to study further studies in humanities, arts choose this as an elective. Today, there are so many options for the students who study Arts and Humanities too. Nowadays information is available on the internet unlike earlier were people knew only about the prospects in Engineering and Medicine.
The 11th students will have to appear for both theory and practical. The theory carries 70 Marks and Practical's carry 30 Marks. These books are prescribed by NCERT. You will find the following chapters in 11th Home Science.
CBSE Class 11 Home Science Books 2022
The selection of the books is based on the content of the topics that you need to refer to. In most scenarios, the student prefers NCET textbooks for learning as those are the most reliable once considering the form exam point of view.
Click The Links from below to Get CBSE Class 11 Home Science Books
CBSE Class 11 Home Science Syllabus 2022
Here you will get the detailed CBSE Class 11 Syllabus for Home Science along with section-wise marks distribution. You can take a look at the units included in CBSE 11th Home Science Syllabus along with the marks distribution:
Exam Structure
No.
Units 
Marks 
1
Work, Livelihood and Career
05
2
Nutrition, Food Science and
Technology
18
3
Human Development and Family
Studies
12
4
Fabric and Apparel
16
5
Resource Management
12
6
Communication and Extension
07
 
THEORY
70
 
PRACTICAL
30
 
GRAND TOTAL
100
CBSE Class 11 Home Science NCERT Solutions 2022
NCERT experts have created Class 11 Home Science Solutions to provide you depth concepts on every chapter. Experts have used simple and clear language while creating solutions so that any students can understand every problem without the help of any subject experts.
You should know that NCERT solutions have followed the latest CBSE syllabus and refer them as soon as possible to start your Home Science preparation. It will not only help you to build the depth concept on the subject but also help you to crack various entrance and competitive exams.
CBSE Class 11 Home Science Question Paper
You should have a Class 11 Home Science Question Papers to bring your preparation to the next level. You should note that experts have created the materials by analyzing the 11th Home Science chapter-wise exercise and the previous exams. You will find multiple questions for every single topic. You can build the depth concept in class 11 Home Science by practicing more questions.
You should have the following materials to find the complete question papers related to Class 11th Home Science Exam,
Sample Question Papers
Previous Year Question Papers
Question Bank
11th Home Science Sample Question Papers
After completion of a sample paper, you will have a preview of the board question paper. It will also enhance your problem-solving speed and understanding of the subject. You will become more aware of the current pattern of the question papers after solving Class 11 Sample papers.
11th Home Science Previous year Papers
Previous year papers are great exam materials to prepare any exams. You must solve the 11th previous year papers for Home Science before the board exam. You will recognize the changes in the previous exams throughout the time.
It will give you an idea about the repetitive sections and questions in class 11 Home Science. You can also know your current preparation status by solving the previous year's papers in the certain time as the real Exam and know preparation status and also help you to find your conceptual weaknesses. You can easily cover those before the board exam.
CBSE Class 11 Home Science Revision Notes
Without revision of the complete syllabus, you will lose your chance to score a better grade in the 11th Board exam. To make your revision easier, our experts have created Class 11 Home Science Revision Notes.
Here you will find all chapter-wise theorems and concepts are summarized in the easier way so that any student can understand them quickly. They have also considered by analyzing previous years of question papers and Home Science chapters. With the help of these, you can easily do proper revision before the board exam. It will help you to revise all chapters in the easier way in less time.
We have covered a detailed guide on CBSE Class 11 Home Science. Feel Free to ask any questions in the comment section below.
FAQ: CBSE Class 11 Home Science 2022
What is home science subject in class 11?
The subject integrates the application of various sciences and humanities to improve Human Environment, Family Nutrition, Management of Resources and Child Development.
Is Home Science easy in CBSE?
CBSE Class 12th Home Science, a common part of the Humanities/Arts stream is often thought of as one of the easiest of the Sciences. A relatively new subject, Home Science is an ancient art, having begun since humans began living in Homes. Whatever your view may be of the subject, as exams approach, it's time to study.
What is Home Science salary?
The candidates with Home Science background can get a starting salary of Rs 1 – 1.2 lakh a year as a trainee and after having experience in a particular area say Nutrition & Dietetics can get a salary which can be more than Rs 3-4 lakhs a year. Those who have interests in research, teaching, catering jobs etc.
Why home science is both art and science?
Home Science education deals with all aspects of home and family management. It is both an art and science. It's an 'art' because it helps you manage your resources in a skilful manner, and it's a 'science' because it helps you improve your family life by offering you knowledge in the field.