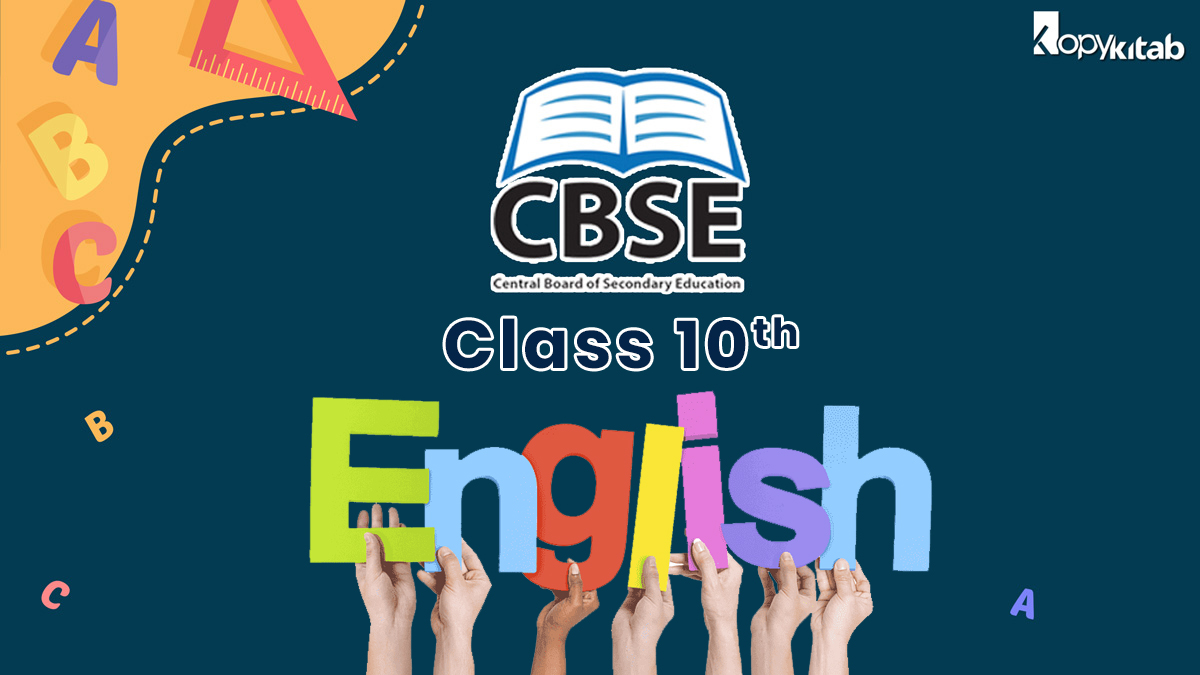 CBSE Class 10 English: The English language is an important language because it is an international language and has become the most influential language for people in many parts of the world. It is most widely used in communicating around the world. English is playing a major role in many sections like education, medicine, engineering, and business. Good command of the language will help you to understand better and to score well in your CBSE Class 10 Board Exam.
CBSE Class 10th English can be divided into three parts.
First Flight
Footprints without Feet
Grammar
In this article, we are covering every details related to CBSE Class 10th English Exam.
Here you can take a look at the units included in CBSE 10th English Language and Literature Syllabus along with the marks distribution.
Syllabus & Marking Scheme of English Language and Literature
Section
Topics
Marks
A
Reading
10
B
Writing and Grammar
10
C
Literature
20
 
TOTAL
40
 
Internal Assessment
10
 
Grand Total
50
CBSE Class 10 English Books
You should have the right books to prepare for the English Board exam. You should prepare with a suitable book to score high in any exam. While selecting the book, make sure that it has covered the latest CBSE English Syllabus.
For that, you must download Chapter-Wise Class 10 English book from the link mentioned below.

Class 10 CBSE English Chapters List
Class 10 English First Flight
You will find the following chapters in CBSE 10th English First Flight:
Chapter 1. A Letter to God
Chapter 2. Nelson Mandela: Long Walk to Freedom
Chapter 3. Two Stories about Flying
Chapter 4. From the Diary of Anne Frank
Chapter 5. The Hundred Dresses–I
Chapter 6. The Hundred Dresses–II
Chapter 7. Glimpses of India
Chapter 8. Mijbil the Otter
Chapter 9. Madam Rides the Bus
Chapter 10. The Sermon at Benares
Chapter 11. The Proposal
Class 10 English Footprints without Feet
You will find the following chapters in CBSE 10th English Footprints without Feet,
Chapter 1. A Triumph of Surgery
Chapter 2. The Thief's Story
Chapter 3. The Midnight Visitor
Chapter 4. A Question of Trust
Chapter 5. Footprints without Feet
Chapter 6. The Making of a Scientist
Chapter 7. The Necklace
Chapter 8. The Hack Driver
Chapter 9. Bholi
Chapter 10. The Book That Saved the Earth
Class 10 English Grammar
Resource Material

Tenses
Modals
Active and Passive Voice
Subject-Verb Concord
Direct and Indirect Speech
Clauses
Determiners
Prepositions

Integrated Grammar

Gap Filling
Editing
Omission
Sentence Reordering
Sentence Transformation
Class 10 English Grammar
Grammar is the way we arrange words to make proper sentences. Word level grammar covers verbs and tenses, nouns, adverbs, etc. Sentence level grammar covers phrases, clauses, reported speech, etc. You should have knowledge of various grammar rules to score better marks easily and also helpful to gain command over the language.
Class 10 English NCERT Solutions 2021-22
You can build a better base after completion of the chapter-wise questions from NCERT Class 10 English. They have covered all questions from all chapters based on the latest CBSE Syllabus.
Here you will find high-quality study materials with easy language. These are created by NCERT experts in such a way that any student can easily understand without having depth concepts in the section.

CBSE Class 10 English Question Paper
You should solve the exam question papers after completion of the CBSE Class 10th English Syllabus. You will get an idea about the exam and important questions from every chapter for the exam.
You should have the following materials to find the complete question papers related to CBSE Class 10th English Exam,
CBSE 10th English Sample Question Papers
CBSE 10th English Previous year Papers
CBSE 10th English Question Bank
Class 10 English Sample Question Papers
CBSE board releases sample question papers and marking schemes for all subjects of Class 10. Here you will know about the preview of the board question paper. Analyzing the Class 10 CBSE English Sample Papers, you can know about the current exam question pattern and weightage. 
Class 10 English Previous Year Papers
You will get an idea about various important topics which are generally asked in Class 10 English board exam after solving multiple previous year papers. It will also help you to build concepts on various types of questions.
CBSE Class 10 English Question Bank
The experts have designed the English Question Bank by analyzing the chapter wise exercise and the previous exams. You can easily identify chapter wise repetitive questions. By covering them, you will increase the chance to score a better mark. By solving many questions, you can develop the depth concept in every single section of Class 10 English.
CBSE Class 10 English Worksheets
Worksheets are important to study materials. With Class 10 CBSE English Worksheet, you can develop logical, lingual, analytical, and problem-solving capabilities. 
CBSE Class 10 English Revision Notes
The CBSE 10th English Revision Notes are a most important study material that students can utilize properly. With the help of the notes, you can do proper revision for the subject. It will also help you to understand the various theorems and laws quickly.
We have covered all the Class 10 English important questions and answers in the worksheets included in the latest Central Board of Secondary Education (CBSE) Syllabus. Feel Free to ask any questions in the comment section below.
FAQs on CBSE Class 10 English
How many chapters does English Class 10 CBSE have?
The English textbook is divided into 11 chapters, each of which is explained in straightforward language.
Which is the best CBSE English textbook for Class 10?
VK Global's Xam Idea Complete Course English for CBSE Class 10 and Arihant Publications' All In One English Language & Literature CBSE Class 10 are the ideal books for practicing.
Can I get Class 10 CBSE English worksheets?
Yes. You can get Class 10 CBSE English worksheets from the above article.
How many marks were assigned to the Class 10 English reading section?
20 marks were assigned to the Class 10 English reading section.
What had enraged Lencho?
When Lencho tallied the money that God had sent him, he grew enraged. He assumed the rest of the money was stolen by post office staff because God could never make a mistake.